Polish-built LNG-powered PSV Siem Pride in operation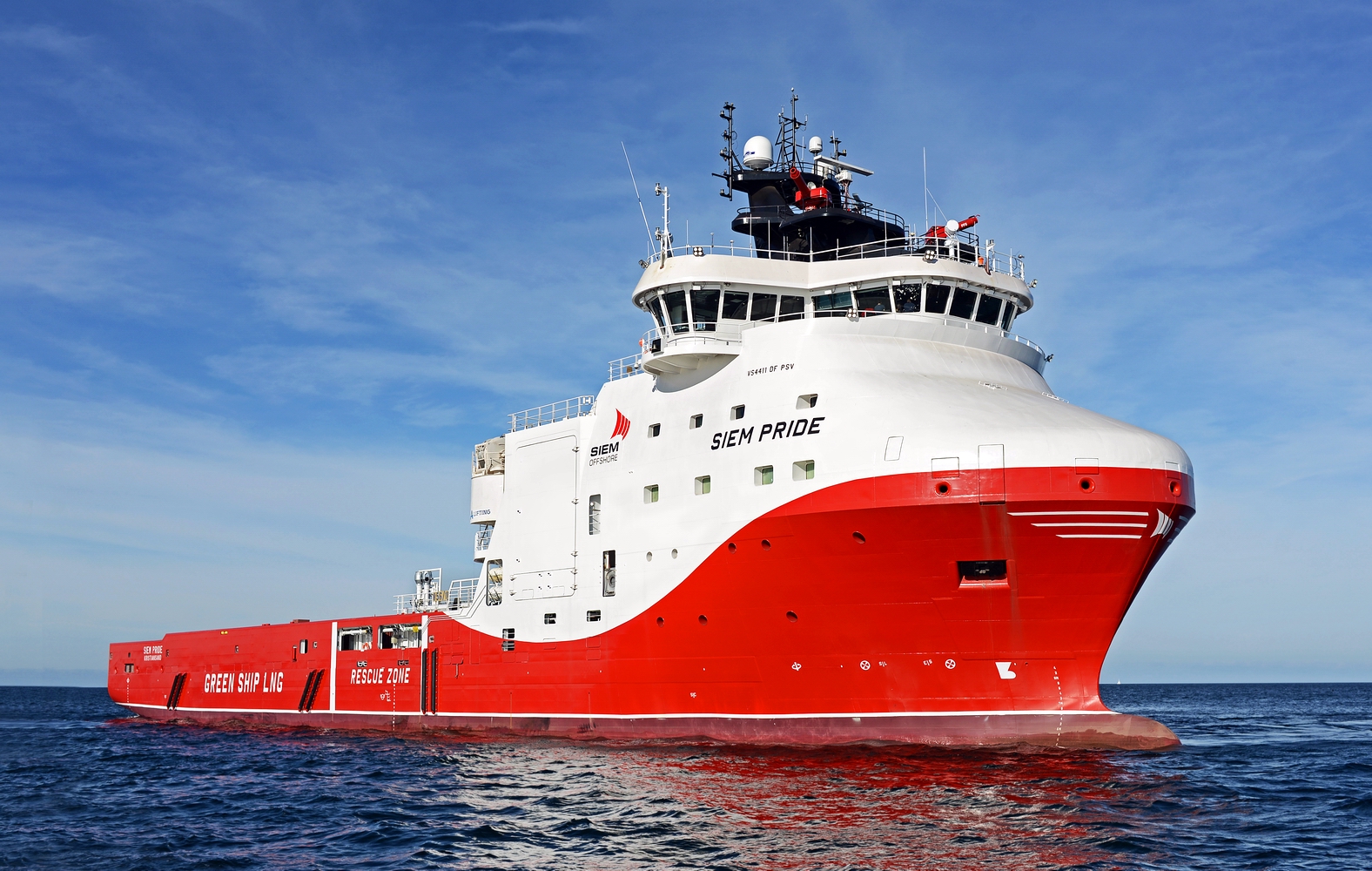 A naming ceremony was held on November 12th, 2015 in Kristiansund, Norway, for newbuild PSV (Platform Supply Vessel) Siem Pride, following her delivery from the Remontowa Shipbuilding SA yard (part of Remontowa Holding) in Gdansk, Poland on November 5. Soon after the delivery and christening, the ship commenced a five-year charter with Norske Shell, initially working on the Draugen and Ormen Lange fields in the North Sea.
The vessel, built to Wärtsilä's VS 4411 DF design, has an overall length of 89.2m with a beam of 19 m and deadweight of 5,017 tonnes and is outfitted with DP capabilities (class DP2), standby rescue for 300 people, 5,500 dwt and a deck area of 980m².
In addition to supply, fire-fighting (Fi-Fi II) and oil spill recovery in emergency situations (Oilrec) capabilities, the vessel is also fitted with a work-class ROV and a 15 tonne AHC (active heave-compensated) crane for light IMR work. It also has a Safe Hose Operation System.
The DNV GL classed Siem Pride is specially designed for safe and reliable services to offshore installations. The vessel is environmentally friendly with focus on dual fuel consumption, MDO and LNG.
Remontowa Shipbuilding SA has for many years been a well-recognized supplier of ships supporting oil mining industry. However, this time the supply vessels to be built are the first to use LNG propulsion. Thereby, the company combines its experience in building ships with LNG propulsion and experience in the offshore sector.
It is worth mentioning that the vessels from the said four units series are being fully constructed in Gdansk, starting with preparing workshop documentation, going through building of the hull and ending up with complete outfitting and performing of sea trials.
Siem Pride – principal particulars: design: VS 4411 DF; DP Class: 2; LOA: 89.20 m, breadth: 19.00 m, draught: 7.40 m, dwt: 5,500 t; accommodation: 25; cargo Deck Area: 980 m²; class notation: + 1A1 Fire fighter (II) Offshore service vessel (+, Supply) Standby vessel (S) BIS Clean (Design) COAT-PSPC(B) COMF (C-3, V-3) DK (+) DYNPOS (AUTR) E0 Gas fuelled HL (2.8) LFL (*) NAUT (OSV(A)) OILREC SF.
Below: a video from the naming ceremony of the vessel in Kristiansund, Norway.