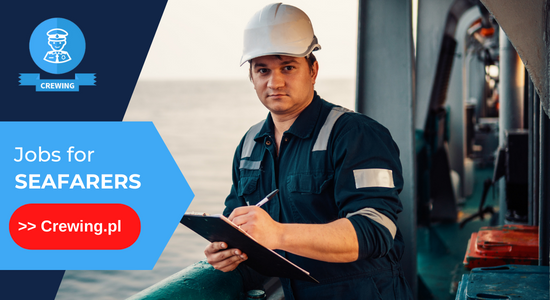 Crewing.pl – job portal for seafarers and place of 100+ Crewing Agencies
If you are professionally involved in the maritime industry, register with Crewing and search with us for jobs at sea (for seafarers) and on land (e.g. in the shipbuilding industry), get access to a list of crewing agencies and a specialised forum where you can exchange information with others working in the industry.

Job For sailors
Check the current job offers:
>> Job offers for sailors
Create a crewing account and find an employee today:
✅ Register here
For crewing agencies
If you are an agency looking for seafarers in the maritime sector, offshore, engineers, electricians, cooks and other specialists then register your company and start recruiting.

Owner of the Crewing Seafarer Job Portal
PortalMorski.pl Sp. z o.o.
Na Ostrowiu 1, 80-958 Gdańsk, Poland
REGON: 190586840
NIP: 5840203765
We have been supporting the recruitment process since 2004. We help seafarers find the best job for them and fulfil their career potential.
If you have any questions then please send us a message at: crewing[at]portalmorski.pl