CLV Siem Aimery christened and delivered to Siem Offshore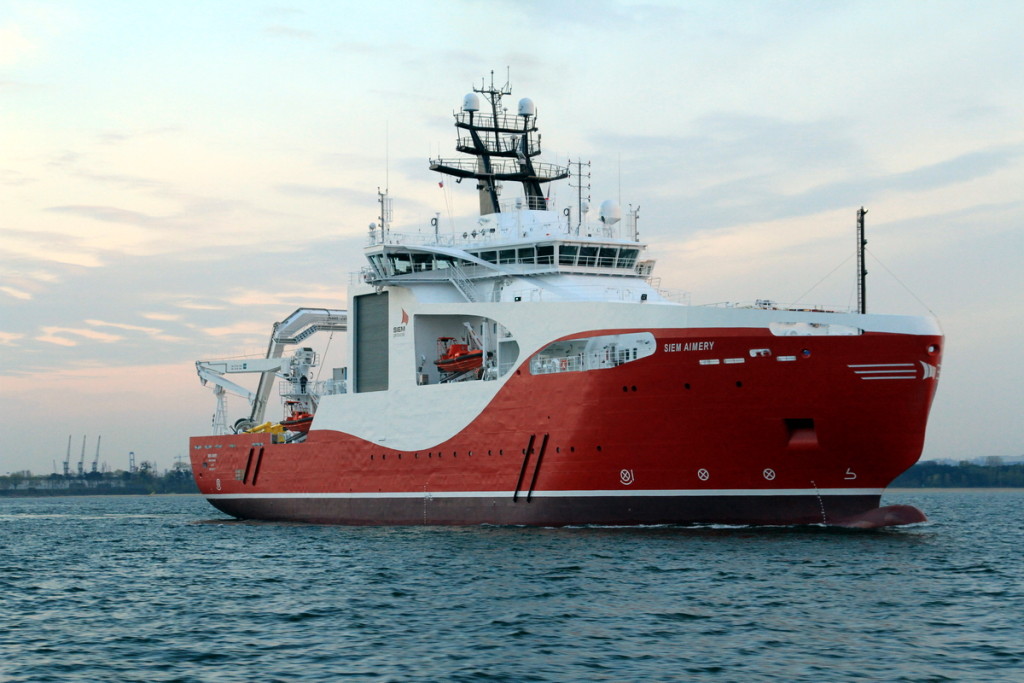 The CLV Siem Aimery, the latest vessel added to the Siem Offshore fleet was christened in a modest naming ceremony on Wednesday, 27 April 2016 at the Remontowa Shipbuilding yard (member of the Remontowa Holding) in Gdansk, Poland.
Some 30 representatives and partners of Norwegian Owner, as well as managers, employees and suppliers of Remontowa Shipbuilding took part in the event. Thus one of the most demanding and complex newbuilding projects in Polish shipbuilding industry has been completed, with Siem Aimery being also the sea-going ship with the largest contract value per gross tonnage or displacement unit from Polish yards so far.
Mrs Karin Nooljen Muck, wife of Mr Lars Muck, Business Area Manager of Siem Offshore Contractors is the Godmother of the vessel. After leaving the yard on the same day, the ship was about to undergo final mobilisation prior to commencing cable loading activities for its first project assignment.
Regis Rougier, Managing Director of Siem Offshore Contractors said: "I am delighted to have the Siem Aimery in our fleet, with the Siem Moxie and the Siem Aimery working in tandem, we have the best of breed installation spread available. They are a unique team of vessels that will ensure that we safely deliver our projects on time for our customers. We are planning an event later this year, where we will invite customers to visit the Siem Aimery, right now our focus is on getting the vessel into the field for her first assignment."
Lars Muck of Siem Offshore Contractors expressed his thanks for Polish shipyard workers for concluding the construction of the innovative vessel, which – as he said "will be a star on a dynamically developing offshore wind power market".
The CLV Siem Aimery has been specifically designed and built for the installation and repair of medium and high voltage submarine cables. Having two carousels low in the vessel's hull and a hangar-based cable deck, she is specifically designed to work in the adverse weather conditions. Siem Offshore Contractors has a long term charter agreement with Siem Offshore and will be responsible for the operations of the vessel.
The CLV Siem Aimery and her installation partner vessel, the ISV Siem Moxie, will be installing the inner array grid and export cable systems for the Nordsee One Offshore Wind Farm in the coming months. Thereafter the vessel will continue with the winter installation campaign of the inner array grid cable system of the Veja Mate Offshore Wind Farm in the German Bight.
Photos: Piotr B. Stareńczak