Vistal delivered vertical frame structures for Finnish shipyard's large gantry crane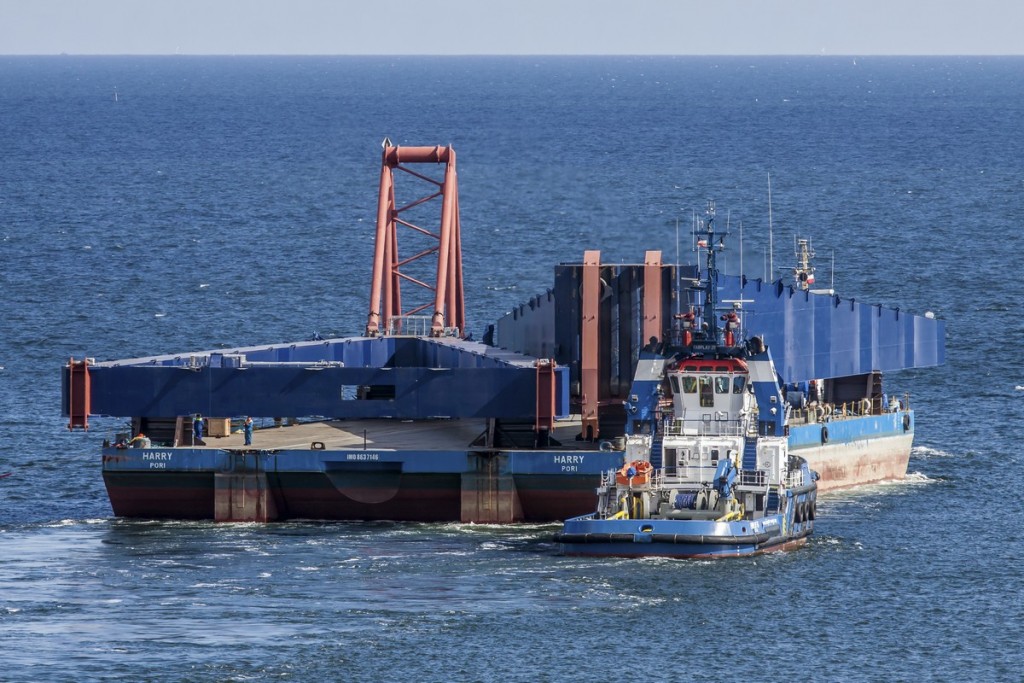 Currently at Meyer Turku works are underway on assembly and erection of its new large gantry crane. The main beam (girder) has alredy been positioned across the graving dock. It will be raised and spanned between tops of two vertical frame structures.While difficult financial situation was developing at Vistal and surfaced in the first half of September the Vistal group member companies were performing preparations for expedition of another set of large scale steel structures. This time it were vertical frame structures ("legs") for the large ("Goliath" type) shipyard gantry crane destined for Finnish buyer that left the port of Gdynia mid-September.
Two large long triangle shaped vertical frame structures have been skidded from Wegierskie quay, where Vistal Stocznia Remontowa (shiprepair yard) operates, onto a heavy-lift deck cargo pontoon-barge Harry (GT 4886, 11 260 dwt). The barge with Kraft tug (35.48 m LOA, 3520 BHP power and 51 T bollard pull) departed the port of Gdynia on September 16 and reached their destination, Turku in south-western Finnland on September 20.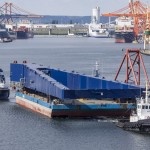 As revealed in april 2016, Konecranes signed a contract to deliver a new 1,200 ton "Goliath" gantry crane to Meyer Turku Oy. The design, precision drive components, electrical installation and automation system and structural components were about to be supplied by Konecranes (which allows to presume that it was Konecranes, who subcontracted construction of vertical frames to Vistal), while Meyer Turku was to manufacture the main girder in its own hull production. The new crane will be taken into use in May 2018. The order also included a modernization of the Turku shipyard's current 600 ton crane, service and maintenance parts.
Turku shipyard's CEO Jan Meyer sees the more than EUR 35 million investment as a good example of smart Finnish collaboration and adds: "The first major step of our big investment program for Turku yard is becoming concrete. The new crane will allow for more industrialization and increase output capacity."
The new 1,200 ton gantry crane together with the old 600 ton crane will triple the shipyard's lifting capacity per day and will allow building and lifting bigger blocks with more outfitting.
The new Goliath crane will be equipped with Konecranes TRUCONNECT® Remote monitoring, allowing Konecranes to offer expertise and help to reduce unplanned downtime, even in the harshest conditions.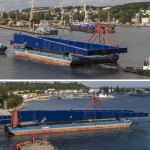 Meyer Turku Oy employs 1,500 persons and specializes in building highly complex, innovative and environmentally friendly cruise ships, car-passenger ferries and special vessels. Together with two sister shipyards in Germany, Meyer Werft in Papenburg and Neptun Werft in Rostock, Meyer Turku is one of the world's leading cruise ship builders. The successful shipbuilding tradition in Turku has been continuing since 1737. The company is currently building cruise ships for TUI Cruises and a fast ferry for Tallink. The company will also build two cruise ships for Costa Crociere.
Konecranes is a world-leading group of Lifting Businesses™, serving a broad range of customers, including manufacturing and process industries, shipyards, ports and terminals. Konecranes provides productivity-enhancing lifting solutions as well as services for lifting equipment and machine tools of all makes. In 2015, Group sales totaled EUR 2,126 million. The Group has 11,900 employees at 600 locations in 48 countries.
PBS, rel (Konecranes)
Photos: Piotr B. Stareńczak