Remontowa LNG Systems Sp. z o.o. has launched a new R&D and industrial project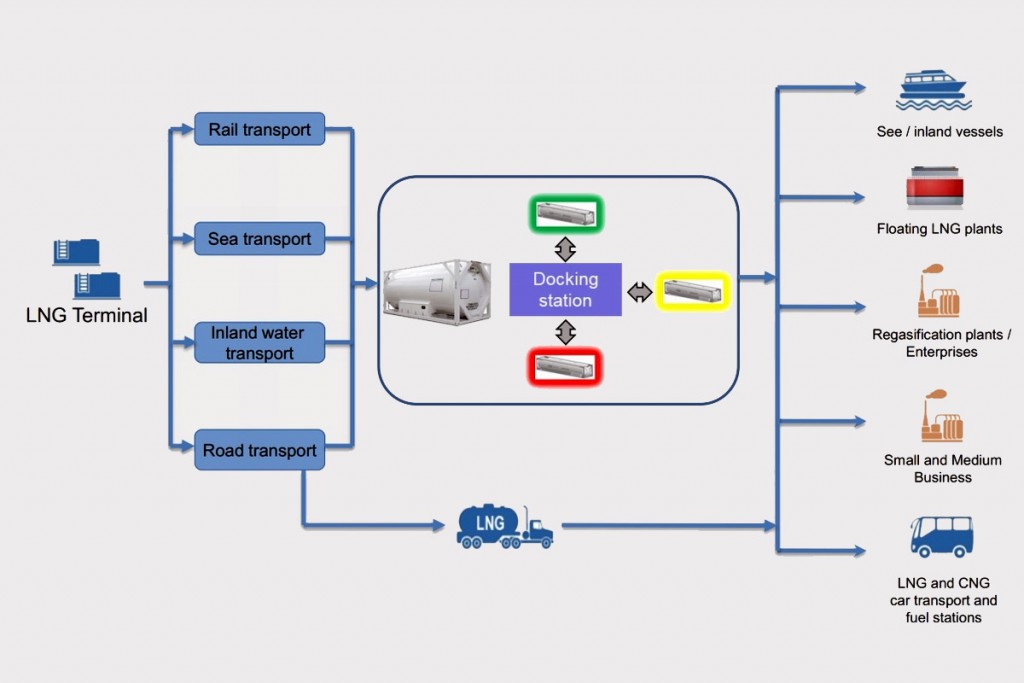 Remontowa LNG Systems Ltd. announced that effective from December 1, 2017 it commenced implementing of the new pilot project called "Construction of a pilot docking station, as part of an LNG distribution system based on cryogenic tank containers".  The value of the project (action no. 2016-PL-TM-0268-S) amounts to 1.890.582,00 EUR and is co-financed by the European Union Connecting Europe Facility 2014-2020 (contribution of 945.291,00 EUR). The EU managing Agency for the project is Innovation & Networks Executive Agency (INEA).
The objective of the project is designing, construction and testing of the pilot LNG docking station. The main task of the station will be sustaining crucial safety technical parameters of intermodal, cryogenic LNG tank containers, enabling long-term storage. This will allow further LNG distribution via all possible transport means (rail, road and sea). The station will have an additional functionality enabling L-CNG refuelling.
Each of the containers will be outfitted with a set of sensors, monitoring the parameters of safe pressure and temperature conditions for the tank. The said conditions will be visualized with indication lights with colors relevant to each condition state.
"Smart" docking station, with use of integrated automation, will be able to reinstate optimal, safe temperature and pressure parameters of a given tank.
The pilot station will be located in the logistic terminal in Sławków (Śląsk region), which is a core rail/road terminal located on the Baltic-Adriatic TEN-T Core Network Corridor.
Within the project the following Activities will be undertaken:
– coordination and management
– designing of the pilot installation
– construction of the pilot installation
– pilot deployment and studies
– information and promotion activities.
Solutions worked out within the project will be implemented on the markets of the Republic of Poland and the European Union.
Project implementation period is December 1, 2017 – December 3, 2020.
Remontowa LNG Systems Ltd. belongs to Remontowa Holding capital group. The company was established in 1945 and since 2013 it specializes in LNG feeding systems. It is one of the few companies in the world manufacturing complete LNG fuel systems for installation onboard ships. It also manufactures heat exchangers, steam and water boilers, tanks, coolers, heaters, condensers and steel structures. The company supplied the complete LNG fuel storage and feeding system for Samso double ended ferry (currently known as Prinsesse Isabella) – the first LNG fueled ferry operating between the ports of one country within EU.
rel (Remontowa LNG Systems)