Polish ferry on a trip from Germany to Lithuania – the evacuation of Baltics' citizen stuck on the border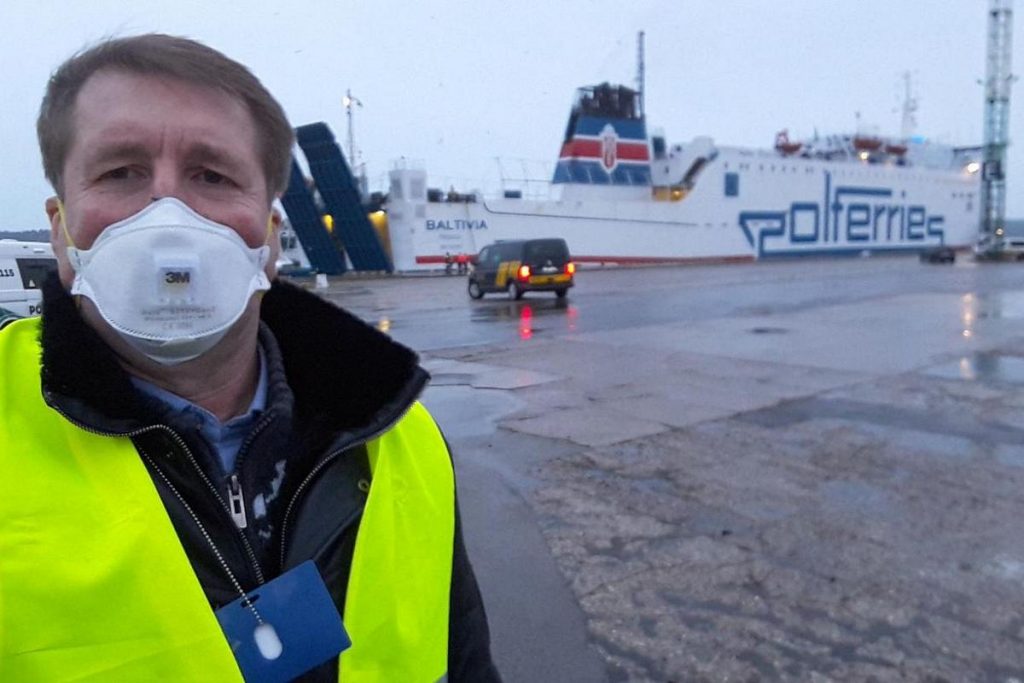 As part of a special trip, enabling citizens of the Baltic states to return home, the Baltivia ferry, owned by Polish Baltic Shipping Co. (Polska Żegluga Bałtycka), known on the market as Polferries, entered the terminal of AB Klaipėda Stevedoring Company (KLASCO) in Klaipėda in the evening of March 18. It brought almost 200 passengers from the German territory. 
Due to the national borders shutdown caused by #COVID19 Poland set up an alternative way of transport for Germans who stayed in Baltic countries, and Lithuanians, Latvians and Estonians who stayed in Germany: Baltivia ferried between Sassnitz & Klaipeda on 17th and 18th of March.
On March 18, KLASCO ro-ro terminal in Klaipeda accepted a special ferry call by ro-pax ferry Baltivia coming from Sassnitz. Onboard were those who were stuck on the Polish-German border after the decision of the Polish government caused by an epidemiological emergency. The special ferry trip was carried out under the agreement of the Polish Baltic Shipping SA – Polferries, the Ministry of Maritime Economy and Inland Navigation and the Ministry of Interior and Administration.
– Due to the announced pandemic, the launched connection constitutes a kind of bridge for the citizens of the Baltic countries and the safest form of transit for the inhabitants of the neighbouring countries – according to the official announcement from Polferries.
A ferry trip from Germany to Lithuania takes about 18 hours. From Germany, 192 passengers and over 100 cars were transported. As the shipowner informed us, it was a one-time help, but if needed in the future, they will help again: "This is our little contribution to the fight against COVID-19."
Normally, the Baltivia ferry sails daily on the Swinoujscie-Ystad route. It was built in 1981 in the Swedish shipyard Kalmar Varv. In 2002 the ferry was thoroughly modernized. It has been sailing in Polferries livery, officially, since 15 January 2007. The ferry decks accommodate about 80 lorries, 17 m long, including dangerous goods and an additional 30 passenger cars. There are 250 seats for passengers.
AL, media reports, rel (Polferries, Ministry of Maritime Economy)