A new ro-pax ferry for Polferries to be built in Szczecin
A preliminary contract signed on March 8 in Kołobrzeg concerns the design and construction of a (single) ro-pax ferry for operation on the Swinoujscie-Ystad route. The contract was signed by MSR Gryfia yard, belonging to the state-owned MARS Shipyard & Offshore (MARS S&O) group, and Polska Żegluga Bałtycka (Polferries) also owned by the Polish state.
However, the ferry is not intended to be entirely built at Gryfia, but partly on the premises of former Szczecin Shipyard (currently – Szczecin Industrial Park), purchased in January by the MARS S&O group.
MSR Gryfia is a typical shiprepair yard with no experience in building large ferries. It delivered small double-ended fjord ferries – for Torghatten in 2001 and another one in 1998 for the same owners as well as a few, even smaller, road / town river double ended ferries for Swinoujscie town in Poland ("Bielik" type ferries).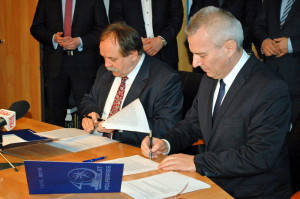 The particulars (as revealed by Polferries and MARS S&O), regarding the new ferry to be built in Szczecin are as follows: length over all – 202.4 m, beam – 31 m, draft – 6.3 m, speed – 18 knots (at 85% MCR), deadweight – 8600 t, ro-ro lane length 3000 m, passengers – 399 persons; propulsion – diesel / LNG dual fuel; classification – Polish Register of Shipping. The technical particulars however, may be subject to minor changes, since "works on optimisation of the design are underway" – as we have been officially informed. For the same reason, due to the fact, that "the design process is at a very early stage" and because of a trade secret no artist impression of the ferry is available. A we have been officially told, the contract design is said to be ready for "end of April".
It will be after the contractual design is ready, that the addendum and required attachments (contractual design / outline specification) are included to make the final form of the contract, although – as a CEO of  PŻB, Mr Piotr Redmerski explained us, what was signed on March 8, was "a firm document" or "a contract".
The contractual design is being prepared by Westcon in Szczecin, Poland – subsidiary of Norwegian Westcon Group. As we managed to learn – the design will be roughly similar to an earlier concept of a ferry supplied in 2014 by Westcon to the order of the Nauta Shiprepair Yard (with Unity Line, one of the biggest Polish ferry owners on the Baltic transport market in mind as a final customer).
The above-mentioned deal is very closely linked to the political program of the "revitalisation of Polish shipbuilding industry" led by the Polish new government.
PBS