New Wallenius ro-ro link between Sweden and Poland
The Lakeway Link joint venture, set up with logistics company Greencarrier by renowned Swedish shipowner Wallenius, is to use vessels of a new design.
Wallenius and Greencarrier have established a ro-ro company. The plan is to transport cargo on road trailers between the Scandinavian countries and Poland.
Lakeway Link will operate a new type of ro-ro vessel – the size class Mälarmax (named after Lake Mälaren) – on the route between the Polish seaports in Gdynia and Gdansk, and the Swedish ports of Södertälje and Vasteras across Lake Mälaren in Sweden from the end of 2023.
The connection across the Baltic Sea with twice-weekly departures will initially be operated by chartered tonnage, which will be replaced by new vessels when the Södertälje Canal connects Lake Mälaren to the Baltic Sea, is upgraded with a new, larger lock.
The canal already has the largest lock in Scandinavia, Södertälje. Still, its size will be increased further, allowing ships to pass through up to 160 metres in length (previously 135 metres) and 23-24 metres in breadth (originally 17-18 metres).
Taking the example of oil tankers, the existing lock at Södertälje can accommodate vessels up to 5,800 tonnes, and after the upgrade, there will be 'new Mälarmax' vessels up to 9,100 tonnes.
The new company aims to reduce the carbon footprint of transport compared to heavy road traffic, through shipping, to and from the Mälar region of Sweden near Stockholm to the continent and on to Norway.
"Lakeway Link will open the waterway between important logistics points in Europe that previously could not be reached efficiently by sea. This is positive from a sustainability point of view as it reduces emissions while contributing to more efficient flows and decreased heavy traffic on the roads," says Fredrik Hermansson, CEO of Greencarrier Liner Agency Sweden.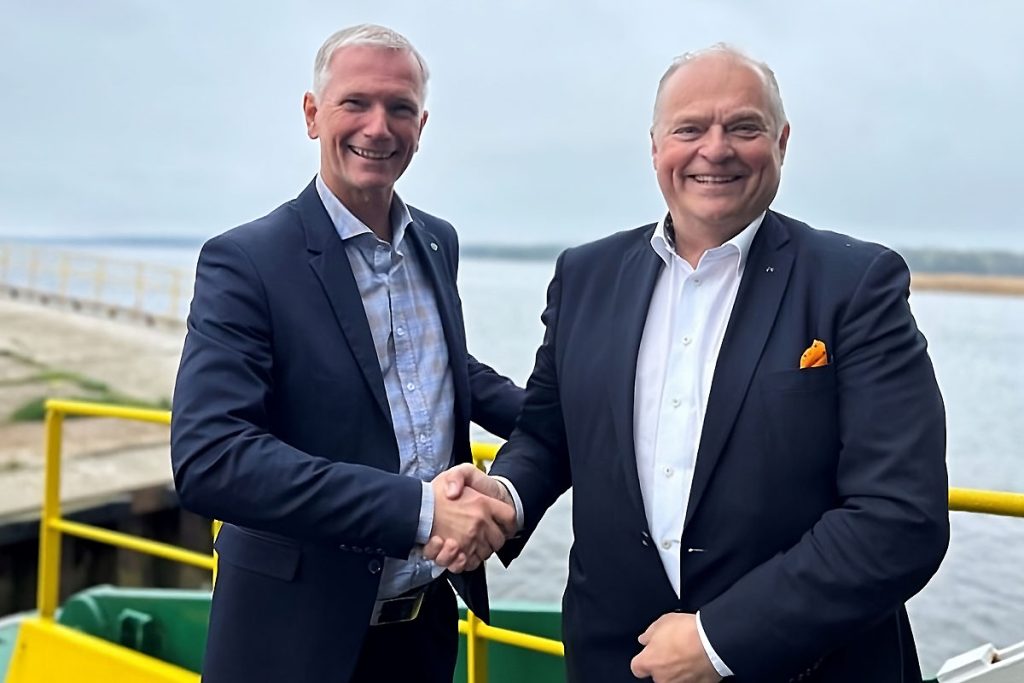 Global senior commercial manager at Wallenius Marine Göran Söderdahl said the development would strengthen the logistics network to and from the Mälar region and facilitate traffic to and from the whole of Sweden and other destinations such as Norway.
"We will design and build new ships based on the latest technology, contributing to more sustainable logistics both in the Baltic Sea and on our inland waterways where Lake Mälaren plays a major role," Söderdahl said. "The vessels will be designed to handle different types of cargo, as well as socially beneficial missions such as sea rescue," he added.
The new service also addresses another problem – a severe shortage of truck drivers – and Lakeway Link will offer semi-trailer transport so that tractor units are not transported.
The family-owned Greencarrier Group has over 40 years of experience in specialised logistics solutions.
Wallenius, one of the pioneers of large-scale roll-on/roll-off shipping in the 1960s, established Wallenius Sol in 2019 as a joint venture with Sweden's Orient Line to specialise in sustainable transport in the Gulf of Bothnia and the Baltic Sea carried out with the new vessels – some of the world's largest roll-on/roll-offs used in short sea shipping and at the same time having a high ice class.
Source: PortalMorski.pl