New item of equipment for HLJV Innovation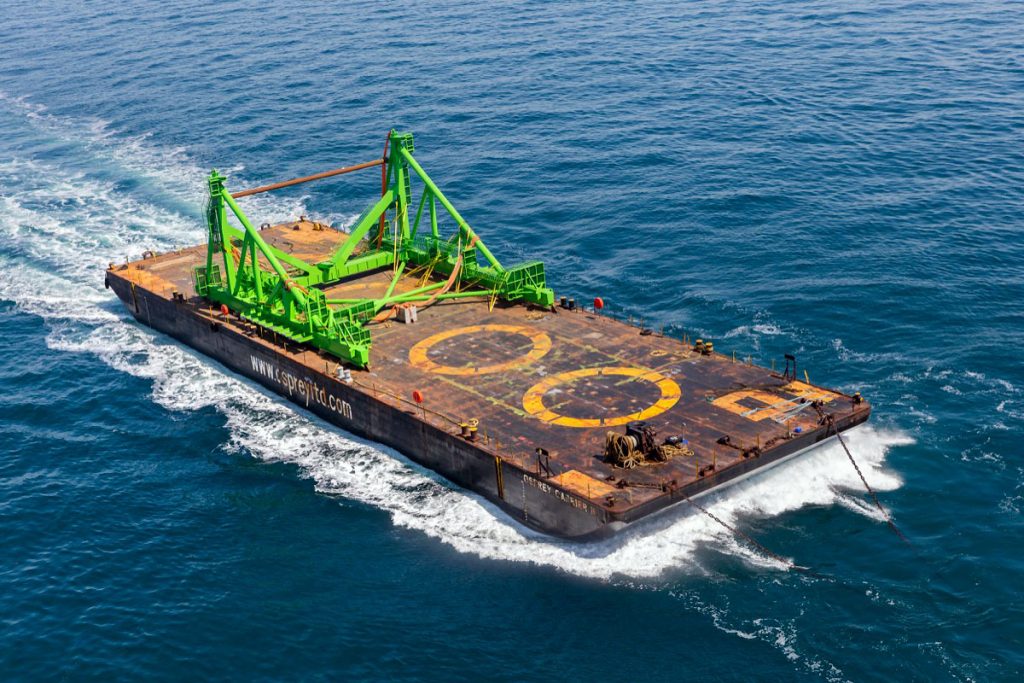 From 29 May to 5 June, large cargo was transported from Szczecin to one of the Damen shipyards in Rotterdam (formerly Verolme Botlek) specialising mainly in repairs and conversions for the offshore sector.
On the barge-pontoon, the steel structure of the so-called gripper frame (holder / guide of foundation piles for the ship to the installations of offshore wind turbines) built on the territory of Szczecin Shipyard was transported.
The construction contractor is JW Steel Construction Sp. z o.o. Sp. K. Rama gripper was loaded in the area of the "Wulkan Nowy" slipway on the barge-ponton, using a large crane of this slipway.
The structure, weighing approximately 150 tonnes, has dimensions of approximately 27.00 × 21.00 × 12.50 metres. It is intended for the (not the first) modernisation of a self-elevating ship for offshore wind turbine installations – HLJV Innovation, which is passing through the shipyard Damen Verolme BV, built in 2012 in the shipyard Crist SA in Gdynia.
The towing unit consisted of a heavy-lift barge-ponton called Osprey Carrier II (76.02 m LOA, load capacity 4746 t) and a tugboat En Avant 10 (IMO No. 9264386, GT 358, 30.00 m LOA, pile pull 50.00 T, main engine power 2942 kW / 4000 hp) operated by the Muller Dordrecht group (Rederij T. Muller BV and Muller Heavy Transport BV). Built in 2002, the tugboat is known in Szczecin – from the beginning of 2004 to mid-2012 it sailed as Triton in the colours of Szczecin's Zakład Usług Żeglugowych Sp. z o.o.
Manora Logistics was responsible for transport organization.
PBS