Agreements to improve rail access to ports in Szczecin and Świnoujście were signed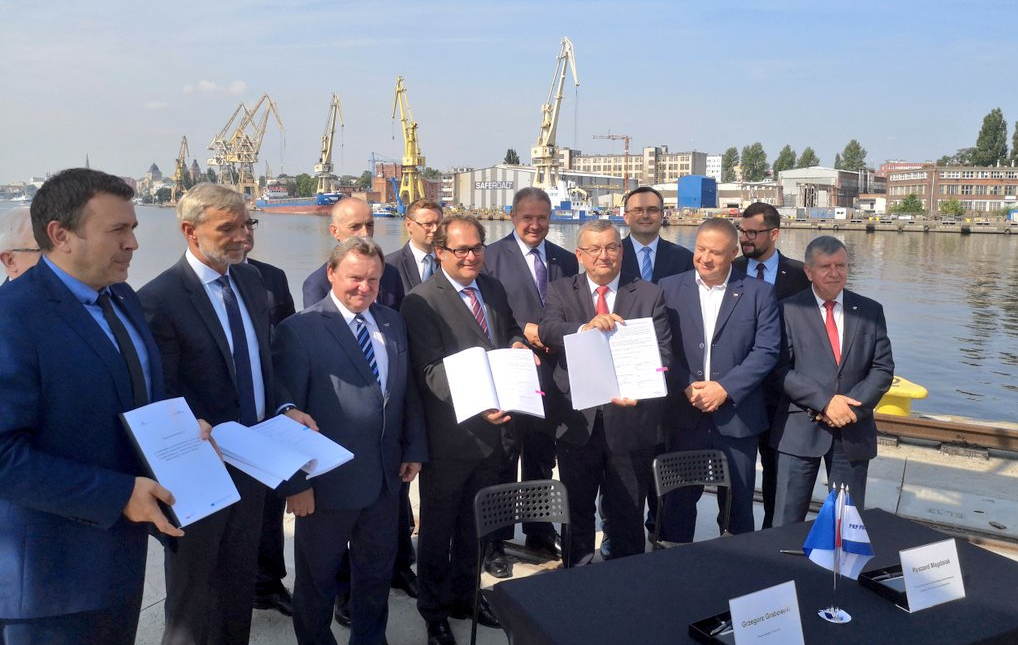 improvement of railway access to sea ports in Szczecin and Świnoujście is based on agreements signed by PKP PLK with Torpol – said Marek Gróbarczyk, Minister of Maritime Economy and Inland Navigation on Monday. The cost of the contracts is nearly PLN 1.5 billion net.
"Today's agreement absolutely fits into the programme of doubling the transshipments in the port in Szczecin, creating modern solutions and new transshipment possibilities. All this is aimed at building a solution for the Szczecin-Świnoujście port complex as a leading port which will serve the entire region of Western Poland. We are emerging from Western addictions, i.e. the claim that the largest Polish port was the port in Hamburg," said Marek Gróbarczyk, the Minister of Maritime Economy and Inland Waterway Transport.
The construction will include Szczecin Central Port and Świnoujście stations – railway infrastructure managed by PKP Polskie Linii Kolejowych S.A., container terminal Ostrów Grabowski (Szczecin Port area) and delivery and receiving tracks (Świnoujście Port area).
The effect of two agreements is to enable access to ports by a greater number of freight trains in the ports of Szczecin and Świnoujście. Heavier and longer warehouses are to be cleared more efficiently. The projects are implemented with co-financing from the EU financial instrument CEF "Connecting Europe". According to PKP PLK, the effect of the work is to increase the economic potential of the West Pomeranian Voivodeship.
In Szczecin and Świnoujście, the planned works include the reconstruction of about 100 km of tracks, 3 viaducts and a bridge. Electrification of some tracks is also planned.
Elżbieta Bielecka
Photo: MGMiŻŚ / Twitter