Fourth LNG powered PSV for Norway launched at Remontowa Shipbuilding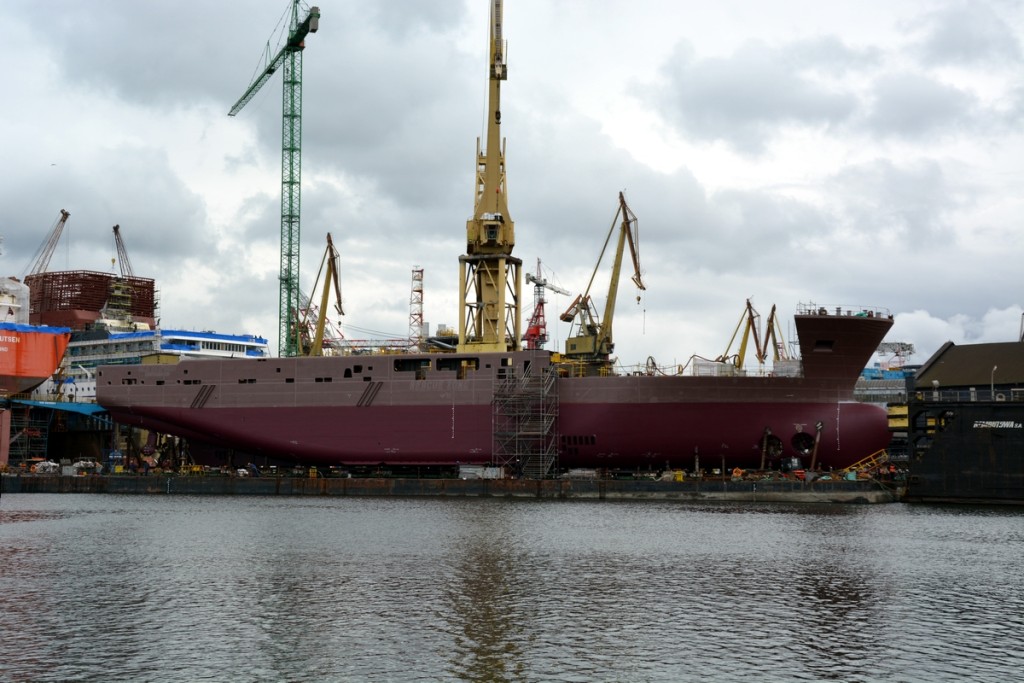 On Tuesday, 23rd of February 2016 the launching of the LNG-powered specialist vessel intended for supplying oil drilling and oil mining rigs took place in Remontowa Shipbuilding, member of Remontowa Holding in Gdansk. The ship is being constructed for Siem Offshore – one of the biggest Norwegian offshore fleet owners.
The recently launched dual fuel LNG powered PSV is the last one from the series of four similar vessels under construction at Remontowa Shipbuilding for Siem Offshore. The first vessel named Siem Pride has already been delivered to the owner.
Read also:  Polish-built LNG powered PSV Siem Pride in operation
Since the beginning of its construction the fourth PSV in the series was being built onboard a Remontowa owned semi-submersible heavy lift barge. On February 22, the hull had been moved from the barge onto the floating dock, which was submerged afterwards. After the launching, intensive outfitting works on the ship commenced.
These vessels are being entirely constructed in Gdańsk – starting from developing workshop documentation, going through building of the hull and ending up with complete outfitting and performing sea trials. The PSVs are to be equipped with state-of-the-art navigation systems including an advanced dynamical positioning system DP2, gas-electric propulsion, fire-fighting system Fi-Fi 2 and facilities for containing of oil spills.
The 89 meter long vessels with a cargo deck area of 980 sq m will be capable of carrying up to 5400 tons and served by a 25 person crew.
These DNV GL classed vessels are of VS 4411 DF design. This new series represents the latest technology within dual-fuelled systems and hull design, to the benefit of lower fuel consumption, lower fuel cost, lower emissions and a better environment. The vessels are being built to meet the highest requirements for operations on the Norwegian Continental Shelf and are also suited for operations in other geographical areas meeting the highest standards of environmental protection and safety of navigation and receive "CLEAN DESIGN" class notation.
Its hull, machinery and equipment are being constructed in accordance with the Rules and Regulations of Det Norske Veritas for notation: +1A1, Offshore Service Vessel+, Supply, SF, DYNPOS-AUTR, E0, GAS FUELLED, BIS, CLEAN DESIGN, COAT PSPC (B), COMF-V(3) & C(3), LFL*, NAUT OSV(A), DK (10t/m2) and HL (2.8), Oilrec, Stand-by Vessel (S), Fire Fighter II. Furthermore, the vessels will fly the most reputable Norwegian flag.