DNV GL establishes Global Shared Services Centre with 200 employees in Gdynia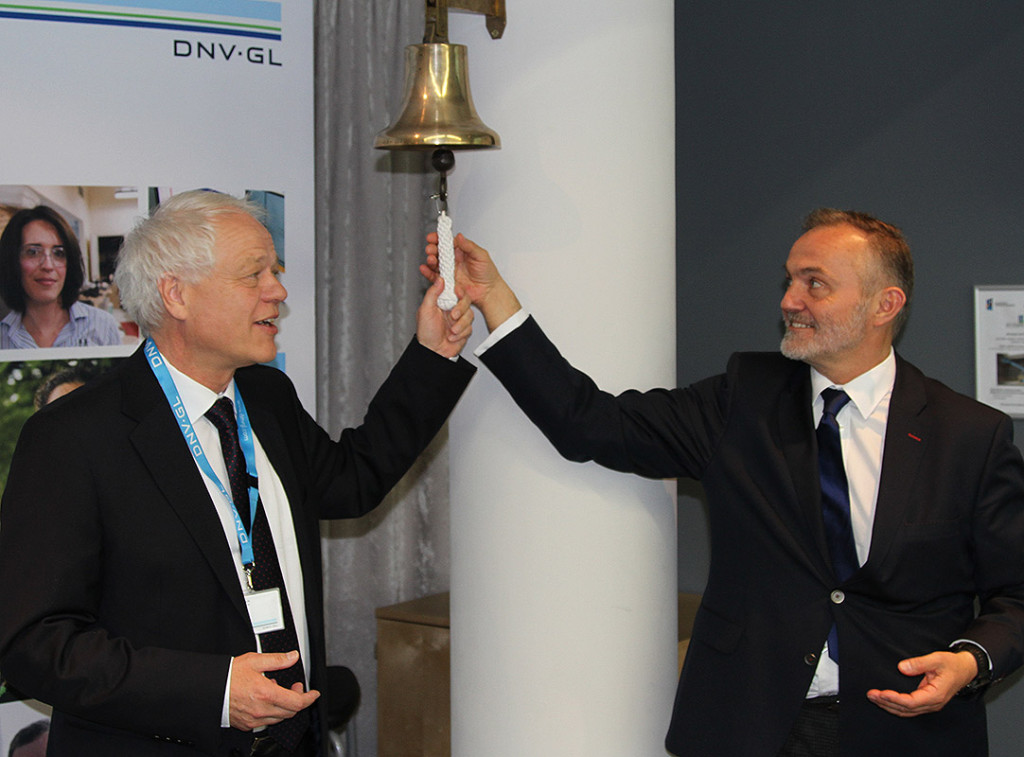 Strengthening its presence in Poland, the classification, certification and technical advisory company DNV GL is building up a centre in Gdynia for global support services within finance, operational accounting, HR, procurement and real estate management. Competent employees at all levels, from fresh graduates, seasoned professionals to senior managers are needed to build up the centre.DNV GL is a global knowledge-based company with about 15 000 employees in 100 countries, with leading expert positions in maritime, oil and gas, renewable energy and power grid sectors. Its corporate headquarter is in Oslo, Norway, and has currently around 400 Polish employees. Operating in more than 100 countries, it employs 15,000 professionals.
Among others, the official launching of the project was attended by mayor of the City of Gdynia Wojciech Szczurek and vice president, country chair DNV GL Poland Henrik Bach, who, together, ringed a ship's bell to symbolically mark the start of the project, as well as vice president, communication director DNV GL Wiggo Richardsen and Katarzyna Gruszecka-Spychała, deputy mayor for economy of the City of Gdynia.
"DNV GL has had a strong presence in Gdynia since 1972, mainly supporting the maritime industry. Since then we have added software and IT services which today successfully support our international organisation. Joining forces with our existing Global Shared Services IT unit in Gdynia, we will now build our first centre of this type here with finance, operational accounting, HR, procurement and real estate management services. Drawing on good universities in the region, I know Gdynia is a location where we can recruit skilled employees. By the end of next year we expect to be 150-200 people," says Thormod Fjell, who leads DNV GL's Global Shared Services unit.
"The company is an outstanding employer and due to the complexity of high-end processes supported gives our city's economy great value added. We are confident that the new global centre shall prove another success story"- comments Katarzyna Gruszecka-Spychała, the Deputy Mayor of Gdynia.
"Making our global support processes more digital, agile and efficient is exciting from a professional perspective, and also very important for DNV GL. Obviously, there will be a steep learning curve for all involved," expresses Thormod Fjell.
Aleksandra Czerwińska from Poland will be leading the Gdynia centre. She is returning to Poland for this job after eight years as regional manager for DNV GL's for Finance and administrative services in China.
"To be a part of building our new centre and working within an international organization with a highly recognized brand is an exciting opportunity. DNV GL is a great place to develop competence, and through my 16 years in the company, I have built an extensive international network and gained invaluable experience within how international businesses are run," she says.
"We are now looking for dedicated employees with strong skill sets, a professional and service oriented attitude, and of course a strong team spirit. We can offer interesting and challenging tasks, and most importantly, competence development and career opportunities in a company with a strong, value-based culture," explains Aleksandra Czerwińska.
"It's very important to see such a well-established investor take another huge step based on the quality of local talent pool"- says Mieczysław Struk, Marshall of Pomerania. "This serves as yet another confirmation that professionals in Tri City have proven skilled, experienced and talented enough to secure proper staffing to the new operations in DNV GL."- he summarizes.
rel (Invest in Pomerania), PBS