Another live fish carrier from Marine Projects for Larsnes yard in Norway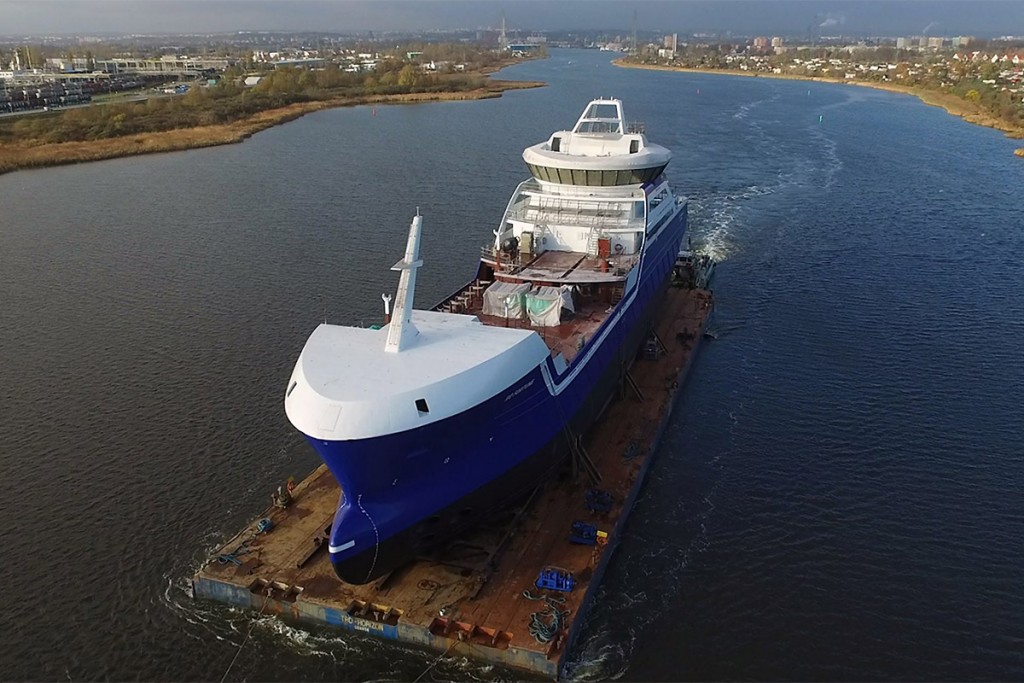 On December 17, 2017, after a weeklong tow from Gdansk, a partially outfitted live fish carrier arrived to Larsnes Mek. Verksted AS yard, after delivery from Marine Projects Ltd. yard, established in 1989.  Ro Fortune, newbuildings no. 62, is another unit of similar design to be built in Gdansk (earlier, since December 2015 r., Gdansk based yard delivered partly outfitted sister vessels Ro North, Ro Server and Ro West).
After skidding from hull assembly site on the quay, on November 15, Ro Fortune left the Marine Projects yard on a pontoon-barge, for launching in a floating dock of Naval Shipyard Gdynia and returned, on the next day, to Marine Projects quay for further outfitting.
The vessel is ultimately destined for Norwegian owner and operator Rostein AS. The keel lauing, at Marine Projects, formally took place on June 9, 2017. The vessel, after finishing touches and final outfitting, is expected to be delivered from Larsnes Mek. Verksted AS within half year.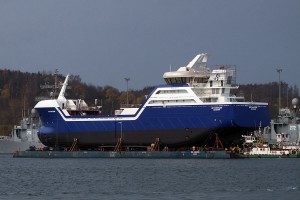 The vessel is 82.10 m long overall, 15.50 m wide, id drafting 6.80 m and has 8.00 m depth. It features gross tonnage of 3579 and deadweight capacity of 5500 t.
The vessel has tanks for carrying fish in cooled water (RSW) with a capacity of 3500 m³, which equals the carrying capacity of 900 ton of fish. The vessel is outfitted with high output pumps for circulation of refridgerated water, moveable bulkheads in hold, counter of live fish, cameras, UV radiators, etc.
The vessel is equipped with diesel-electric main propulsion with main electric motor providing 5480 kW (7452 KM) power (MCR) / CSR of 4656 kW (6332 KM) for single propeller, allowing the vessel to reach the service speed of up to 13 knots. The vessel is equipped with stern and bow transverse thrusters, 900 kW (1224 KM) each.
The accommodation is provided for the crew of 14 persons.
Marine Projects has letters of intent signed for two further similar vessels, for the traditional client – Larsnes yard, as well as partly outfitted trawlers-seiners for Larsnes Mek. Verksted AS. Hovden Viking, a 46 m long and 980 gross tonnage trawler-seiner is under construction, to be delivered to Larsnes yard and ultimate owner – Hovden Senior AS.
PBS
Photos: Larsnes, Piotr B. Stareńczak