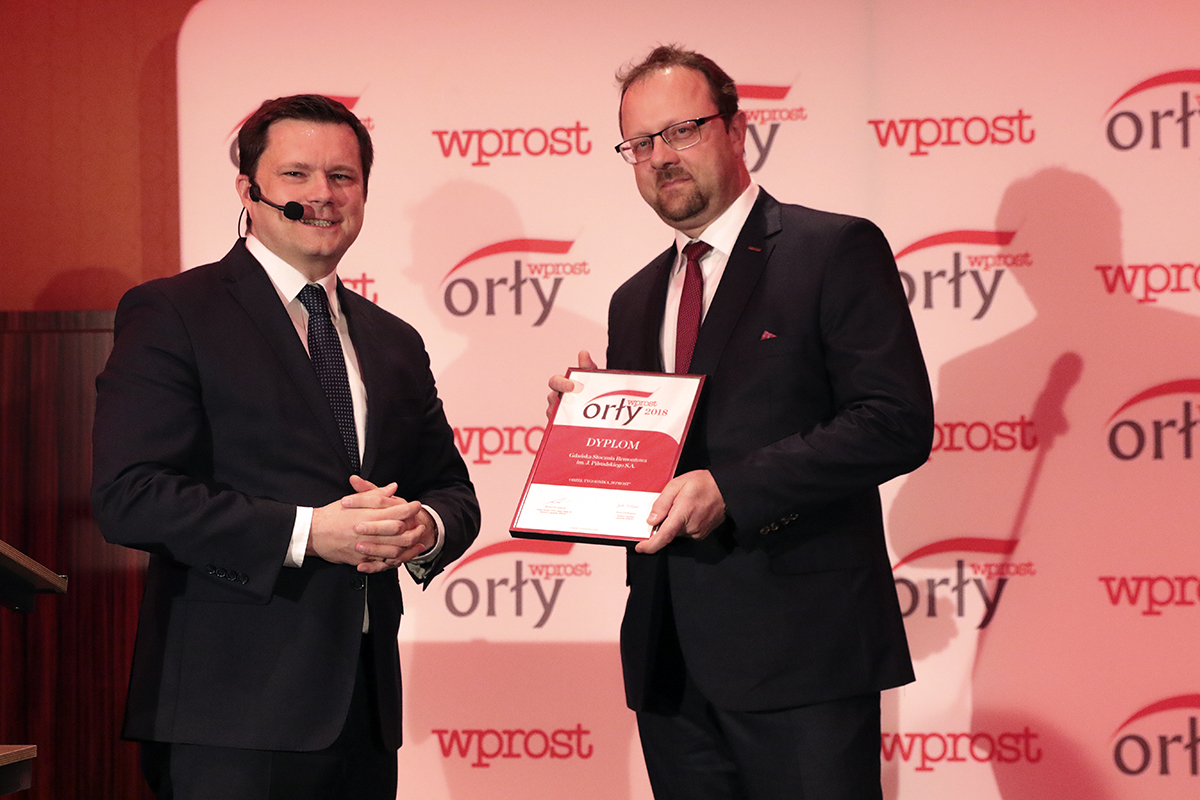 On the 24th of April 2018, a ceremony of handing over a "Wprost Eagle" award for the best companies in the Pomeranian region was held in Gdansk. The prize is dedicated to the companies that significantly contribute to the economic development of the country and the region in which they operate. The White Eagle, the emblem of the Polish State's government-in-exile based in London has become a symbol of the award.
The "Wprost Eagle" award is given to the companies with both the highest net profit gained over the last three years and the highest average growth in net profit achieved within this period. The award-winning companies must also meet some additional requirements such as lack of economic looses, clean records in the registers of delinquent debtors as well as achieving suitable profitability.
The Gdansk based Remontowa Shiprepair Yard has been among the rewarded companies. At the special ceremony held in Gdansk, on behalf of the company, the Wprost Eagle award was accepted by Michał Habina, CEO of Remontowa SA.
– The "Wprost Eagle" obliges, all the more so as we are a Polish company, the largest one in the Remontowa Holding capital group, which is the biggest private owned employer in the Pomeranian region consisting of more than 20 business entities and giving work to over eight thousand people – said Michał Habina, who accepted the award from Jacek Pochlopien, Editor-in-Chief of the "Wprost" weekly.
Habina also emphasized that Remontowa SA as a hugh shipyard in Europe with a highly qualified staff is being chosen to execute the most complex tasks by ship owners from all over the world.
– We specialize in pro-ecological upgrades of ships, converting propulsion systems to use clean fuels such as LNG and methanol, retrofitting systems to reduce emissions of harmful substances to the atmosphere and we also modernize ships to make them more energy efficient – Habina explained and added, that Remontowa deals a lot with "green shipping" projects.
The most recent examples of such activity are the lengthening of six Finnlines' ro-ro vessels and the mid-life upgrade of the two BC Ferries operated "Spirit" class ferries including the conversion to a dual-fuel system to enable operation with both low-sulphur diesel and natural gas feeding (stored as LNG).
– Making profits is very important, since these companies pay high taxes to the general budget of the Polish State – said Jacek Pochlopien, Editor-in-Chief of the "Wprost" weekly.
It's worth recalling that the "Wprost Eagle" award hasn't been the first prize given by the "Wprost" weekly to the Gdansk-based shipbuilding group.  In 2017 Remontowa Holding was ranked second on the list of top 100 largest Polish exporters. In 2015 the company won the title of the best Polish exporter in the ranking of 200 largest Polish entrepreneurs.  The chairman and co-owner of Remontowa Holding Piotr Soyka accepted the award, handed at Warsaw Stock Exchange at that time.
GL