Unique jack-up barge construction commenced at Crist shipyard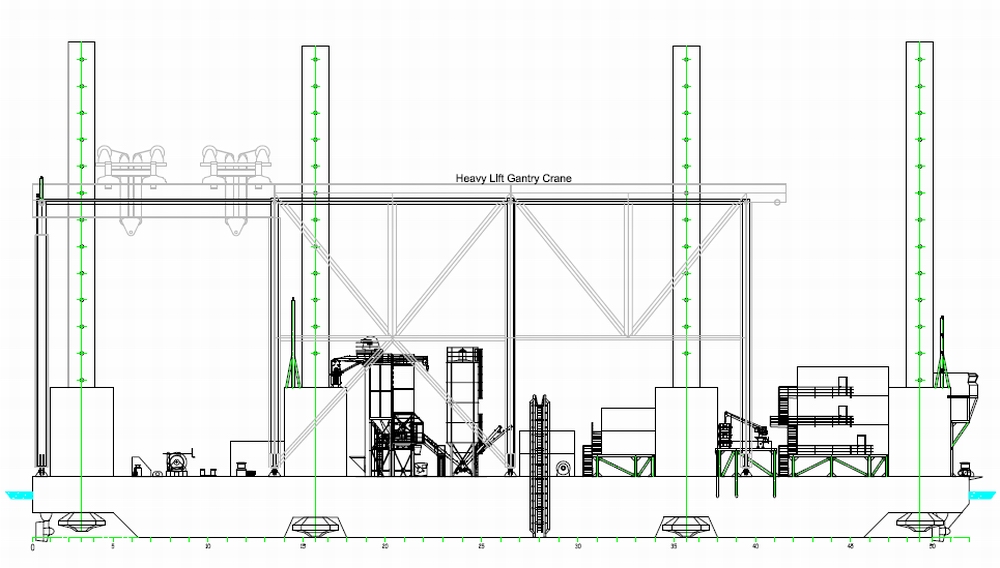 On 2nd February 2015 the steel plates cutting commenced for the Heavy Lift Jack Up Barge project (newbuilding no NB 105) intended for Bouygues Travaux Publics SA at Crist shipyard, Gdynia, Poland. The initial steel cutting was followed by the keel laying ceremony on March 25, 2015.
The barge was ordered by the French consortium carrying out the construction of the offshore motorway (flyover) on La Reunion Island. The contract was signed in November 2014 and completion is scheduled for the beginning of 2016.
The Heavy Lift Jack-up Barge (HLJB) is designed and will be built for the purpose of construction of a 5,5 km section of the road running along the cliffy part of the coast of the French La Reunion island, situated in the south part of the Indian Ocean.
The investment is very important from the point of view of the contracting party as falling rocks more and more often endanger the lives of people on the existing, shore based road just between the cliff and the coastline. The newly build section of the road will be at a distance from the shore, which will improve the safety of the inhabitants and tourists visiting this picturesque island situated near Madagascar.
Until now, Crist shipyard, have built a few jack-up units with four legs each. This time, there will be as many as eight jack-up legs and jacking systems. The forecasted time for the construction is 14 months.
Basic technical data of the barge: length 106,5 m, width 49 m; 4 main engines (diesel electric), 4 propellers (azimuthing thrusters), automatic tensioning winch, 8 leg jack-up system, two gantry cranes – 2500 tons lifting capacity, each; combined mass of the hull – about 5 000 tons.