New yacht model – the Conrad C133S Straight Bow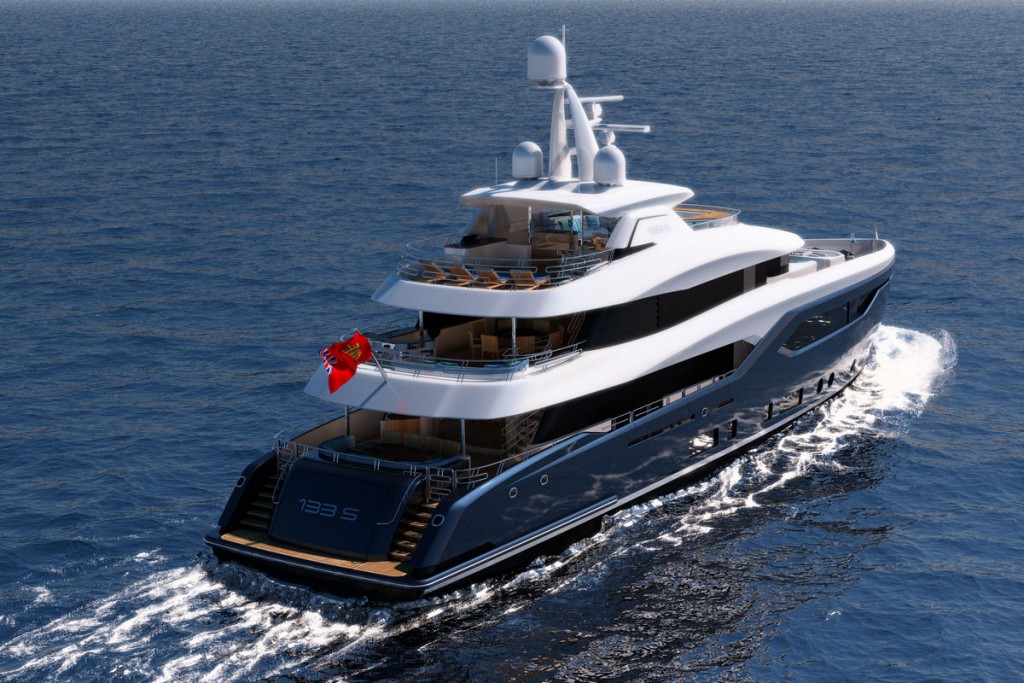 Following delivery of Conrad C133 Viatoris last summer, Conrad Shipyard revealed a new, near sister vessel, design – the Conrad C133S Straight Bow (Conrad C133S).     
Whether the "S" stands for "Super", "Sleek", "Sexy" or just plain and simple "Straight Bow", trying to foresee the ever changing needs and demands of clients, Conrad Shipyard presents the sister ship to the successful C133, the C133S. Staying true to the modern, yet timelessly stylish design by world-renowned design studio Reymond Langton, the C133S' straight bow is not only a refreshing touch compared to the classic bow in the C133, but provides for new layout options as compared to its' sister ship. The additional volume due to the shape of the hull can be used for additional crew space or to generate more space for guests. Conrad Shipyard is pleased to announce that this prestigious creation by Britain's Reymond Langton, married to the proven naval architecture and engineering by Diana Yacht Design is ready to go into production and is now offered as a semi-custom model.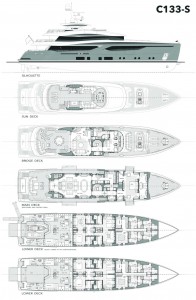 C133S – principal particulars:
exterior design – Reymond Langton
naval architecture – Diana Yacht Design
detailed and mechanical engineering – Conrad Shipyard
interior design – Conrad Shipyard
year – 2020
type – full displacement motor yacht
length o.a. – 40.00 m (131 ft. 3 in.)
length on waterline – 38.85 m (127 ft. 5.5 in.)
max beam – 8.30 m (27 ft. 3 in.)
draft – 2.50 m (8 ft. 2.42 in.)
displacement – approx. 370 t
gross tonnage – 418 GT
capacities:
fuel tanks – 48600 l (12838.76 gal.)
fresh water – 10500 l (2773.81 gal.)
sewage capacity – 6640 l (1754.10 gal.)
used lube oil – 1000 l (264.17 gal.)
llean lube oil – 1000 l (264.17 gal.)
cruising / max speed – 11 kn / 13 kn
range – 4000 NM @ 10.5 kn
propulsion:
engine – 2 x CAT C18 ACERT, B-rated, 500kW @ 2100rpm
gearbox – 2 x ZF W650
propulsion – 2 x Rubber Design Oil-Cooled Shaft Lines
generator – 2 x CAT C4.4 99 kW
stabilization system – CMC Electric Zero Speed Stabilizers
bow thruster – Verhaar Omega 60 kW
stern thruster – Verhaar Omega 60 kW
equipment:
deck equipment – Maxwell
hydraulic system – Feebe
gangway – Feebe
sliding tender crane – Feebe
tender crane – Besenzoni
air-conditioning – Webasto
steering gear – Jastram
sewage treatment – Hamann AG
navigation & communication – Furuno / Sailor
paint system – AWLGrip
watermaker – Sea Recovery
shore power converter – ASEA
construction – steel hull, aluminum superstructure
class – LR + 100A1 SSC Yacht Mono G6, [+] LMC, MCA LY3