The world's first hydrogen-powered river vessel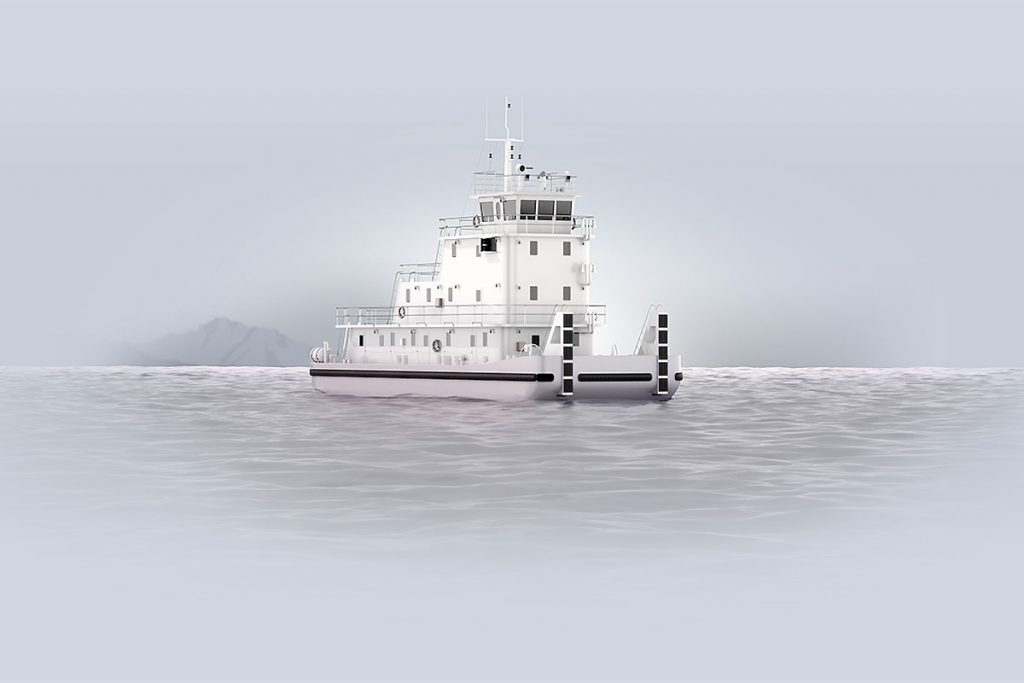 ABB will provide a power and propulsion solution for a newly built hydrogen fuel cell vessel.
The EU-funded FLAGSHIPS project involves the construction of two commercial emission-free vessels for inland waterway transport and short sea shipping. Both vessels will run on hydrogen generated from renewable energy. The project is intended to be the starting point for further initiatives to develop zero-emission shipping in Europe.
One of the two vessels will be a river pusher of Compagnie Fluviale de Transport (CFT – a French subsidiary of the Sogestran Group). The ship, which is to operate on the Rhône river in France, will be equipped with ABB drives and the company's energy system based on fuel cells. Thanks to hydrogen, which will be obtained from renewable energy sources on land, the entire energy chain of the ship will be emission-free. The pusher will be launched in 2021.
– For more than half a century, CFT has been an innovator in the field of inland waterway transport. Energising river transport in a sustainable way is a new challenge, but reducing emissions on inland waterways, especially in urban areas, has become a necessity. The project aims to show that emission-free operation is both feasible and financially viable," said Matthieu Blanc, Managing Director of CFT.
ABB has been a member of the FLAGSHIPS project since its launch in January 2019. The company is working closely with VTT, a Finnish research organisation and project coordinator, as well as with Ballard Power Systems Europe, a leading provider of innovative fuel cell and clean energy solutions. The cooperation is to help develop an installation enabling the use of a 400 kW fuel cell to power vessels.
– Through active participation in the project, we are crossing new boundaries of e-mobility in shipping – added Peter Terwiesch, Director of Industrial Automation Business at ABB. – We want to be committed to creating a future for the maritime industry where ships will operate in a more efficient and environmentally friendly way.
The project also aims to demonstrate that fuel cells are a practical and achievable drive for both shipowners and mid-size shipbuilders who can transport more than 100 passengers (or cargo equivalent) at a time on inland or coastal waters. For this reason, the scope of FLAGSHIPS activities also includes an assessment of the operational impacts of the transition to hydrogen as a fuel.
Once the fuel cell installation is installed, the CFT vessel is to be commissioned on a daily basis, paying particular attention to the refuelling procedures necessary for the future schedule of the refuelling unit. The trials will therefore also provide information on the development and optimisation of the refuelling infrastructure.
It is estimated that maritime transport emits around 940 million tonnes of CO2 annually. The International Maritime Organisation, the UN agency responsible for the safety and security of shipping, has adopted a strategy to reduce greenhouse gas emissions from ships by at least 50% by 2050. (for 2008), with the ultimate goal of zero emissions.
Fuel cell technology is widely recognised as one of the most promising sustainable energy solutions. Fuel cells convert chemical energy from fuel into electricity through electrochemical reactions.
FLAGSHIPS is supported by the Fuel Cells and Hydrogen Joint Undertaking (FCH JU). It is a public-private partnership established under Horizon 2020 to accelerate the commercial deployment of transport and energy technologies. The three FCH JU members are the European Commission, Hydrogen Europe and the research community represented by Hydrogen Europe Research. LMG Marin, NCE Maritime CleanTech and PersEE are also involved in the new CFT project.
Rel (ABB)