The largest apparatus of the EFRA Project already at LOTOS [VIDEO]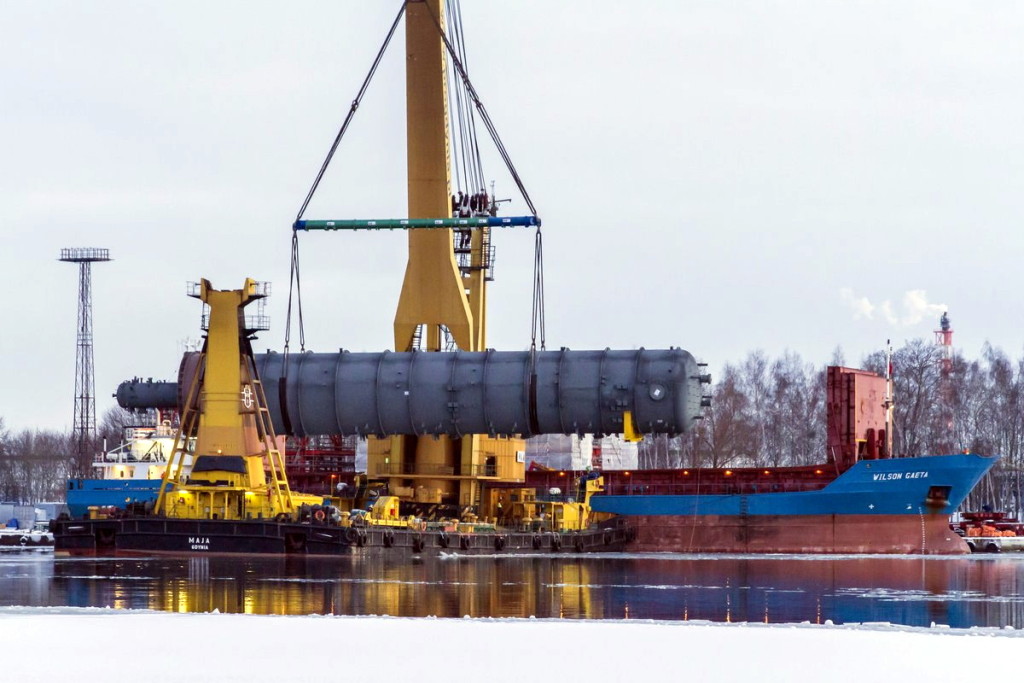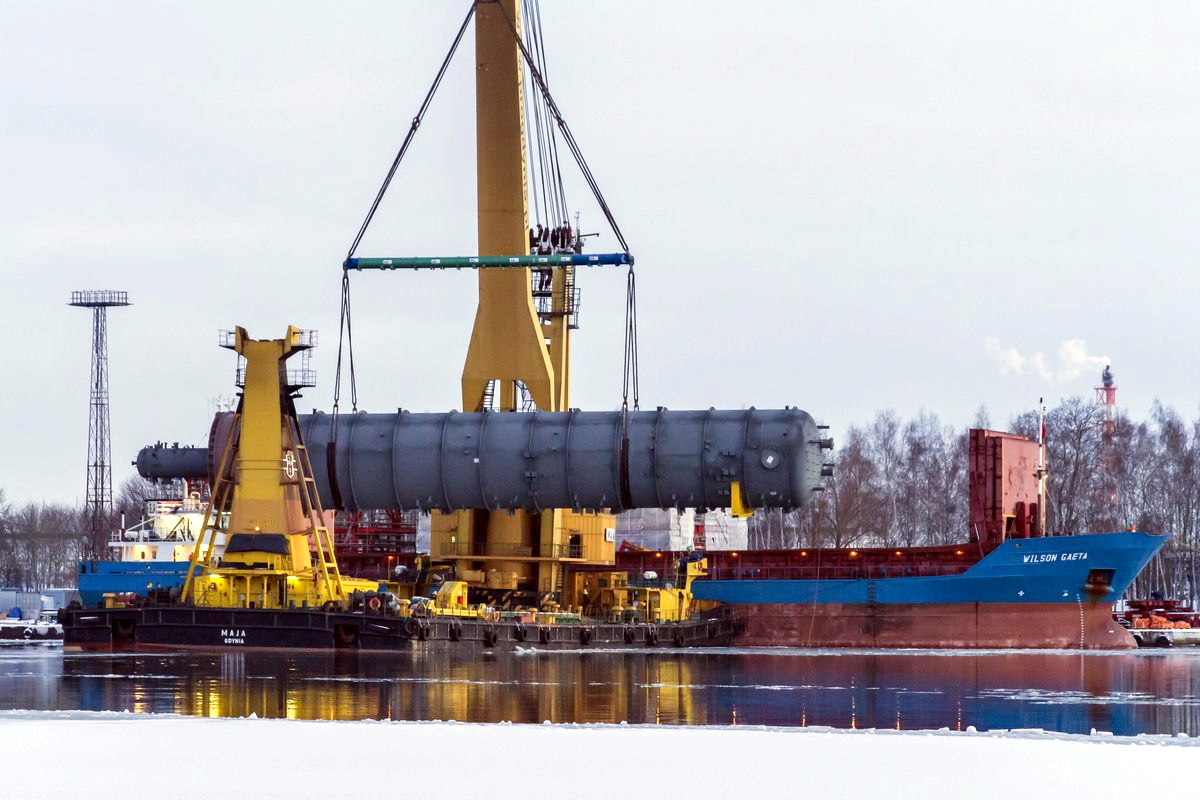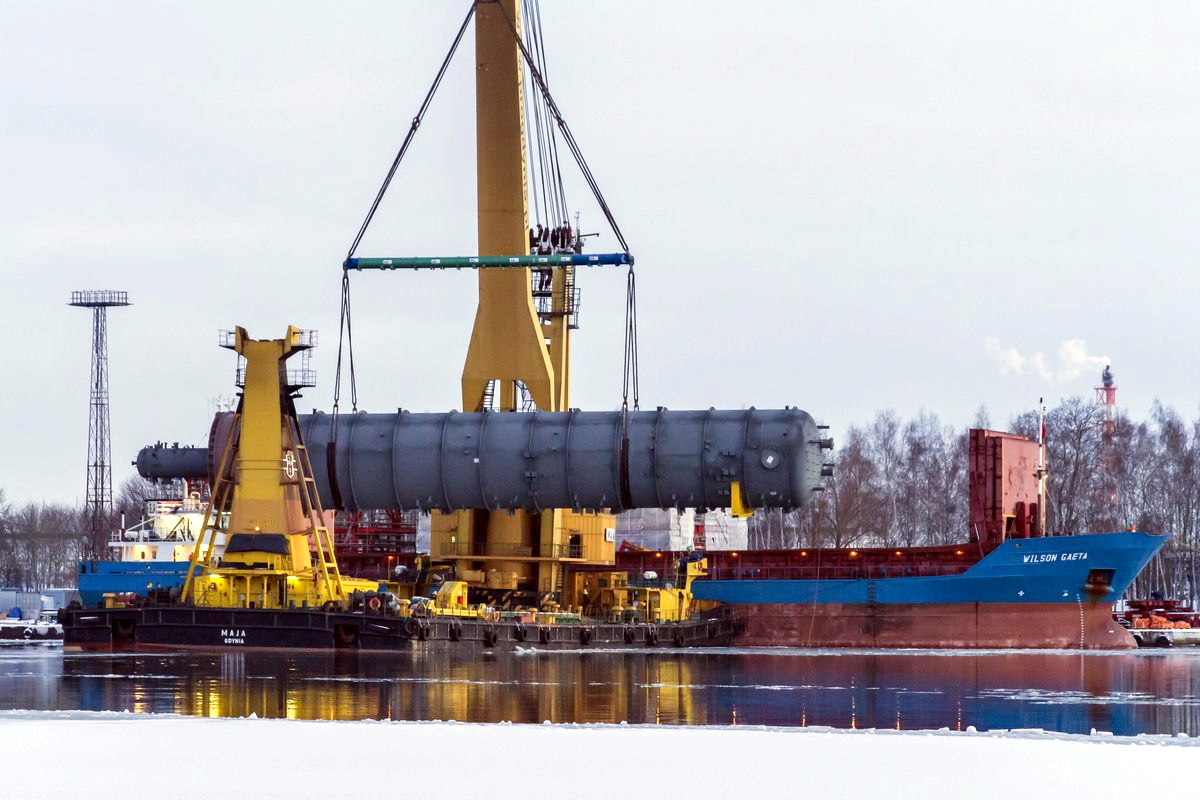 The 290 tonne column for the HVDU unit has arrived from Rotterdam by sea at Grupa LOTOS' refinery in Gdańsk. It is the largest and heaviest component of the EFRA Project units.
The column, which will process 95 tonnes of hydrowax per hour, is almost 48 m long.
– In accordance with the construction timetable, between mid January and the end of February all largest components of the EFRA Project will be delivered by sea and assembled – stresses Grzegorz Błędowski, EFRA Project Director at Grupa LOTOS S.A.
– We have unloaded the HVDU column from the ship and we expect the other equipment (distillation column and two DCU reactors) to be delivered towards the end of January. On the construction site, work on assembling sections of the steel structure which will surround the DCU reactors is nearing completion. The sections and the reactors will be mounted as part of the 'heavy lift' operation. The structure height, including its foundation, will exceed 100 metres. The timetable provides for lifting and mounting work to commence in late January – he adds.
The HVDU unit will process hydrowax residue from the hydrocracking process. After being separated by distillation, hydrowax fractions will be fed into other units for further processing. Their deeper conversion will improve the refinery's operating efficiency and will make it possible to enhance the quality of certain final products, including base oils.
– One of our most important tasks is an active approach to developing innovative solutions across the Group, such as the ones implemented as part of the  EFRA Project – says Mateusz Aleksander Bonca, Vice-President of the Management Board and Chief Strategy & Development Officer at Grupa LOTOS SA.
– This huge technological undertaking represents an integral part of the LOTOS' strategy for 2017−2022. Given its size, profitability and new growth opportunities, this project is our priority now – he emphasizes.
The EFRA Project, whose implementation commenced in October 2015, provides for the construction of a complex of interconnected deep conversion units. With the new production units, LOTOS' refinery in Gdańsk will gain innovative technologies and enter the group of the most modern plants of this type in the world. Once the EFRA Project is completed, LOTOS' refinery will increase its annual fuels output by 900 thousand tonnes and will manufacture 300 thousand tonnes of coke per year. The project is expected to increase the actual refining margin by some USD 2 per each barrel of oil processed.
rel (Lotos Group)
---
Below: See the unloading of the HVDU column from the Wilson Gaeta vessel. Video: PolandatSEA.com