The Hanne Knutsen tanker to be converted to an FSO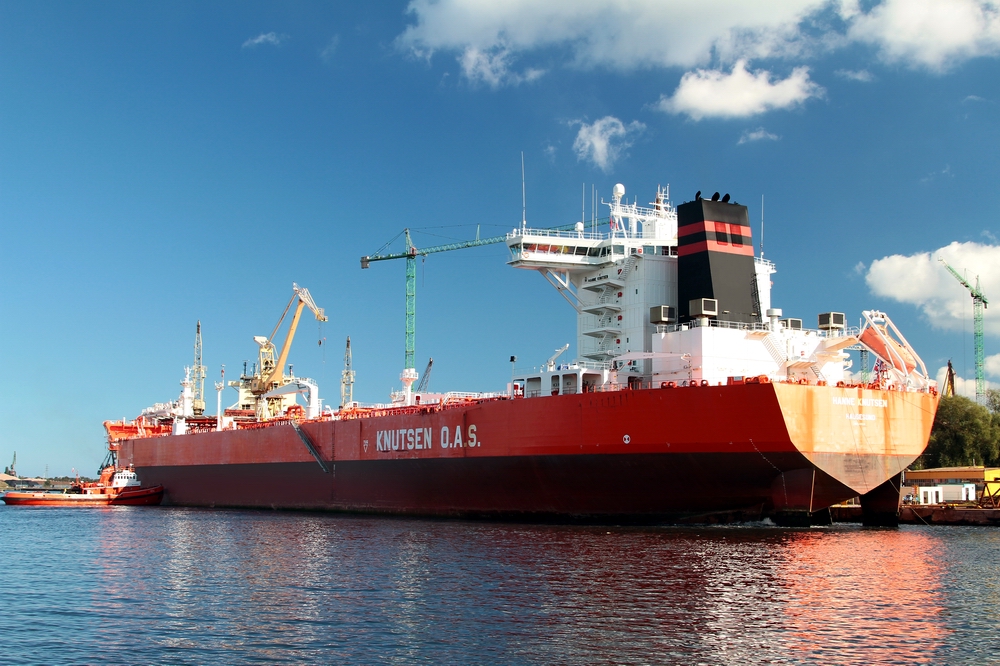 Another large shuttle tanker was moored at Remontowa Shiprepair Yard's quay on September 30, 2015, not for repairs though. The following year will see Hanne Knutsen being converted to a Floating Storage and Offloading (FSO) vessel for operations on the Martin Linge field.
As announced in December 2013, KNOT FSO 1 AS, a wholly owned subsidiary of Knutsen NYK Offshore Tankers AS, has signed a time-charter contract with Total E&P Norge AS for a floating, storage, and offloading unit (FSO). For this project, a KNOT shuttle tanker will be converted into an FSO unit and then chartered by Total E&P Norge AS.
The converted FSO will be used to store and offload oil that has been pumped from the Martin Linge field in the Norwegian North Sea. This field is held by a partnership comprising the operator Total E&P Norge, Petoro and Statoil. After delivery, the FSO unit will be chartered to Total E&P Norge for eight years plus up to four optional years.
The contract for the vessel's conversion was signed by Remontowa and the Owner on March 10, 2014. In April 2015, the first steel cutting for the prefabricated structures for Hanne Knutsen conversion took place at Remontowa.
The FSO will feature a remote-controlled system which allows the processing of oil and water to be controlled from a Central Control Room onshore in Norway. The Martin Linge field, including the FSO, will also be powered with electricity from shore through the world's longest high voltage AC subsea cable. This makes the Martin Linge FSO more environmentally friendly with regards to CO2 emissions.
The Martin Linge field is located 180 kilometres west of Bergen in Norway, near the border with the UK sector, in 115 metres of water. The field contains both oil and gas. The production is expected to commence in the beginning of 2018.
The Martin Linge development consists of a new fully integrated fixed production platform with a steel jacket and a permanently anchored storage ship for oil (FSO to be converted from a shuttle tanker at Remontowa). The gas will be exported through a new pipeline linking the field to an existing pipeline to St. Fergus in Scotland, while the oil will be shipped from the field using shuttle tankers.