The first LNG fuelled ferry sails domestic route within EU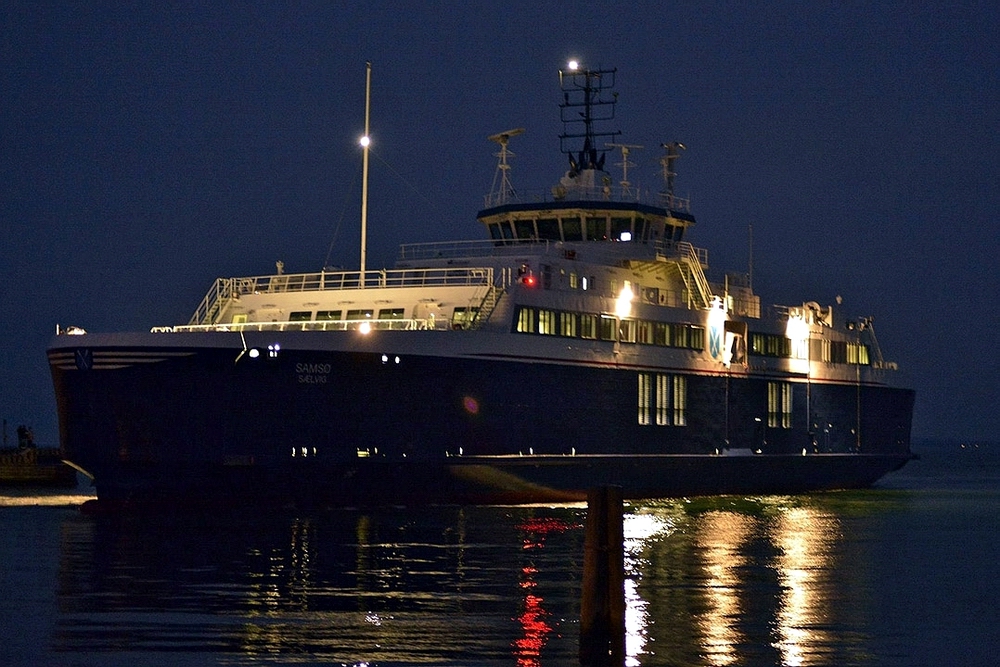 On February 11, 2015, a new ferry was greeted by representatives of the local community in the port of Sælvig and its approaches, near Danish island Samsø. A day before, before noon, the Samsø departed from Remontowa Shipbuilding in Gdansk, Poland, where the new ferry, named after the island itself, was built.
The ferry is operated by Samsø Rederi, owned by Samsø Kommune. Samsø operates between main land (Jutland) Hou and island Samsø with service speed of 14 knots. The vessel has four propulsion azimuthing thrusters and specially design bottom hull form at ends for better manoeuvrability in the shallow water.
The vessel is able to carry 160 personal cars, or 16 lorries and 600 passengers. Cars are stowed on main deck and two hoistable decks above. Embarkation to the vessel is arrange through bow and aft visor doors and embarkation door directly to staircase. At that time vessel will be connected to shore ramp. To reduce time of operation in the harbours the ship is equipped with automatic mooring system. Time of operation in the harbour is to be below 15 min. Ample CCTV cameras system around the vessel and two central bridges allow for excellent visibility and safe manoeuvrability for the captain.
The vessel is built to meet the highest European standards and to minimize its environment impact for waters around Denmark. Main propulsion system using LNG fuel with pilot amount of diesel ensure the lowest harmful emission and high fuel efficiency. The main gas engines in normal operation are able to deliver power for all thrusters and give required electric auxiliary power for the hotel with maximum speed just below 16 knots.
Use LNG as main fuel reflects the ideas of Samsø Kommune promoting the tourist attractiveness of the Samsø Island.
Companies of Remontowa Holding group have contributed to the project some 60% of total workload. The detailed design and workshop drawings of the vessel are prepared by the Holding's in-house design office RMDC, while complete ro-ro handling system is supplied by Remontowa Hydraulic Systems. The ferry is equipped with luminaires manufactured and installed by Remontowa Lighting Systems, and FAMOS has fitted all interior spaces with furniture. What is more, the "heart" of the ship's propulsion LNG system with a special cryogenic tank and cold box, entirely designed in Poland has been produced and delivered by Remontowa LNG Systems. This is the first cryogenic LNG tank destined for the sea ever built in Poland.