Stena Germanica converted to run on methanol
Remontowa Shiprepair Yard SA, member of Remontowa Holding has converted the large ro-pax ferry's propulsion system to methanol fuel.
One of the world's biggest ferry companies, Stena Line, has become the first operator in the world to run a large 1,500 passenger ferry on methanol, drastically reducing emissions compared to today's standard fuel.
In November 2014, the ferry operator revealed that it had decided to convert the 240-meter long ferry Stena Germanica (ex. Stena Hollandica) sailing between Gothenburg and Kiel to methanol propulsion. The conversion of Stena Germanica was entrusted to Remontowa SA in Gdansk, Poland.
Methanol is a clear, colourless biodegradable fuel that can be produced from natural gas, coal, "biomass" or even CO2. It plays a key role in the energy sector as a clean and cost competitive alternative fuel and energy resource. By using methanol the emissions of sulphur (SOx) will be reduced about 99%, nitrogen (NOx) 60%, particles (PM) 95% and carbon dioxide (CO2) 25% compared with today's widely used fuel (HFO).
Having a similar emissions profile to LNG, methanol has the potential to be an important fuel for the shipping industry in the future. Although more expensive to refine than LNG, methanol is liquid at ambient temperature, making it easier to handle and transport, and also allowing it to be stored for a greater length of time and requiring less infrastructure.
Since 2005 Stena Line has worked to reduce its environmental impact within its Energy Saving Programme, which has successfully reduced vessel energy consumption by on average 2,5 % every year.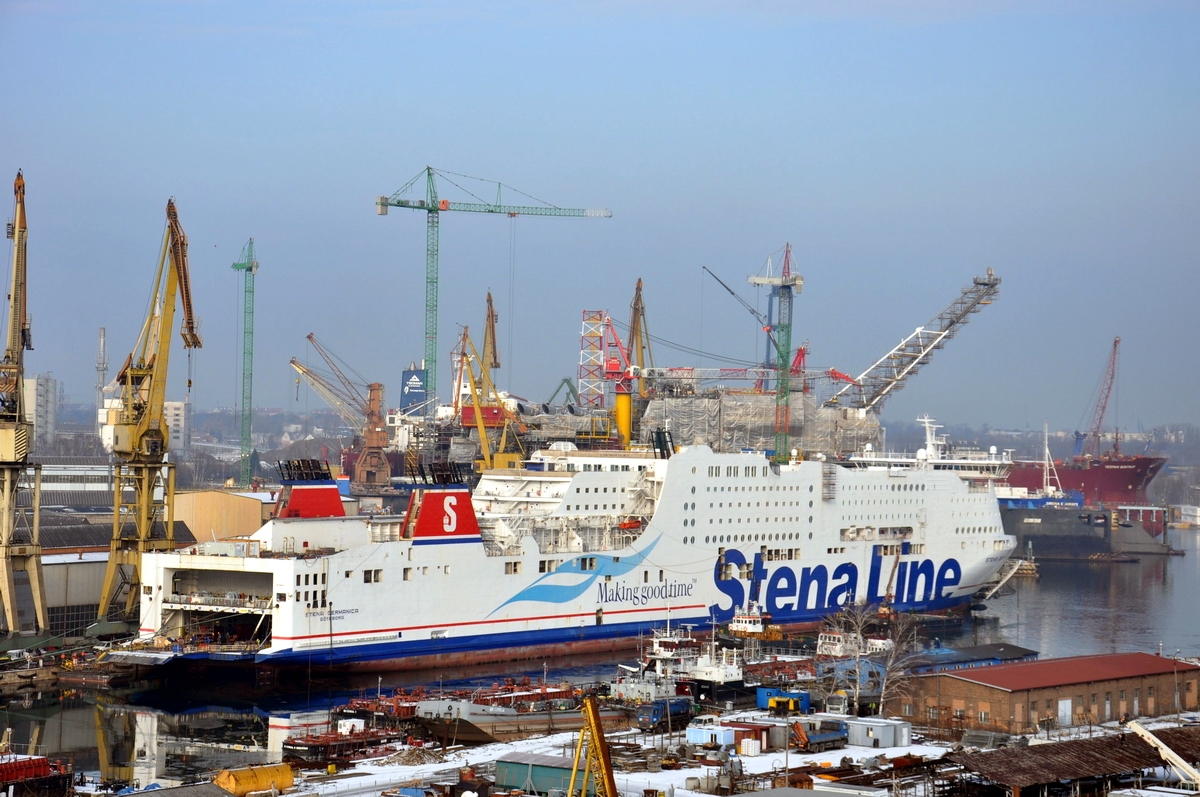 The Stena Germanica vessel has been converted to run on methanol, using an engine conversion kit and ship application supplied and developed by Wärtsilä in co-operation with Stena Teknik. The kit allows the vessel to operate in dual-fuel configuration using methanol supplied by Methanex, with MGO (Marine Gas Oil) as backup.
The project may be regarded as a pioneering one, given the size of the ship and propulsion plant in combination with innovative technology, previously used only in tests and in small scale. The vessel has conformed to new stringent EU and IMO environmental regulations.
Stena Germanica entered Remontowa in January 2015, however already several weeks earlier all possible preparations had commenced at the yard, including prefabrication of structural, systems and machinery parts to be used in the conversion. It involved construction and outfitting of new compartment, i.e. methanol pump room, installation of high pressure, double walled, methanol fuel feed piping, etc.
As the aim of conversion is, generally, improvement of operational performance, including cutting the fuel costs, additional measures – besides modification of propulsion system itself – have been taken to optimize the fuel consumption. The hull has become more hydrodynamically effective, contributing to fuel costs cutting, owing to modification of the bulbous bow (replacement with a new shape bulb section).
Stena Germanica departed from Remontowa Shiprepair Yard on March 24, 2015.