Safe Bristolia offshore rig welcomed again at Remontowa SA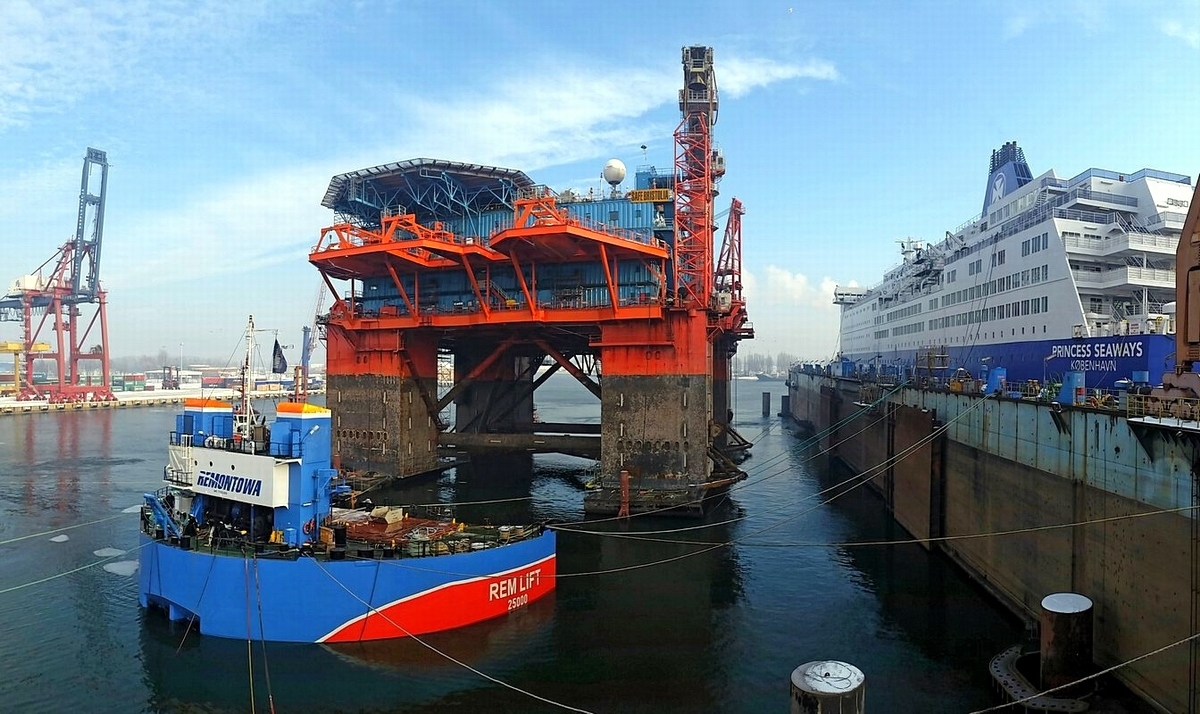 On January 16, 2015, the FPF-1 floating production facility built on a modified, bare hull, and just nearing completion, was joined at Remontowa SA by another semi-submersible offshore unit. On that day, the accommodation platform Safe Bristolia arrived, towed from Scotland, after experiencing some rough, winter weather in the North Sea. It is already the second visit of this offshore unit at Remontowa Shiprepair Yard Remontowa SA, member of Remontowa Holding.
Semi-submersible accommodation platform has arrived at Remontowa SA for general repairs, including 5 year class renewal, maintenance and protective coatings application works, works inside tanks and some other tasks. Two deck cranes will be replaced with new ones.
During 23 and 24 January, a successful docking of Safe Bristolia, weighing some 10 000 ton, was carried out onboard a Remontowa owned submersible heavy-lift barge Rem Lift 25 000. The 25 000 dwt capacity, 140 m long and 44 m wide submersible is able to lift and dock considerably larger mobile offshore units as well and, if needed, may be easily converted to larger dimensions and payloads.
Safe Bristolia has already been staying at Remontowa previously. It was being hosted in Gdansk since October 2010 till mid May 2011, when Remontowa SA performed repairs according to wide-ranging specification and upgrade of the unit.
Safe Bristolia is a 1983 built and 2006 converted moored semi-submersible accommodation vessel with beds for up to 588 persons and equipped with telescopic gangway (35.0m +/- 6.0 m) and 8 point wire winches mooring system.
Not only the Safe Bristolia itself is returning to Remontowa SA, but her Owners, Prosafe as well. Prosafe, which is the world's leading owner and operator of semi-submersible accommodation vessels, has already brought several such units to Remontowa SA for repairs or modifications and upgrades, such as: a semi-submersible accommodation and workshop platform Safe Scandinavia, a jack-up unit Safe Esbjerg and the Safe Caledonia semi-sub accommodation rig.