Remontowa Shipbuilding launched first electric ferry for Norway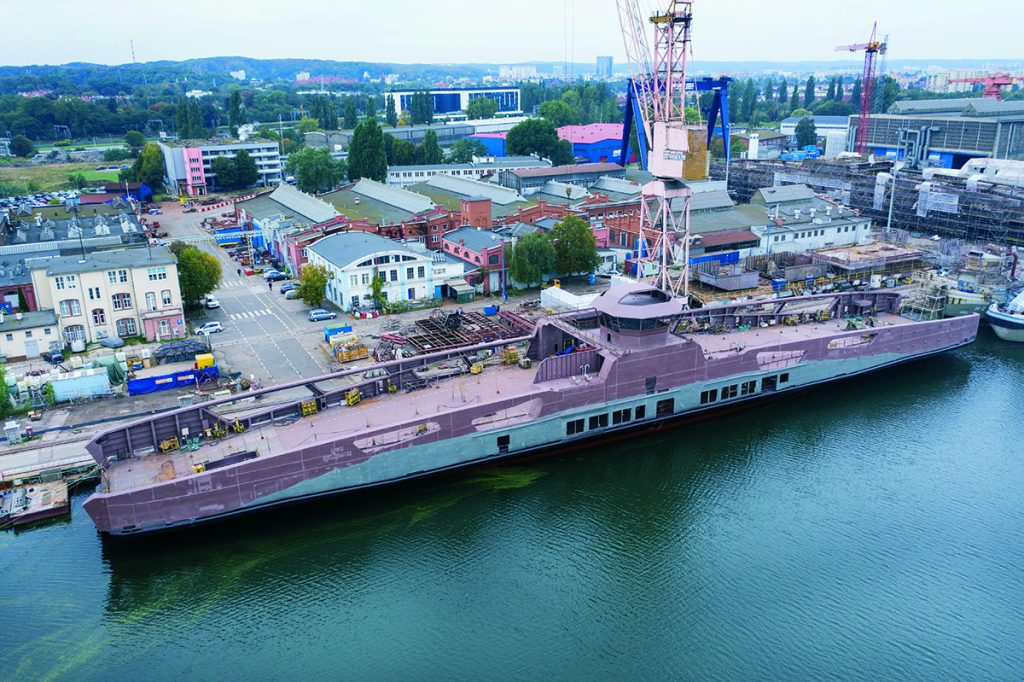 In Remontowa Shipbuilding SA from Remontowa Holding capital group, four battery-powered, double-sided passenger-car ferries are being built. They will be delivered to the shipowner Norled, one of the largest ferry carriers in Norway, with a fleet of 80 ferries. Six of them have been built at Remontowa Shipbuilding SA so far.
The first of a series of four new vessels for the Norwegian shipowner (B619/1) was launched using a floating dock already on 23 September.
Under the contract signed in 2018, four fully equipped units of this type will be built in Remontowa Shipbuilding SA. The modern battery-powered double-sided ferries will be sailing in the Norwegian fjord area and will serve the connection Festøya – Solavågen and Mannheller – Fodnes.
Minimize energy consumption
Design of the ships was carried out by the LMG Marin design office and the working documentation by Remontowa Marine Design from the Remontowa Holding. A number of solutions were designed to minimize energy consumption, including: heat recovery, LED lighting, high efficiency electrical system, temperature and carbon dioxide sensor controlled ventilation and air-conditioning system, paint to minimize friction and lightweight ship design.
Each of the ferries will be equipped with two azimuthal thrusters with electric motors and two generator sets. In the standard mode of operation all power will be drawn from batteries, which will be recharged during the berth at the quay, which is to last only several minutes. A quick recharging system will be used here from the shore, of the plug type, ensuring that the required battery charge level is maintained. It will be integrated with an automatic mooring system (vacuum type), which will hold the ferry at the quay and give a "green light" to start the charging process.
100% bio-diesel fuel
The above mentioned ship's generators, whose engines will run on 100% bio-diesel fuel, also provide the possibility to operate the vessel in hybrid mode. The ferry's propulsion is also to be very effective. The thrusters will be units of the "pulling" type. (pulling type) with built-in electric motors.
The first ready, fully equipped unit will leave the shipyard early next year
Norled is one of Norway's largest ferry operators. The company was previously known as Tide Sjø and has been operating under its current name since 2012. Norled's fleet consists of about 80 ferries, six of which were built at Remontowa Shipbuilding SA, i.e. after delivery of the currently built units the number will increase to ten. Among them are Ryfylke and Hardanger, both delivered in 2013, which are the first vessels in the world not taking diesel fuel on board – the ships are powered by LNG and in case of CNG failure (stored in cylinders on open deck).
In total, Remontowa Shipbuilding SA has so far delivered 24 passenger-car ferries to the Norwegian market for various shipowners (including Helgelandske, Stavangerske, Basto Fosen, Nor-Ferjer, Fjord 1 MRF, Torghatten Nord, Norled).
Basic characteristics of ferries with construction number B619:
Overall length: 114.40 m
Width (max.): 17.70 m
Height to deck: 4.30 m
Submersion (max.): 3,00 m
Max. Number of passengers: 296
Max. Number of passenger cars: 120
Max. number of trucks with trailers: 12
Agnieszka Latarska, rel (Remontowa Shipbuilding SA)