Recent vessels serviced at Naval Shipyard SA in Gdynia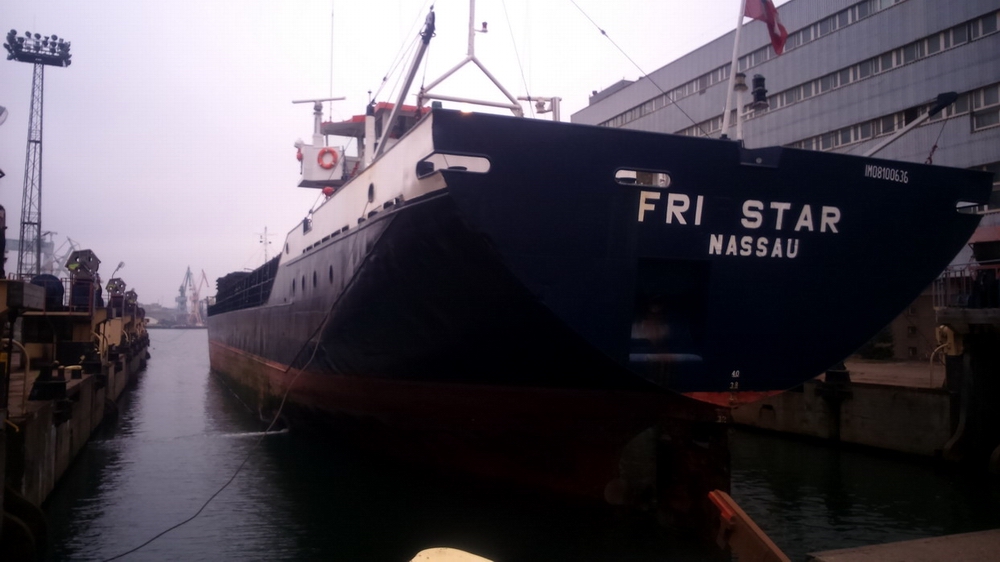 On the 23rd of February, the survey of cargo ship Marne commenced at Naval Shipyard in Gdynia. The overhaul included mainly: mechanical works while docking as well as seal replacement on the shaft, the coolers cleaning in the bottom valves, replacement anodes on the hull and fittings review. Apart from that small steel works will be done and protective coating works on the hull and inside of the hold. The service was expected to be completed at the end of the first week of March.
Earlier, on the 12th of February, the cargo vessel Fri Star of Norwegian ship owner Kopervik entered the Shipyard. The class overhaul of the ship included: hull conservation with anodes replacement, overhaul and measurements of shaft line as well as sealing replacement. Apart from this the ship propeller was dismantled for overhaul and reassembled. The overhaul and checking the steering gear has been carried out as well as testing of main engine air cooling system. Another overhauls covered the main engine oil cooler, the oil cooler of transmission, outboard valves and anchor windlasses. The scope of works involved also dismantling, washing, overhaul and measurements of the anchor chain, preservation of anchor chamber, washing, preservation of the hold and repair of the covers wherever needed. There has also been steel works carried out on the hull and in the tanks.
Earlier this year also Swedish operated Listervik, German controlled Aller and Chopin, Polish chemical tanker Amaranth and
Fri Skien, that arrived for class renewal repairs. As of second half of February, Polish Navy submarine ORP Orzeł could be seen in the yard's floating dock.