The largest offshore conversion project executed in Polish yards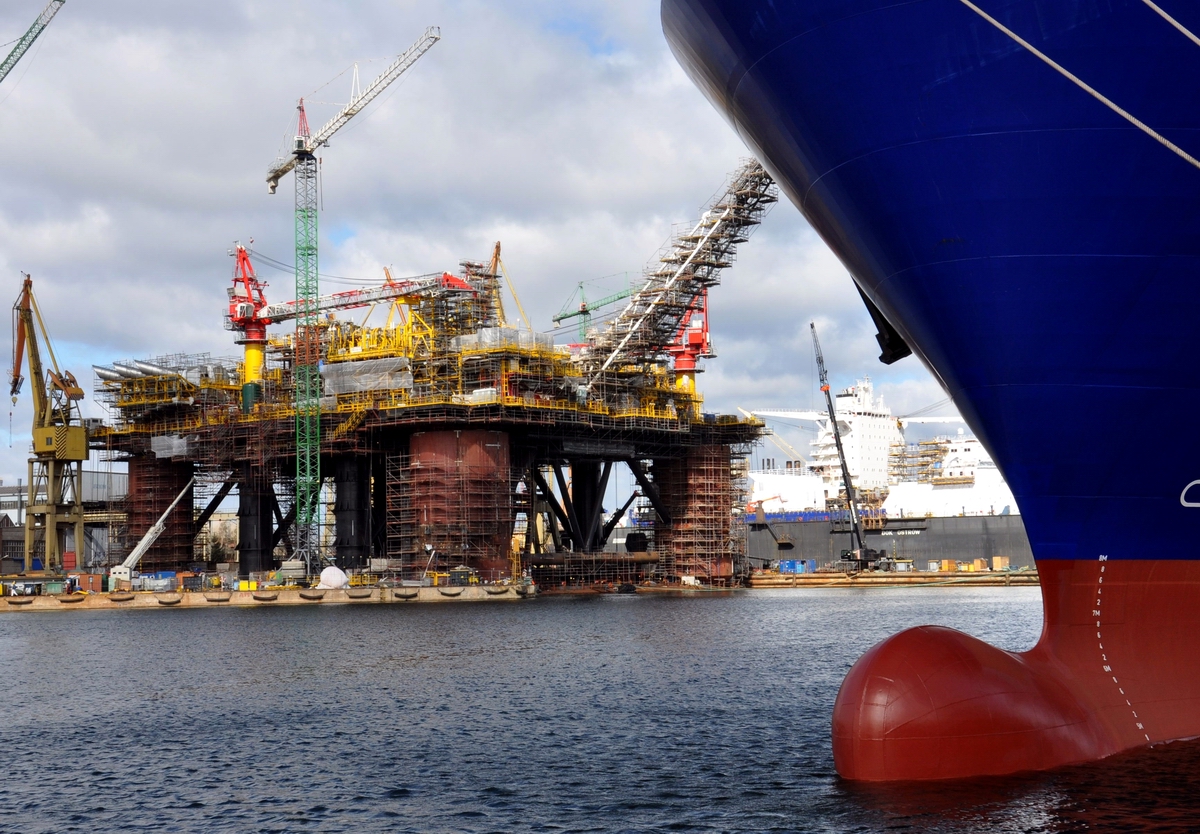 As of mid of December 2015 Remontowa Shiprepair Yard was progressively continuing large conversion and upgrade project of the floating production semi-submersible platform FPF-1, operated by Petrofac.  It's the 12fth offshore platform being converted at the large shiprepair arm of the Remontowa Holding capital group.
The 82 m long, 75 m wide and some 30 m high platform, with a displacement of 26 639 tons and lightweight of some 14 000 tons, is a significant task for Remontowa SA, which  has been entrusted by the Owner with the modification and modernization of the unit.
This production facility, serving as a plant for initial processing and preparing of oil extracted from the offshore field for transport, was built practically from the scratch (receiving all new topsides) at Remontowa SA during 2012-2015.
The semi-submersible platform, that had arrived at Remontowa has been stripped of existing equipment, modified and upgraded. Of the "old" structure only the floaters, transverse pontoons, bracings, columns, main deck, steel structures of accommodation (superstructure) block and flare have left, however, some of them, significantly modified by Gdansk based yard. Transverse pontoons have had sponsons attached for increased displacement. Columns and pontoons have also been modified by adding buoyancy structures improving stability. Main deck and superstructure / living quarters block have been modified and strengthened with requirements of the new "refinery" (processing modules) and new accommodation needs on mind.
All equipment of the platform besides pump rooms in floaters, especially the produced oil processing plant, have been installed or built from the scratch. "Refinery" part (processing modules) separate gas and water from crude oil. Gas and processed (cleaned) oil are transported to the shore either by pipelines or via shuttle tankers. Gas may also feed the generating sets of the floating production facility. Water, cleaned and separated from crude or oil products, is dumped to the sea.
The platform has the brand new mooring system installed with four winches, a dozen of chain stoppers and twelve anchor chains with pile anchors.
Entirely new is the outfitting of the superstructure / living quarters block providing accommodation for 74 persons and technical compartments as well. New equipment, facilities and systems installed also include power distribution system, full set of electrical, radio-navigation, communications, remote control, monitoring and safety (electronic automation) systems.
All installations and outfitting on a semi-sub are new. This also relates to lifeboats, safety systems, helideck with appropriate installations and two offshore deck cranes.
The platform has a minimum of 15 years of projected life on field and will be moored on the North Sea, serving Stella, Harrier and Hurricane oilfields.
At the end of 2015 the construction and assembly phase of the project was about to end followed by delivery – acceptance tests, electrical connections, pipelines start-up etc. Over 15 000 employees in total have worked on the platform so far. There have been as many as 60 km of pipelines and 600 km of cables laid as well as new devices weighing of 1500 tons installed.
Read also: 
Remontowa distinguished in UK Oil and Gas Industry Safety Awards 2015