Later this year, Remontowa Shipbuilding S.A. will deliver a new firefighting vessel to Szczecin and Świnoujście Seaports Authority S.A. (ZMPSiŚ S.A). The progress of work on the construction of the vessel Strażak-28 was announced at a press conference in Szczecin.
Strażak-28, under construction at Remontowa Shipbuilding S.A., is a modern vessel, 29.2 metres long and 10.47 metres wide, with a bollard pull of 45 tonnes, equipped with two powerful FiFi pumps with a capacity of 2700 m3/h each. It is designed to perform fire protection tasks during handling, transporting hazardous materials by tankers carrying flammable gases and liquids, requiring the assistance of a firefighting unit, and tasks related to rescue and operational safety of the port of Szczecin and Świnoujście, including towing functions.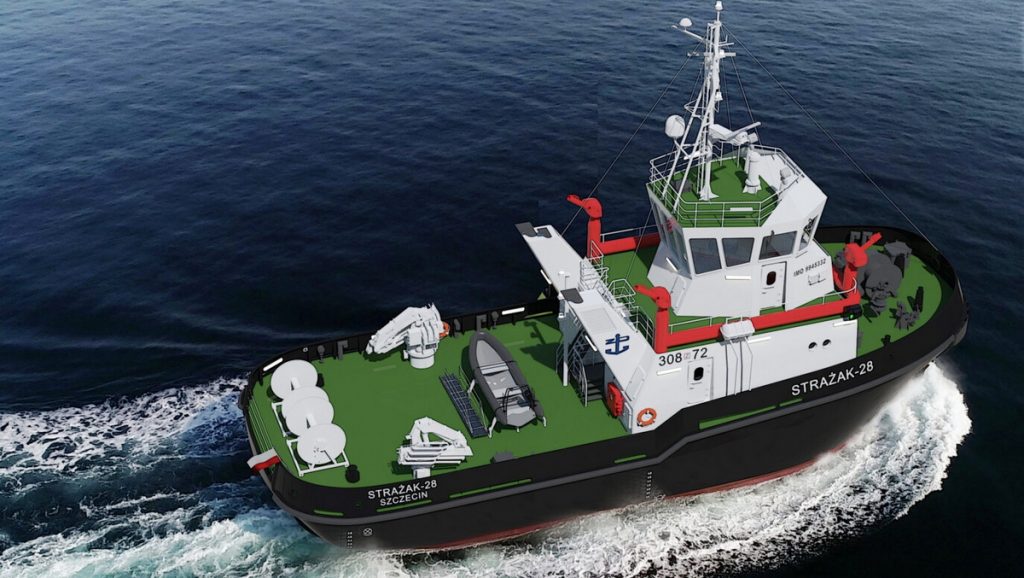 On August 20, Remontowa Shipbuilding S.A. laid the keel for the vessel, which is being built according to RMDC (Remontowa Marine Design & Consulting) design.
The shipyard is currently carrying out painting works of the spaces inside the hull. As far as construction works are concerned, the stage of making the strong hull has been completed. Most of the ship sections have been made and assembled. Reinforcement and outfitting works have started. The first tanks are undergoing leakage tests.
The new fire fighting vessel will be tailored to the meteorological and hydrographic conditions prevailing in the waters of the southern Baltic Sea. Furthermore, its equipment will meet the requirements of the classification regulations of the Classification Society supervising the construction to ensure the ship class is equivalent to the Polish Register of Shipping class symbol: KM TUG/FIRE FIGHTING SHIP 1 II L2 IWS.
The project named: "Purchase of a firefighting ship for the Szczecin and Świnoujście Seaports Authority S.A. " is co-financed by the European Union from the Cohesion Fund under the Operational Programme Infrastructure and Environment. The value of the project is approximately PLN 40.6 million (EUR 8.7 million). European Union co-financing is approximately PLN 34.5 million (EUR 7.4 million).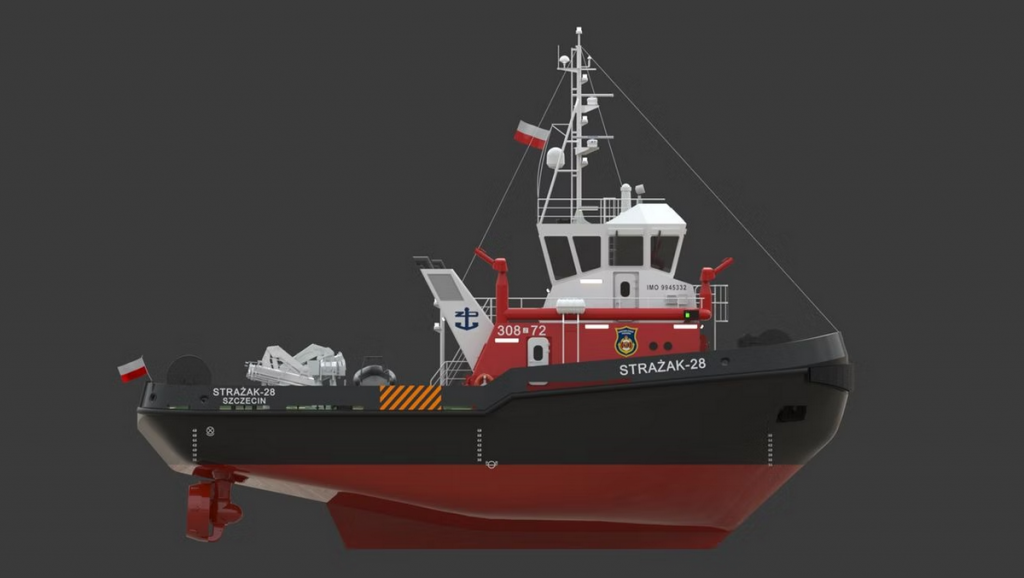 The construction of the firefighting vessel is part of a complex project, co-financed with E.U. funds under the framework of the Operational Programme Infrastructure and Environment 2014-2020 measure: 3.2 Development of maritime transport, inland waterways and multimodal connections – priority axis III Development of the TEN-T road network and multimodal transport.
This vessel will be the third in the ZMPSiŚ S.A. fleet. Currently, Strażak-24 is moored in Szczecin and Strażak-26 in Świnoujście.
Main particulars:
Length overall – 29,20m
Length between perpendiculars – 25,05m
Breadth max. – 10,47m
Depth to Main Deck – 1,55m
Design draught – 3,45m
Speed – 12kn
Bollard pull – 45t
source: PortalMorski.pl