Petrobaltic platform was positioned on the B8 deposit in the Baltic Sea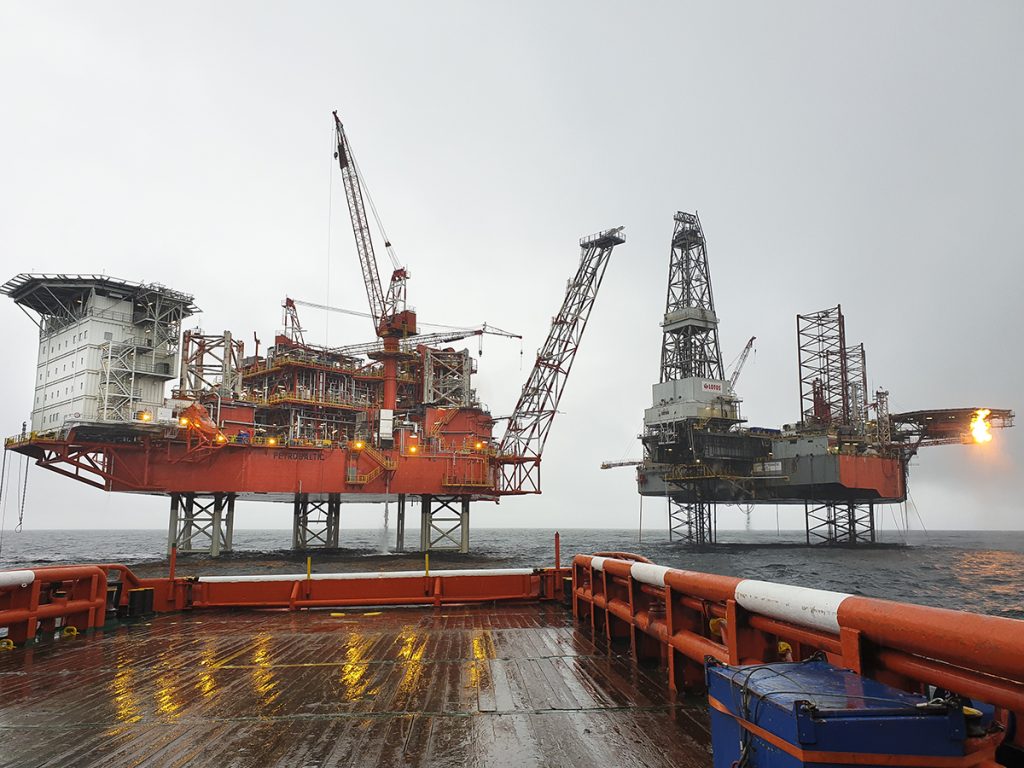 The Petrobaltic platform, converted in Remontowa Shiprepair Yard SA on behalf of LOTOS Petrobaltic, left the shipyard on September 20th 2019. After several days at anchor and 30 hours of towing, Petrobaltic was placed in the Baltic B8 deposit.
Towing the platform out of the yard was a complicated operation and required very good weather conditions. An additional difficulty was the several-kilometre-long section of the narrow harbour channel – from the Ostrów Island to the heads of the New Port harbour. The very foundation of the platform at the workplace, i.e. on the B8 deposit, also required very good weather conditions that lasted for several days, i.e. the so-called weather window.
For this reason, it was decided to divide the process of sailing out into two stages. The first one was to tow the vessel from the shipyard to anchorage no. 4 in the North Port. The platform waited there for at least 3 days (counting on the reserve) of good weather allowing it to be towed to its destination.
After a few days of anchoring and 30 hours of towing, the Petrobaltic platform was placed in the B8 deposit next to the LOTOS Petrobaltic platform. The platform is not yet exactly at its destination (above the holes drilled in the bottom), as the weather conditions in the Baltic Sea have not yet allowed for precise positioning of the platform.
LOTOS Petrobaltic's first drilling platform was docked at Remontowa Shiprepair Yard in January 2017 (this part of the project was completed before the deadline in June of the same year). Once again, the platform was delivered to Remontowa SA a few months later, in October. The key to this large and complex project was the operation of inserting and installing on board the platform four huge modules weighing several hundred tonnes each – an oil separation system, a gas compression and export system, a water injection system and an energy system whose heart is a turbogenerator using separated gas as a fuel to power the platform.
The reconstruction of the platform is one of the projects of the B8 field development project. The scope of work currently being performed relates to Phase I of the target development programme for the B8 field, which will end with stable production from four production wells.
The B8 field discovered in 1983 is located in the concession area of Łeba, approximately 70 km north of Jastarnia. Production from the oil field and the accompanying natural gas started there on 30 September 2015, and the first tanker with oil from this field arrived at the port in the second half of December 2015. The production potential of the B8 field is estimated at 3.6 million tonnes of crude oil and 432 million cubic metres of gas. Estimated annual production amounts to approx. 250 thousand tonnes of crude oil.
Sławomir Lewandowski