Visit Polish exhibitors at SMM 2018 for ships and more…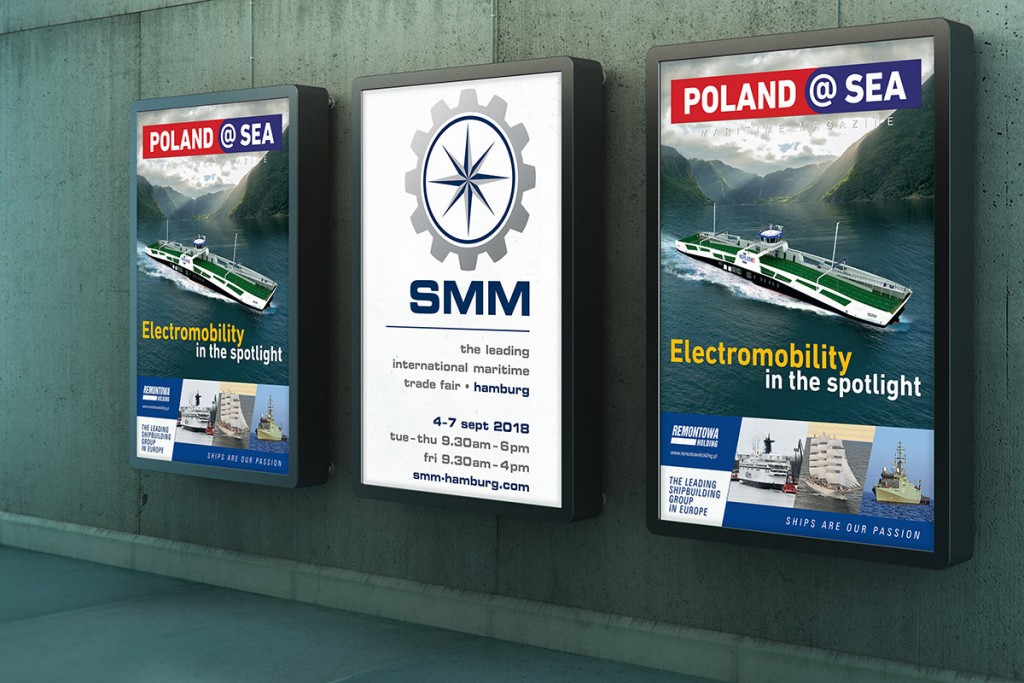 The Association of Polish Maritime Industries (Forum Okrętowe) released information on the production and orderbook of Polish shipyards in 2017, worked out in cooperation with PortalMorski.pl, the largest maritime portal on the Internet in Poland.   In 2017, Polish shipyards delivered 12 entirely equipped vessels (turnkey deliveries with a gross tonnage of over 100) with a total gross tonnage (GT) of 69,553 units and compensated gross tonnage – 94,212 CGT.
Let us recall the same number of ships or other floating units (12) were delivered from Polish shipyards in 2016, but their total gross tonnage
(38,883) was smaller (by about 44%) then, and total compensated gross tonnage (68,004) was also lower (by almost 28%).
At the end of 2017, Polish yards had a newbuilding portfolio for fully outfitted vessels containing 18 vessels (with gross tonnage of 100 or above) with a total gross tonnage (GT) of 75,778 units and compensated gross tonnage of 105,660 CGT. Thus, compared to the end of the previous year, the order book decreased by three vessels. The total gross tonnage of fully equipped ships ordered in Polish shipyards as at the end of 2017 was also slightly lower (by approx. 7%) than a year before (81,739), so was compensated gross tonnage – lower (by almost 33 %) from the amount recorded in 2016 (140,214 units).
An illustrated list of the ships delivered during 2017 and a list of ships on order from Polish yards as of end of 2017 is available in the newest issue of "POLAND@SEA" printed edition, containing also interesting news and features on repair and conversion projects, innovative technology, services, new ships delivered (with technical descriptions and line drawings), new designs, etc. Grab a copy during the world's largest maritime trade fair SMM held in Hamburg until September 7. They can be found at the following locations at SMM 2018: Hall FO.EG, Stands at Entrances East, South, West+Central.
A pdf version of "POLAND@SEA" ready for download available here:
Presence on the pages of "POLAND@SEA" is a good way to get publicity and promotion during SMM 2018 and other major maritime events both for companies physically present there, with their own exhibition stands and those, who decided not to exhibit.
While the current issue of "POLAND@SEA" will be certainly a proper guide to Polish companies attending SMM, you may also want to visit some other firms, so we publish a full list of Polish companies exhibiting at SMM 2018:
| | | |
| --- | --- | --- |
| B5 – 207 | | Activ Sp. z o.o. |
| A4 – 404 | | AHB Service Sp. z o.o. |
| B5 – 516 | | Alnor Ventilation Systems |
| B2_EG – 316 | | Aluship Technology Sp. z o.o. |
| B8 – 151 | | AxPro Carpets Sp. z o.o. |
| B5 – 429 | | A-Spe Europe I. Mianowski SJ |
| A3 – 307 | | Baltic Spares Service – Zgoda Sp. z o.o. |
| B5 – 302 | | Banco Sp. z o.o. |
| B5 – 222 | | Bohamet SA |
| B2_EG – 306 | | Crist SA |
| A1 – 200 | | DOE Sp. z o.o. |
| B5_FG – 3 | | Drewil Sp. z o.o. |
| B2_OG – 113 | | Elbudmed |
| B6 – 108 | | Eleship Electrical Design & Engineering Ltd |
| B6 – 426 | | Enamor Ltd |
| B6 – 108 | | Famor SA Export Department |
| B5 – 219 | | Fast SA |
| A4 – 220 | | H. Cegielski – Poznan SA |
| B4_EG – 116 | | JPP Marine |
| B5 – 511 | | Mardtec Sp z o. o. |
| B8 – 102 | | Meblomor SA Fabryka Sprzetu Okretowego |
| B2_EG – 404 | | MSR Morska Stocznia Remontowa Gryfia SA |
| A3 – 109 | | MTS Marine Technical Services LTD |
| B7 – 238 | | NGL Machining Artur Chróscielewski Rafal Bogusz SJ |
| B2_OG – 113 | | Ocean-Tech Sp. z o.o. |
| B5 – 201 | | PBUCh SA – Przedsiebiorstwo Budowy Urzadzen Chlodniczych |
| B2_EG – 404 | | PGZ Stocznia Wojenna Sp. z o.o. |
| B2_EG – 326 | | Phoenix Poland Sp. z o.o. sp. k. |
| B2_OG – 113 | | Polship W. Dybaczewski M. Czernielewski Sp. J. – |
| B2_EG – 217 | | Polski Rejestr Statków SA |
| B2_OG – 113 | | Pomorskie Region |
| B2_OG – 113 | | PPU Nava Sp. z o.o. |
| B8 – 102 | | Promap Sp. z o.o. |
| B4_EG – 217 | | Remontowa Hydroster Systems Sp. z o.o. |
| B4_EG – 217 | | Remontowa LNG Systems Sp. z o.o. |
| B4_EG – 217 | | Remontowa Shipbuilding SA |
| B4_EG – 217 | | Remontowa Shiprepair Yard SA |
| B2_OG – 113 | | Renergi Ltd. |
| B2_OG – 113 | | Riko Bobnar Pearl |
| B2_EG – 116 | | SeaTech Engineering Ltd |
| B2_EG – 404 | | Stocznia Remontowa Nauta – SA |
| B7 – 131 | | Szczecin Municipal Government |
| B4_EG – 116 | | Szczecin Shipyard |
| A4 – 418 | | U-Boot Ship Spare Parts Service |
| B7 – 131 | | West Pomerania – Województwo Zachodniopomorskie |
| B8 – 100 | | Wetcab |
| A2 – 121 | | WSK International Sp. z o.o. |
| B2_EG – 406 | | ZinkPower Szczecin Sp. z o.o. |