ORP Albatros sails to Gdynia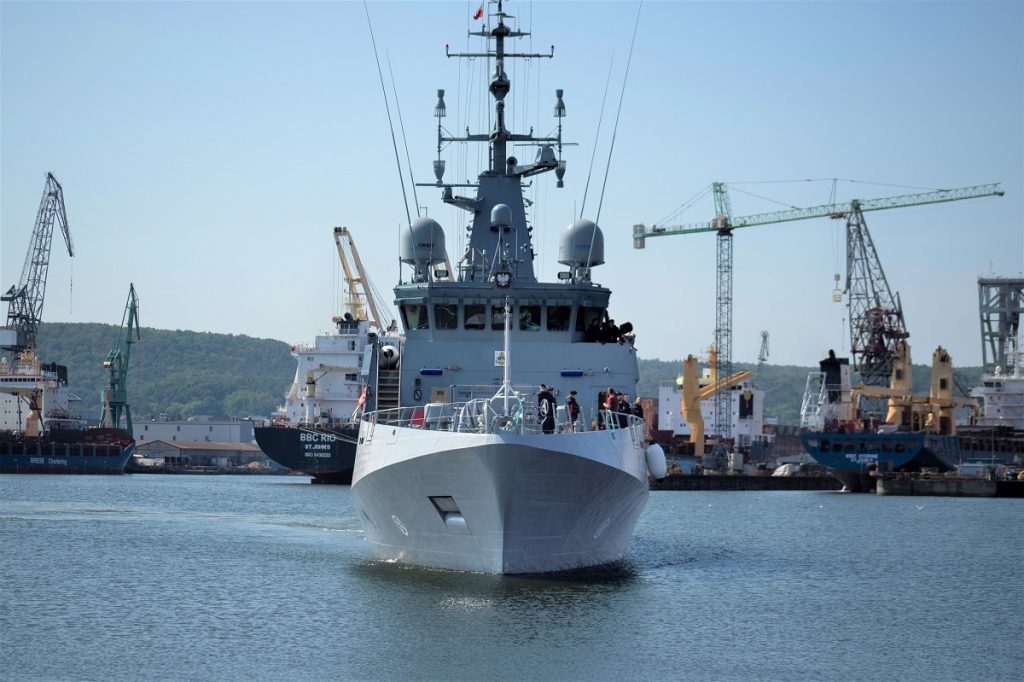 ORP Albatros sailed from the Remontowa Shipbuilding SA shipyard today and set course for Gdynia. The ship joined the 13th minesweeper squadron, a unit subordinate to the 8th Coastal Defence Flotilla in Świnoujście, on 12 August, with the signing of delivery and acceptance documents.
ORP Albatros is the second in a series of modern mine destroyers commissioned by the Polish Navy at the Remontowa Shipbuilding SA shipyard. The ship was built by a consortium comprising the Remontowa Shipbuilding SA shipyard, which is part of the Remontowa Holding SA capital group, as the leader, and the members, the Research and Development Centre for Maritime Technology Centre SA (OBR CTM SA) and PGZ Military Shipyard.
Ultimately, the Polish armed forces will have as many as six vessels of this type at their disposal. The first – ORP Kormoran – was handed over in November 2017, while the acceptance of the third ship – ORP Mewa – is expected in November this year, according to the Ministry of Defence.
In June this year, a contract was signed for the delivery of three more Kormoran II-type destroyers to the Navy. They are used to search for, identify and combat sea mines, carry out reconnaissance of waterways, guide other vessels through mine threat areas, lay mines and remotely control self-propelled anti-mine platforms.
– Three more ships produced by the Polish shipyard will be delivered to the Polish Navy already as mass-produced vessels, said Mariusz Błaszczak, Deputy Prime Minister, head of the Ministry of Defence. – It is important for the Polish Navy to have at its disposal the most modern equipment which guarantees that well-trained Polish sailors can effectively guard the Polish coast. Our task – the task of the authorities of the Republic of Poland is to create conditions so that the Polish military – including the Polish Navy – could develop. This is a fundamental task – the security of our homeland," he added.
After arriving in Gdynia, preparations will begin for the raising of the flag on ORP Albatros. At the moment, the date of the ceremony is not known.
Source: PortalMorski.pl
Photos: Maciej Bielesz / PortalMorski.pl / 8. FOW