LOTOS and PGNiG's pioneering supply of LNG as bunker fuel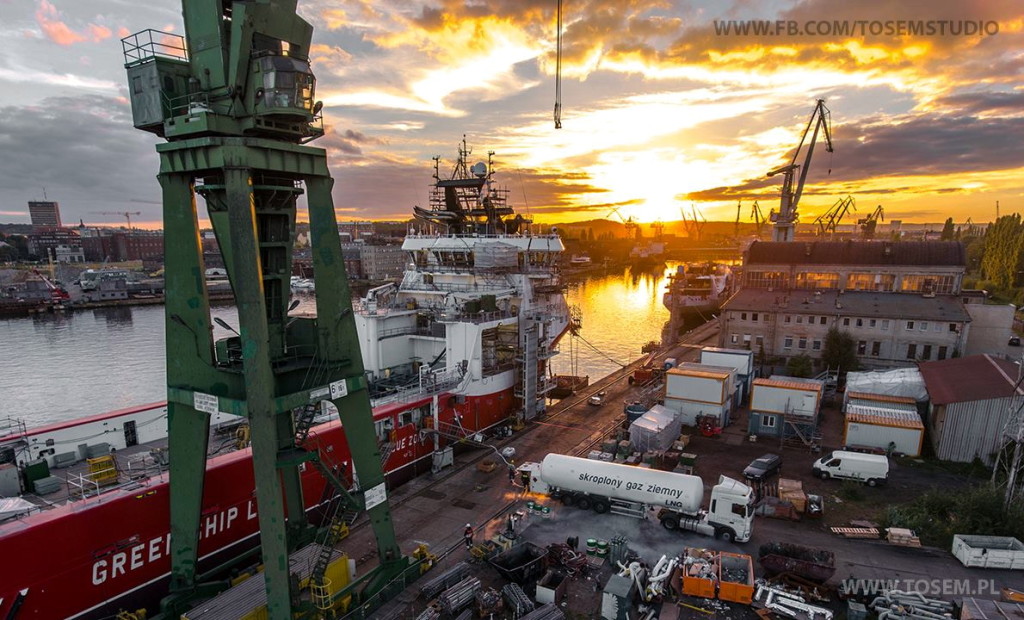 LOTOS and PGNiG delivered 120 CBM (120 thousand litres) of liquefied natural gas as bunker fuel for Siem Harmony, a modern Platform Supply Vessel currently under construction in the Remontowa Shipbuilding shipyard, to enable its sea trials before commissioning.
The gas was transported by tank cars from the Lech Kaczyński LNG Terminal in Świnoujście, Poland to the shipyard in Gdańsk. This is the very first logistic project of this kind in Poland, a fruit of cooperation between LOTOS and PGNiG.
– The terminal in Świnoujście allows us to efficiently transport LNG across the country. More and more vessels are powered with LNG, as a fuel ensuring compliance with the most stringent regulations pertaining to sulfur and other noxious product emissions. This is why we are going to develop our bunkering services – said Henryk Mucha, President of PGNiG Obrót Detaliczny.
Ships powered by dual fuel engines, considered highly advanced, run on both conventional fuel and much cleaner liquefied gas, which makes them more environmentally friendly compared to those using only conventional fuel. Shipowners switch to low-emission vessels powered with LNG in order to meet the EU's environmental requirements with respect to fuels containing up to 0.10% of sulfur. More stringent emission limits set forth in the sulfur directive provide for a ten-fold reduction in sulfur emissions starting from 2015.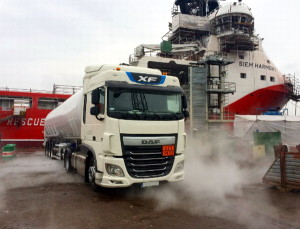 – The technologies of LNG distribution and use are technologies of the future – emphasized Przemysław Marchlewicz, Vice President of the Management Board of Grupa LOTOS S.A. – I am glad that Grupa LOTOS, jointly with PGNiG and the shipyard, is taking on this challenge to the benefit of the entire country. We will support the development of this branch and related infrastructure. It is a right and desirable direction also, or perhaps mainly, because of environmental reasons – he added.
At present, LNG is the cleanest bunker fuel. It has a unique feature of evaporating and dissipating on contact with air, leaving no sludge on water. Therefore, even in the case of leakage, it will not pose any hazard to the environment. It is a safe and clean fuel, and ships powered with LNG are the safest vessels.
– LOTOS Asfalt diversifies bunker fuel supplies to the market which expects suppliers to come up with alternative, low-sulfur solutions – said Piotr Przyborowski, President of the Management Board of LOTOS Asfalt. – This is a completely new and innovative direction in our business. What we are doing is communicate to the market that our product mix has been extended to include the LNG bunker fuel with delivery to all ports in Poland.
The PSV with a gas fuel commenced its sea trials on September 18, 2016. In the meantime the vessel has changed its name to the Siem Thiima since it's to be deployed offshore Australia. The ship is expected to be delivered to Siem Offshore in mid-October 2016.
Let us recall, that the Siem Thiima is the second LNG – powered PSV built at Remontowa Shipbuilding for the Norwegian Owner. The first one – Siem Pride – was delivered on November 5, 2015.
Read more: Polish-built LNG -powered PSV Siem Pride in operation
Both are the first offshore support vessels with LNG propulsion entirely built and equipped in Polish yards.
rel (PGNiG), GL