Launching ceremony of trawler Grateful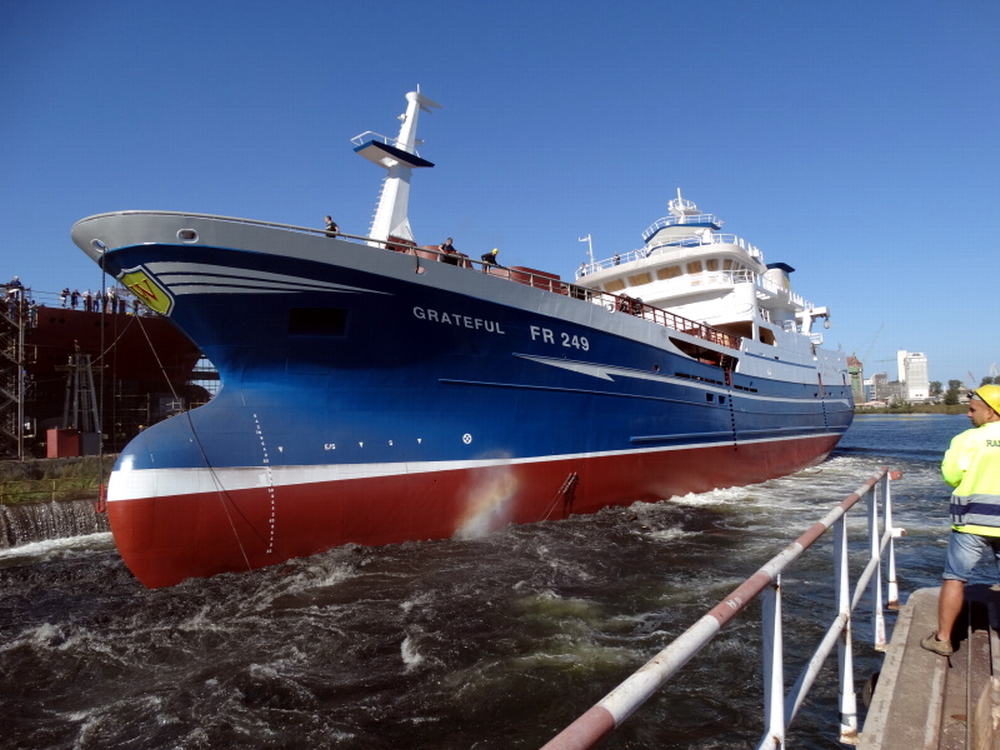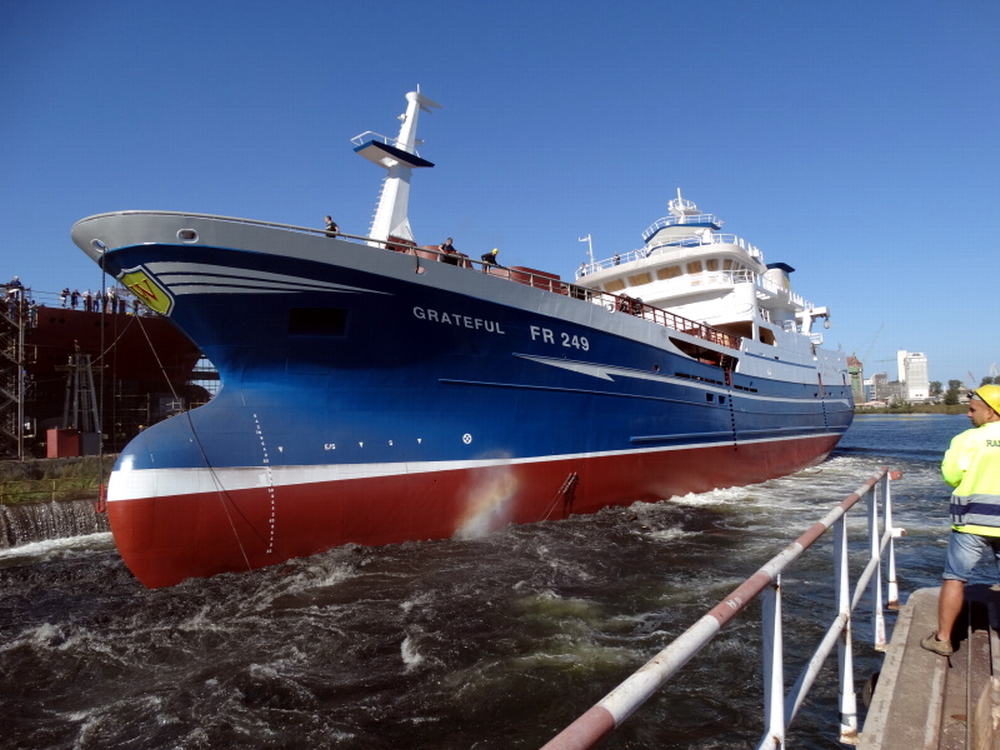 On September 16, 2016 the launching ceremony of a partly outfitted fishing vessel Grateful took place at Newbuilding Division of the Nauta Shipyard in Gdańsk. It was the fourth launching ceremony in Nauta this year.
The vessel is 69,95 m long and 15 m wide. She is a near sister ship to the Haugagut (one of the first vessels ordered by a Danish client), which was launched in August 2014. The Grateful is the seventh unit which has been built by Nauta for Karstensens Skibsvaerft AS in Skagen, Denmark. The contract was signed almost a year ago, during International Fisheries Exhibition – Danfish in Aalborg.
Similarly to units of this type, the new trawler is equipped with tanks for transporting live fish, with main propulsion diesel engine and modern technical solutions and electronic fishing equipment. A novelty in the equipment of the ship will be a retractable azimuth thruster that was not installed on the previous unit of the series.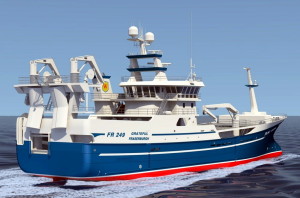 Owners Eshcol Fishing Company has placed an order for the new pelagic trawler newbuilding with the Karstensens Shipyard. The vessel will be owned by the well-known Whyte-family based in Fraserburgh, Scotland. Main-focus has been set on optimizing working, safety and comfort for the crew.
The fishing vessel TBN Grateful will be outfitted with all the newest machinery and equipment. Amongst other things, the newbuilding will be equipped from Rapp Marine with high Capacity Winches; 2 ea. Trawl winches (Pull 90t.), 1 ea. Top Line Winch (Pull 73t.) and 1 ea. Singel Net Reel with storage capacity 30,0 m3 and with drum dimensions 710/dia. 1238, dia. 3600 mm x 4500 mm.
The new vessel scheduled for delivery to the owner in July 20167, will operate with a traditional pelagic trawl fishery, where target species are mackerel and herring.
Presently seven vessels (including two fully-equipped) are under construction in Newbuilding Division of Nauta. The shipyard specializes in building of modern fishing vessels, research units and service offshore vessels.
GL, rel (MARS S&O, Rapp Marine)