First Polish built hybrid ferry delivered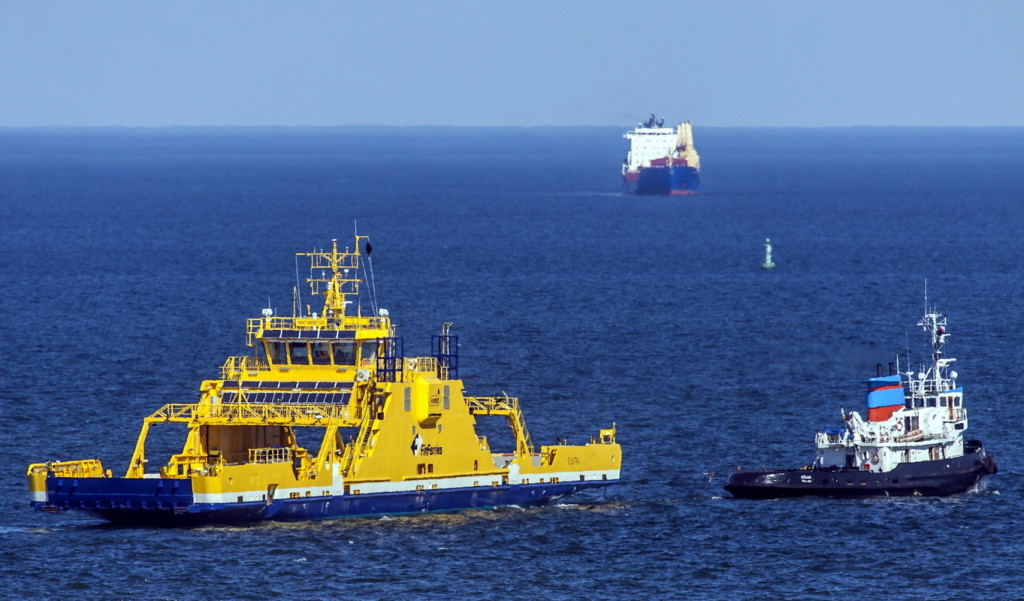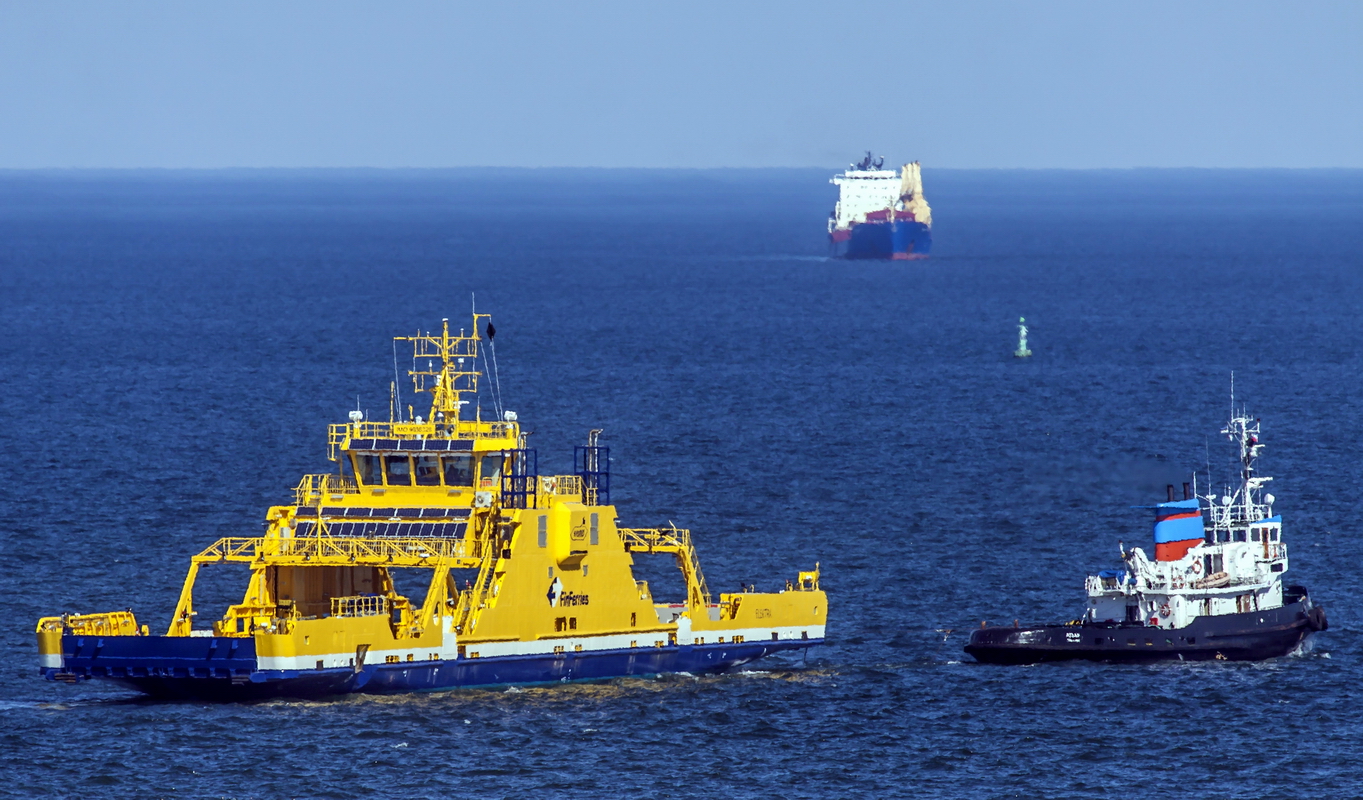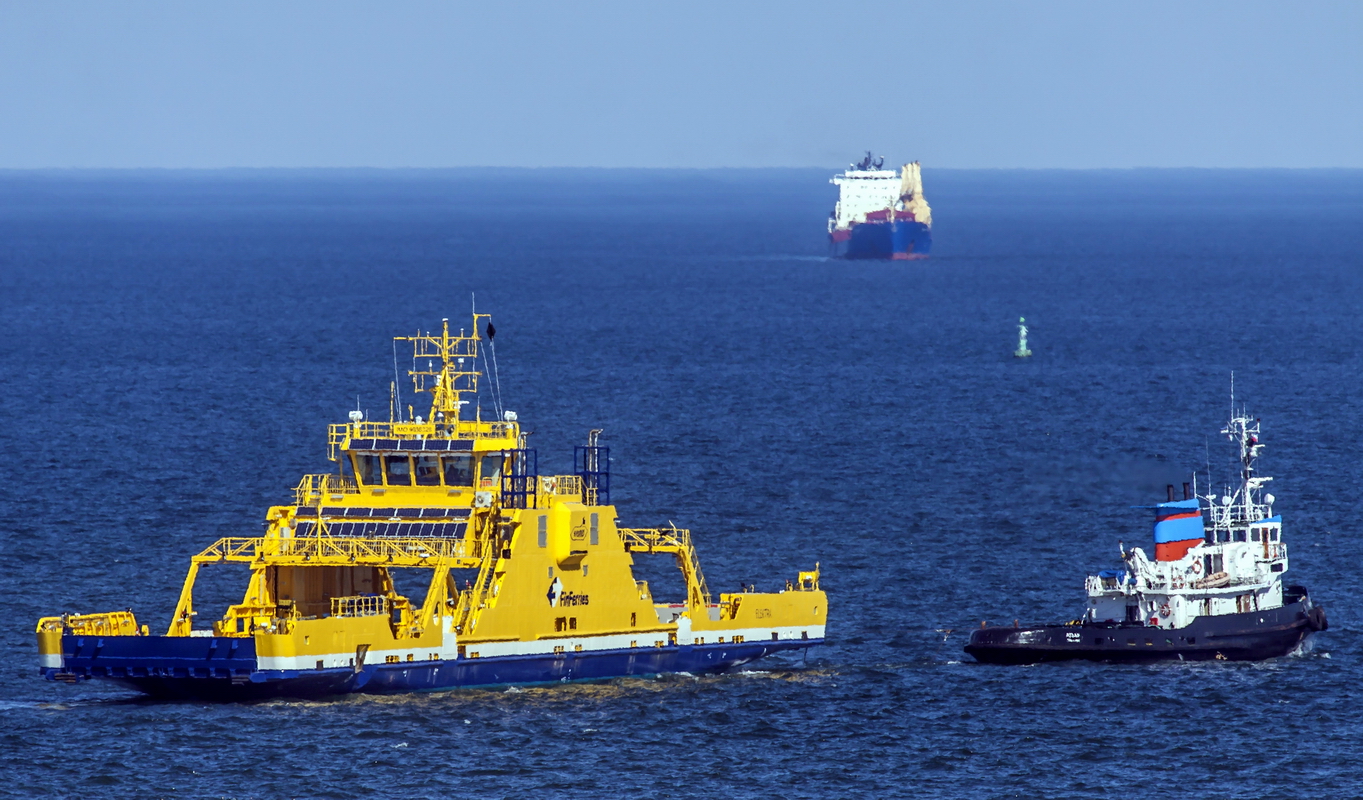 On May 18, 2017, the first Polish built hybrid, battery-fed electric drive ferry Elektra was towed out the port of Gdynia, bound for Finland. The road, double-ended, diesel-electric ferry, built at Crist yard and designed for operation in protected waters, was towed in its one-time deep-sea voyage by the tug Atlas.
The vessel was delivered to Finnish state owned Suomen Lauttaliikenne Oy, operating under a trade name of FinFerries. On May 29, the ferry was officially christened in Turku, Finland.
The ship is equipped with a set of batteries with approximately seven years operational life. Charging the batteries will take place each time during loading and unloading, and the time needed to do this is just 7 minutes. However, due to the harsh winter conditions in Finland, the ferry will have the possibility to utilize one or more of the three diesel engine to support the onboard batteries which will serve as an extra boost when breaking and travelling through ice. The ferry is then operated as a plug-in hybrid vehicle.
The hybrid ferry yard no. P310 (Elektra, IMO no. 9806328) is an environmentally friendly, passenger and car carrying, double-ended ferry built for Finnish waters. Handling the 1.6 kilometre-long route between Parainen and Nauvo in the Turku Archipelago, it is designed to transport 90 vehicles and up to 372 people. The crew of only three persons is allowed by a high level of automation.
Principal particulars are as follows: LOA of 97.92 m, 93.30 m long car deck, moulded breadth of 15.20 m and extreme breadth of 16.55 m, design draught of 3.50 m, 3.55 m scantling draught, depth (to main deck) of 5.00 m. The ship features gross tonnage of 1251, and net tonnage amounting to 375, with 300 t deadweight capacity. The vessel offers 450 m of ro-ro lane metres and the ability to accommodate up to 375 persons on board.
The speed of 11 knots can be achieved through the two contra rotating propellers (CRP) 360° azimuth propulsion thrusters, supplied by Rolls Royce, 900 kW each at 1200 rpm.
The ferry has been provided with battery banks of 1040 kWh capacity to solely operate the vessel year-around. The ferry is equipped with three main engines each driving an alternator on the common base frame, with the total output power 1260 kWe.
The vessel has been built according to the rules of DNV GL to get class notation: + 1A1 Car Ferry, B, Battery (Power) E0, Ice 1B, PET, R3 and will fly the Finnish flag.
rel (Crist, RHS, FinFerries, Siemens), PBS, GL