Down to the marks with project cargo in Hamburg and some luxury stuff from US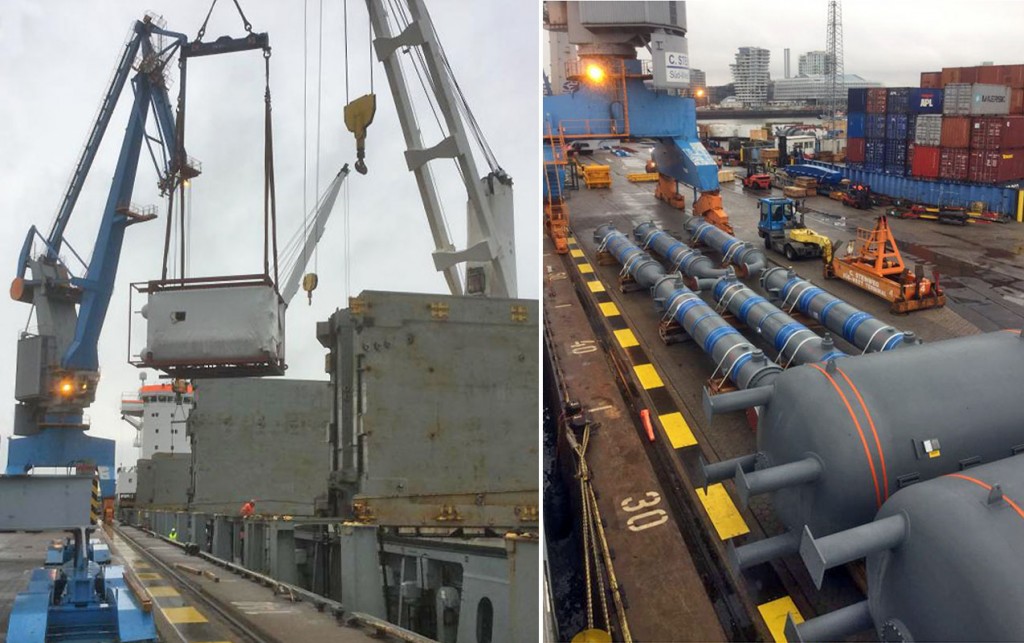 When Chipolbrok's Leopold Staff arrived to Hamburg on 10th of November, a challenging composition of cargo was already alongside the berth waiting for being properly stowed into various cargo compartments. The number of destination ports made it a demanding puzzle for the super cargo intendant, master and chief officer to have everything at the right place on board.   Amongst those units to be loaded were also various components for a power plant project in Jordan which is to be operated by the Chinese owned Guangdong Power Engineering Co. Ltd. (GPECL).
The project will be outfitted with the largest oil shale circulating fluidized bed boilers in the world. It is also one of the largest oil shale power stations globally. Steam boilers, generating units and other supplies had been shipped from Antwerp incl. unit weights up to 327 t.
After completion of loading on 12th of November, the vessel was loaded on marks and ready for departure. Next morning at high tide the vessel sailed with a maximum allowed draft of 10,50 m. More would have been strictly forbidden to avoid any risks when passing the historical Elbe tunnel built from 1909-1911 which crosses the fairway underneath.
Upon its further voyage Leopold Staff is passing Suez Canal on the way to Aqaba and right on to call at Saudi Arabia, Pakistan, India, Thailand, Singapore, Vietnam, Taiwan, China and Korea. End of January 2019 a new employment starts which might drive the vessel via US ports en-route European ports back to Asia.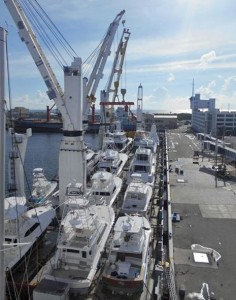 Another interesting cargo landed on the open deck of Wladyslaw Orkan. The vessel, during her 75th voyage, called at the port of Chesapeake to take a huge portion of bulk parcel and afterwards took completion cargo from Everglades and Golfito to La Paz, Ensenada and Yokohama
on full weather deck.
Destined to Far East the deck space of roughly 2,000 sqm was enough to accommodate a dozen brand new motor yachts densely stowed and safely lashed. After a trip of almost 9,000 nm, the final yachts have been discharged at Yokohama and bulk cargo goes to a South Chinese port.
There is often vast deck space available on the monthly sailings ex US ports to Far East but also from other loadports in Europe and ex Far East. This could be utilized not only for yachts or other floating equipment but also any other cargo suitable for deck load even if heavy, oversized and awkward. This type of vessel is outfitted with cranes granting a max. lifting capacity of up to 640 t SWL.
However, the weather deck is quite often entirely occupied with wind power blades, being one of the most carried commodities by Chipolbrok.
rel (Chipolbrok)