On Friday, December 30, 2022, a ceremony was held at the Crist shipyard in Gdynia for the first steel cutting for the second Construction Service Operation Vessel (CSOV), which – as partially equipped – will be delivered to the Norwegian shipyard Ulstein.
The vessel, with a newbuilding number 319, will serve offshore wind farms during construction and operation. She is a twin to vessel 318, for which the first steel was cut on November 18.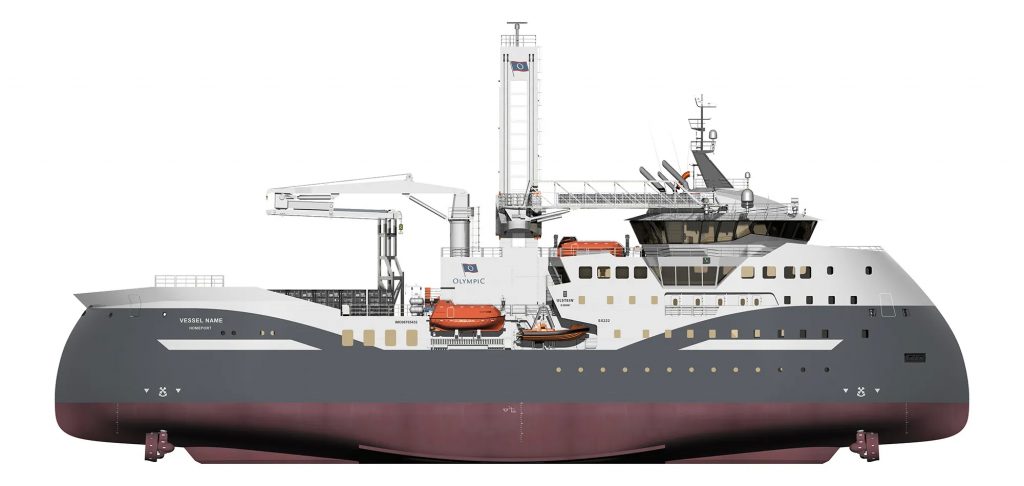 The vessel, developed by Ulstein Design & Solutions AS, will meet the general requirements of the offshore wind sector, such as transport and accommodation of personnel, carriage of cargo, oil fuel, water in tanks, spare parts and other general cargo under (500 square metres of storage space) and on open decks (440 sq m).
The vessel will have 91 cabins, accommodating a maximum of 126 people. It will be electrically powered and battery-assisted. Hybrid battery propulsion and methanol fuel will enable 'zero emissions'. The cargo system will ensure safety and enable efficient loading and unloading.
Based on Ulstein Twin X-Stern technology, the hull shape provides excellent performance in terms of fuel consumption, manoeuvrability, speed, stability, cargo capacity and energy use. In addition, the sharper hull lines and the elimination of the transom plate increase functionality, with positive effects on maintaining the vessel position, wave response, comfort and safety in harsh conditions by reducing the forces of wave impact, deck moisture and splash – as stated in the official release from Crist.
The vessel will be optimised for the smooth and efficient performance of technicians and the cargo movement on deck, aiming to minimise the manual handling of cargo, tools and spare parts. The vessel will have an overall length of 89.60m, a beam of 19.20m, a maximum draught of 5.90m, a deadweight of 2,300t and is expected to reach a speed of up to 12.8 knots.
The vessel, built and partially equipped by the Polish subcontractor Crist, will be then delivered to Ulstein Verft. After completing the fitting out and commissioning of equipment, followed by sea trials, the CSOV will be handed over to the final Client (shipowner) – the Norwegian Olympic Group.
source: PortalMorski.pl