Construction of a new ferry for Polferries is progressing well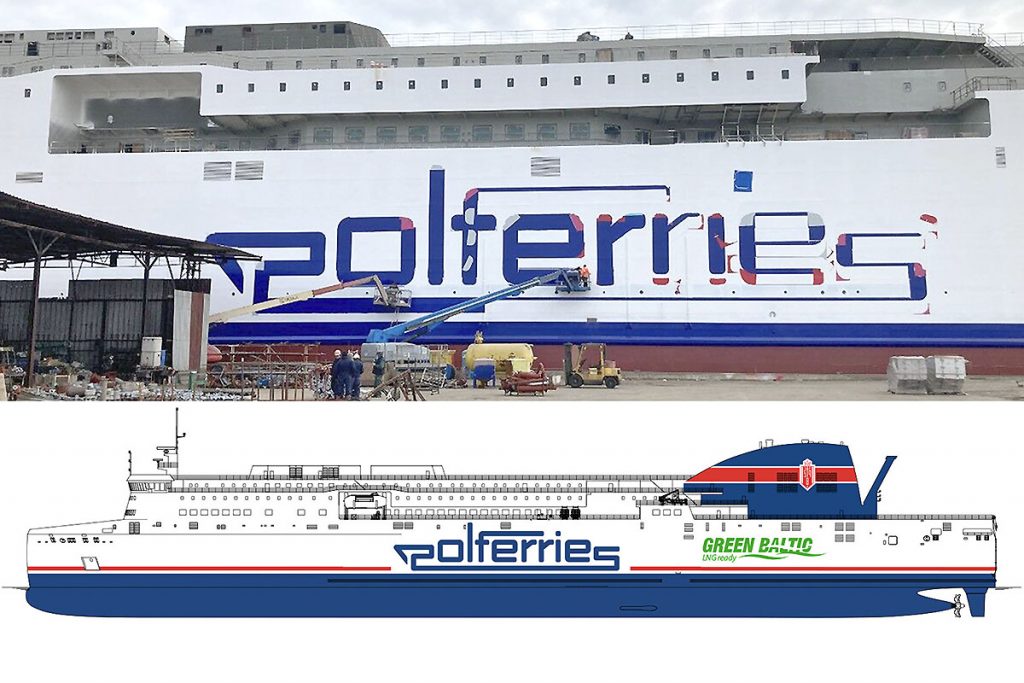 Construction of the new ferry for Polferries is well advanced. We expect its launch in early spring, and then, already on the water, outfitting works inside the vessel will begin, – Andrzej Madejski, CEO of the Polish shipowner, told the Polish Press Agency.
The ferry, under construction at the Italian shipyard Visentini, will be chartered by Polferries from Italian shipowner Cantiere Navale Visentini, the shipyard's subsidiary.
The contract for a 10-year charter of the new ferry for Polferries was signed in the summer of 2022. "The terms and conditions contained therein allow for the vessel's pre-emption after six years of its use by our company," – Madejski pointed out.
– The hull is now essentially complete, with the Polferries logo visible on its sides. We expect to launch in early spring, and then, already on the water, outfitting works will start, which, according to the assumptions and schedule, should be completed in mid-2024. This is also when the finished ferry will be handed over for charter, – he explained.
The new ferry will be 216 m long and 28 m wide, featuring a lane of 3 kilometres, allowing her to carry 150 trucks and 200 cars. She will also be adapted for LNG propulsion, which will also make it classified as an environmentally friendly vessel according to international requirements. Passenger decks will be equipped to carry nearly 1,000 passengers in 216 cabins of various standards and dozens of comfortable airline seats. In addition, there will be dining areas, a shop and a fun corner for the little ones.
Madejski says that the new ferry is designed to navigate the Świnoujście-Ystad route.
– This is due, among other things, to a large amount of transit on this route. From Ystad, it is very quick to get to many destinations in southern Sweden, the Skåne region, and Denmark. Almost every departure we make on this route is with car decks filled, – the Polferries' CEO emphasised.
He pointed out that the replacement of the most ageing ferries, Wawel and Baltivia, is also under consideration. Still, any decisions will be made after the new ferry enters the Polferries fleet.
"There is still a year to go until then. The international political and economic situation, due to its high instability, limits us from making binding declarations," – Andrzej Madejski said.
He also mentioned the company's major plans related to the offshore wind industry.
– In February, we established the special purpose vehicle PŻB Offshore. So far, we have been the only Polish ferry operator to enter an area that will develop dynamically in the coming years – offshore wind energy. We want to use our more than 47 years of experience and knowledge in fleet management and crew coordination by offering our services to developers in the offshore wind industry. We plan to invest in Crew Transport Vessels. We also see potential in providing services already during the construction phase of the farms. We focuse on developing our company not only in the coming years but also in the next decades, – Madejski said.
Polish Baltic Shipping operates under the Polferries brand. Ferries with this logo regularly sail between Poland and Sweden. The ferries Nova Star and Wawel run on the Gdańsk – Nynäshamn line, while Mazovia, Baltivia and Cracovia sail from Świnoujście to Ystad. In addition, the company offers passenger, truck and car transport, the organisation of conferences and corporate events at sea, and also has a tourist cruise offer.
source: PortalMorski.pl