Chipolbrok Atlantic sets new record with giant wind blades aboard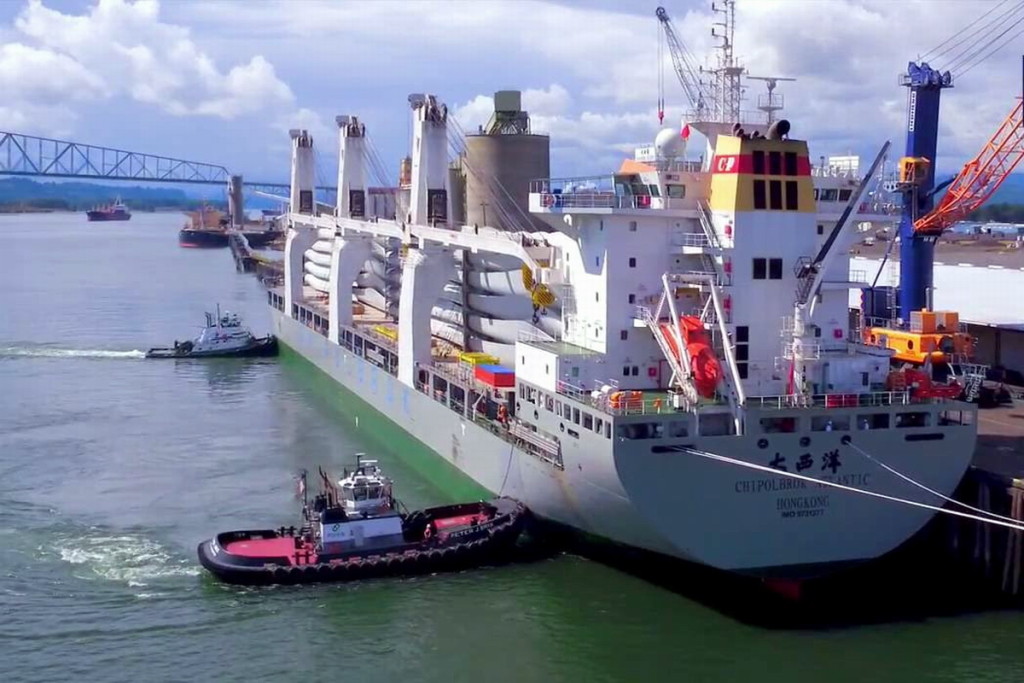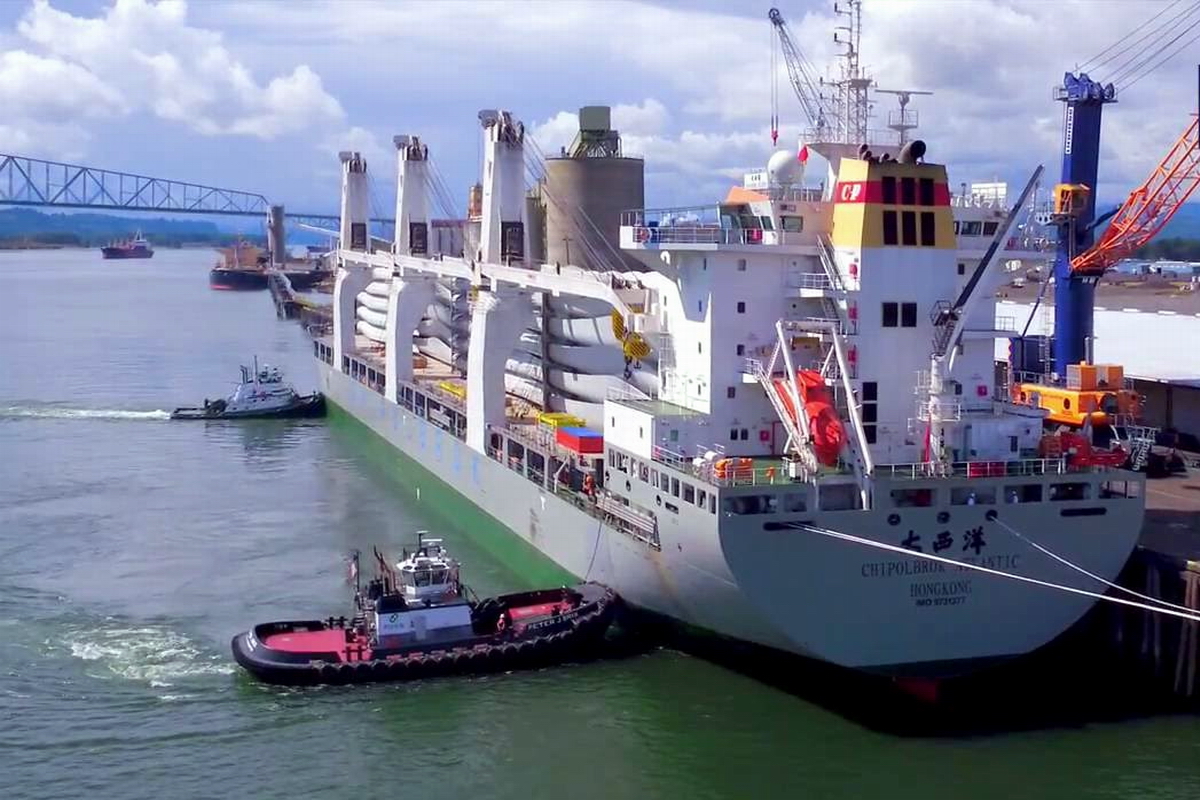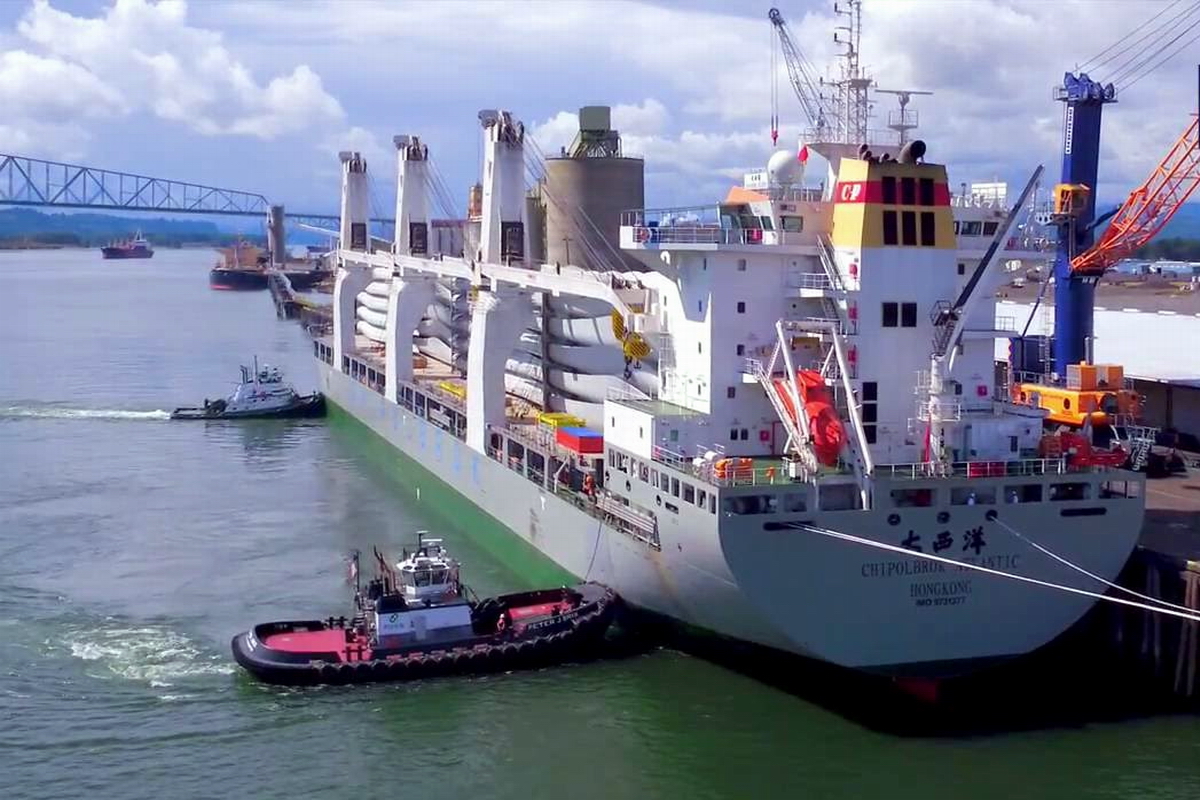 The Chinese-Polish Joint Stock Shipping Co. (Chipolbrok) is continuing its fleet replacement. Its brand new heavy cargo vessel Chipolbrok Atlantic has set a record transporting 150 wind turbine blades, each 49 metres long on its maiden voyage from north China to the US west coast.
The cargo was loaded onto the deck at the Port of Tianjin on July 23. The blades manufactured at a Vestas factory in China were shipped to a customer in the US. A special configuration for the stacked cargo was designed for the shipment in order to maximize deck efficiency.
The loading operation took more than 21 hours, with cranes lifting about seven blades and loading them onto the deck every hour. This sets a new record in terms of total quantity of blades shipped onboard a single vessel from any Chinese port. Chipolbrok said the loading process set also a speed record for the port of Tianjin.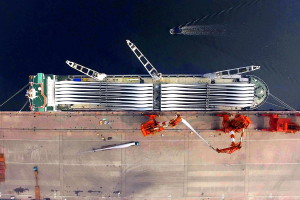 The transport of windmill blades has been arranged by German shipbroker, Hanseatic Break Bulk (HBB), along with its alliance partner, NEPA Shipping Amsterdam. The blades, which are destined for two separate onshore wind farms under construction in North Dakota, were stacked on the vessel's deck in five tiers. A second ship is set to deliver more heavy cargo for the same project in September.
The Chipolbrok Atlantic carrier, built at Shanghai Shipyard in 2016, that joined the company's fleet on the 5th of July 2016 is a sister vessel to two previous ones, Chipolbrok Pacific and Nowowiejski. She is a multipurpose vessel designed for sea transportation of heavy lifts and project cargoes with 31.660 dwt, 190 metres length overall and width of 28 metres.
The vessel has 3 holds, two of them over 50 m long, which allow for carriage of even very long and awkward units under deck. In addition, 3 cranes are installed on-board, each capable of lifting 350 tons with a maximum combined lifting capacity of 700 tons.
In her maiden voyage the Chipolbrok Atlantic  will call Chinese and South Korean ports for loading big volumes of various project cargo elements destined for the North American ports in Canada, Mexico and United States. Afterwards she will continue her voyage to North European ports of Antwerp and Hamburg.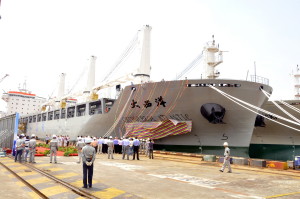 The new Chipolbrok's asset is the third newbuilding in a four-vessel order, which will be completed with the delivery of Paderewski to the shipping line from the Shanghai Shipyard, later this year. The second newbuilding, Nowowiejski, which went into service in April this year, had to be diverted to on her maiden voyage from Western Europe to the Eastern Baltic "for a full cargo to India".
Meanwhile, the two of Chipolbrok's older vessels – Wieniawski and Szymanowski – after many years in service are set to be scrapped in India to balance the company's fleet size.
Chipolbrok stressed that it does not intend to bloat further an already oversaturated market with its new general cargo vessels, but is purely creating replacements for older tonnage, which is gradually being scrapped.
Regardless of its tonnage replacement, Chipolbrok is also changing terminals. Due to the forthcoming closure of the Buss Hansa terminal in Hamburg, Chipolbrok announced, that its traditional cooperation with the facility ends on 31 August 2016. C. Steinweg (southwest terminal) Hamburg will step in as the shipping company's new terminal/stevedoring partner in the German port.
GL, rel (Chipolbrok)
---
Below: a video coverage of loading the wind blades onto the Chipolbrok  Atlantic's deck