BC Ferries reveals how its new ferries will look like…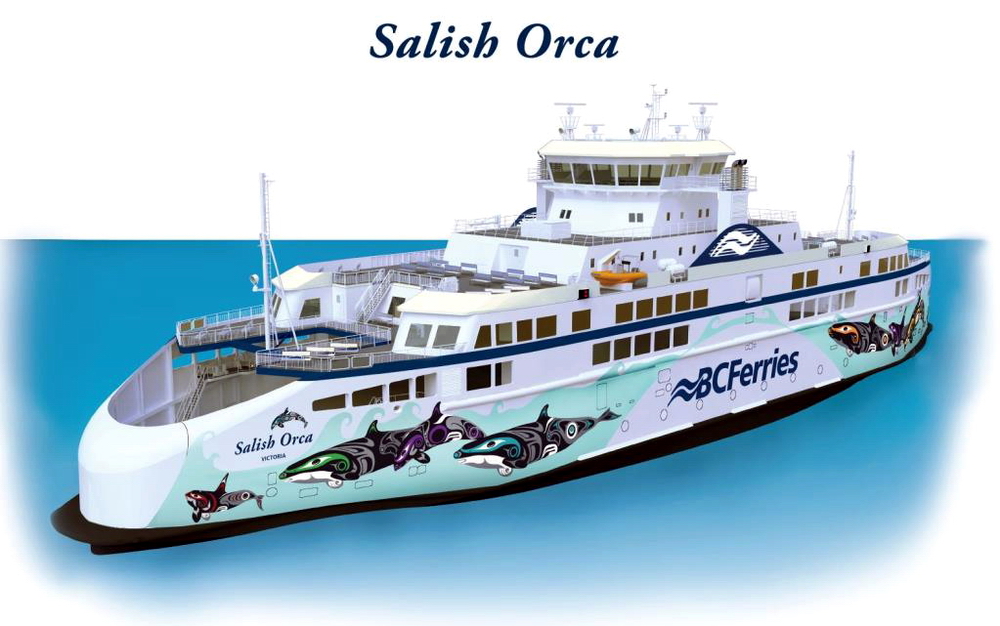 BC Ferries, the First Peoples' Cultural Council and Esquimalt Nation has recently revealed the first of three Coast Salish artistic designs for BC Ferries' new Salish Class vessels – we can read in the company's press release.
Esquimalt Nation's Darlene Gait designed the artwork that will adorn the Salish Orca. The artwork will also be displayed inside the vessel for customers to view and additional exposure for the artist.
Last August the First Peoples' Cultural Council issued a call for artists and Coast Salish artists were invited to submit their portfolios for consideration. From 37 expressions of interest, a jury of artist peers and BC Ferries representatives identified a shortlist of nine artists who were invited to submit specific design concepts for the three Salish Class vessels. The jury reviewed the design concepts with attention to artistic excellence, Coast Salish artistic style, ability to express the vessel names through artwork, ability to provide digital images for fabrication and ability to meet the project timeline.
In January, BC Ferries and the First Peoples' Cultural Council announced the selection of three Coast Salish artists to create designs for the new Salish Class vessels; Darlene Gait from Esquimalt Nation for the Salish Orca, John Marston from Stz'uminus for the Salish Eagle and Thomas Cannell from Musqueam for the Salish Raven. The vessels are named to recognize the Coast Salish as the original mariners of the Salish Sea.
The two other artistic designs will be shared publically over the coming months.
The Salish Class ferries are currently under construction at Remontowa Shipbuilding SA, member of the Remontowa Holding capital group  in Gdansk, Poland. The Salish Orca will be the first ship to arrive in 2016 and will sail on the Comox – Powell River route. The Salish Eagle will arrive in late 2016 and the Salish Raven will arrive in 2017, and both of these ships will sail in the Southern Gulf Islands.
Read also: Ferry for Canada launched and christened
Under contract to the Province of British Columbia, BC Ferries is the service provider responsible for the delivery of safe, efficient and dependable ferry service along coastal British Columbia.
"Darlene's design for the Salish Orca is a wonderful tribute to the Coast Salish people and our beautiful coast," said Mike Corrigan, BC Ferries' President & CEO. "We were pleased to partner with the First Peoples' Cultural Council and the three artists on this unique project. These new vessels will serve coastal communities for years to come and we would like to thank Darlene for capturing Esquimalt Nation's rich coastal culture and heritage in her design. We look forward to officially welcoming the vessel into the fleet later in 2016."
Darlene Gait is an Aboriginal artist from Victoria, B.C. Born in Sidney, Victoria, she learned about multiculturalism from being raised in a blended family. She is a member of Esquimalt Nation, the first people of Victoria.
GL, rel (BCF)