Cable lay works at Nordsee One offshore wind farm completed early by high-end Polish built vessel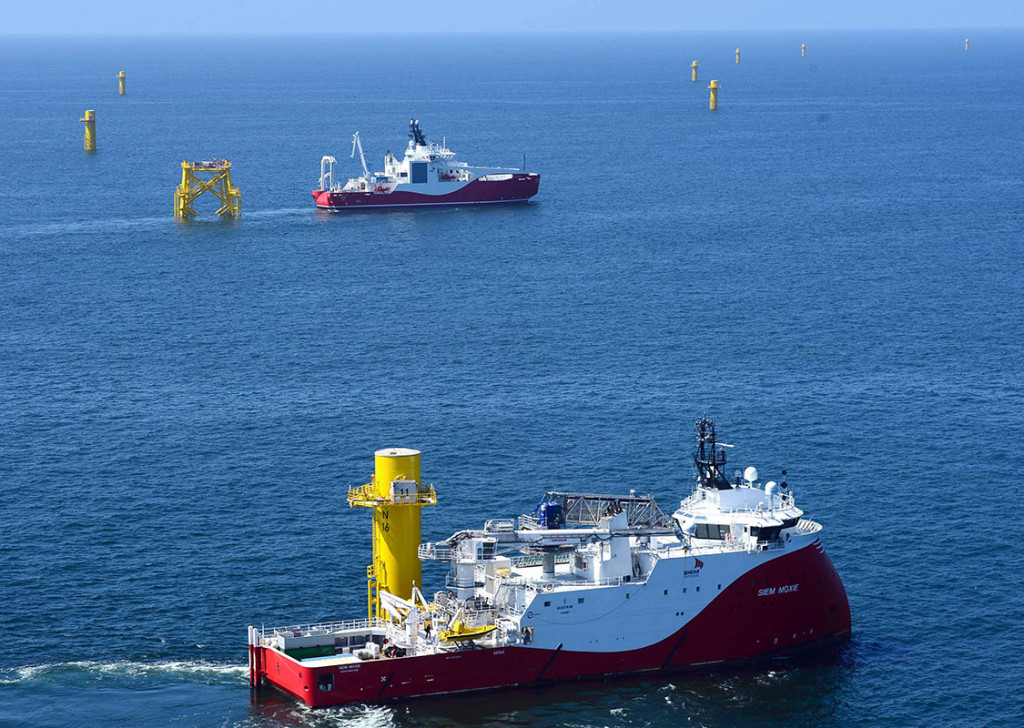 Siem Offshore Contractors announced all 70 kilometres of inter array grid cables on the Nordsee One Offshore Wind Farm in the German Bight of the North Sea have recently been installed, terminated, trenched and tested three weeks ahead of schedule. The operations include deployment of recently delivered high-end Polish, Remontowa Shipbuilding yard built cable layer Siem Aimery.
All 59 cables were successfully installed using the "Siem Duo" consisting of the Cable Lay Vessel (CLV) Siem Aimery and the Installation Support Vessel (ISV) Siem Moxie. These were supported by a further in-house Multi-Purpose Vessel (MPV) Siddis Mariner, which provided subsea support for the installation of cable protection systems and concrete mattresses. The Siem Duo demonstrated their advanced weather operability during this project and particularly with gangway access being completed in up to significant wave heights of 3 m from the (ISV) Siem Moxie.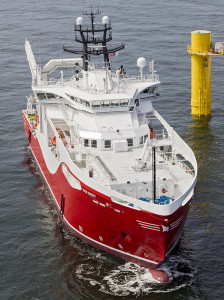 The CLV Siem Aimery loaded in excess of 70 km of aluminium core submarine composite cables directly into its two turntables in addition to cable protection systems, which were loaded into a dedicated under-deck storage compartment.
In parallel the ISV Siem Moxie assisted the CLV Siem Aimery with the cable pull-in, termination and testing activities deploying its offshore support units (OSU) equipped with generators, pull-in winches, tools and equipment for personnel life support at the individual offshore work sites.
Let us recall that Siem Offshore Contractors was awarded the engineering, procurement, installation and commissioning (EPIC) contract for the IAG cable system of the Nordsee One OWF in 2014. The 54 WTGs of the Nordsee One project are located 40km north of the island of Juist in water depths of up to 34 metres.
The installation contractor Siem Offshore Contractors started laying the first inter-array cable in the construction area of the Nordsee One offshore wind farm (Nordsee ONE IAG – N1) early June. The fifty-four turbines had to be connected to the offshore substation by ten strings of cables with an overall length of approximately 70 kilometres – a longer distance than the length of the Eurotunnel, which connects the UK with Continental Europe.
At that time of beginning of Nordsee One cable lay operations, early June, Tim Kittelhake, Managing Director (COO) of Nordsee One GmbH explained: "In the last month we have successfully installed all 54 foundations for the wind turbines, as well as the foundation for the offshore substation. We plan to install the substation this summer. Currently, we are beginning the cable laying process. First, the cables are laid, and then they are buried into the sea bed by a specialized cable laying vessel. We expect to finish the complete inter-array cable laying works this fall."
Siem Offshore Contractors have been responsible for supplying and installation of the inter-array cables for Nordsee One. The submarine cables have a diameter of up to 160 mm. A layer of steel armour wire protects the high-performance electricity connectors from extreme conditions, which, in particular, may occur during installation. At the same time, they guarantee maximum energy transmission over large distances.
Pierre Lestienne, Managing Director (CFO) of Nordsee One GmbH, speaking on the occasion of commencing cable lay operations in June, added: "All 54 wind turbines will be connected via the inter-array cables to this offshore transformer substation. This is where the 33 kV power generated by the wind turbines will be converted into a transmission voltage of 155 kV."
Once completed, Nordsee One wind farm is planned to consist of 54 wind turbines with an overall installed capacity of 332 megawatts. Nordsee One is owned by Northland Power Inc. (85%) and RWE International SE (15%).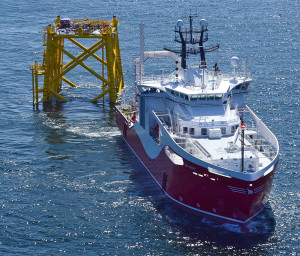 As mentioned before, in the cable laying operations on Nordsee One OWF two specialised vessels have been deployed: Siem Moxie and Polish built Siem Aimery.
Siem Moxie is specially designed for safe transfer of personnel and equipment to offshore installations and foundations. With her active motion compensated Uptime Gangway System Siem Moxie has achieved up to 54 connections in 24 hours to and from offshore transition pieces.
The ship responsible for actual cable lay work was the Remontowa Shipbuilding (Gdansk, Poland) built high specification Cable Lay Vessel Siem Aimery. It is designed for submarine cable and subsea umbilical installation, repair and maintenance duties in challenging environments. Her sub-deck cable capacity consists of 1 × 2500t turntable and 1 × 1750 t turntable, with a sheltered cable deck and permanent trenching tool. The Vessel was delivered to Siem Offshore from Polish yard in April 2016.
See article "CLV Siem Aimery christened and delivered" available online and Siem Aimery ship description in the latest issue of printed edition of "Poland at Sea".
Nordsee One is owned by Northland Power Inc. (85%) and RWE International SE (15%). The wind farm is located approximately 40 kilometres north of the island of Juist in the German part of the North Sea.
rel (RWE Innogy, Siem Offshore, Siem Offshore Contractors), PBS
Photos: REW Innogy, Siem Offshore Contractors