Eighteen countries of the Partnership for Peace are taking part in this year's international maritime exercise – Baltic Operations. The maritime phase started on Sunday, 6 June and will last until 19 June. Ships and naval aviation will operate on the Baltic Sea and in the Baltic Straits. The Polish Navy sent a patrol corvette, minesweepers and helicopters to participate in the exercise.
BALTOPS is the largest naval exercise on the Baltic Sea. The main assumption of the operation is to practice the reaction of international forces to threats at sea.
The harbour phase of the exercise took place simultaneously in three locations: Gdynia Frederickshavn and Klaipeda. On Sunday, 6 June, the ships went to sea to strengthen the cooperation of the multinational team of ships, air and land forces in conducting a comprehensive maritime operation. During the exercise, the ships will independently, in tactical groups and in cooperation with naval aviation gather information on the current situation in the area of the shipping lanes and provide a safe route for humanitarian aid arriving in the region of operations.
This year's BALTOPS manoeuvres involve naval forces, naval aviation and land-based units from Belgium, Canada, Denmark, Estonia, Finland, France, Germany, Italy, Latvia, Lithuania, the Netherlands, Norway, Poland, Spain, Sweden, Turkey, the UK and the US. Two teams of NATO vessels (NATO Frigate and Destroyer Group – SNMG1 and NATO Mine Defence Force Group 1 – SNMCMG1) and a team of Baltic anti-mine ships BALTRON will operate within the maritime component.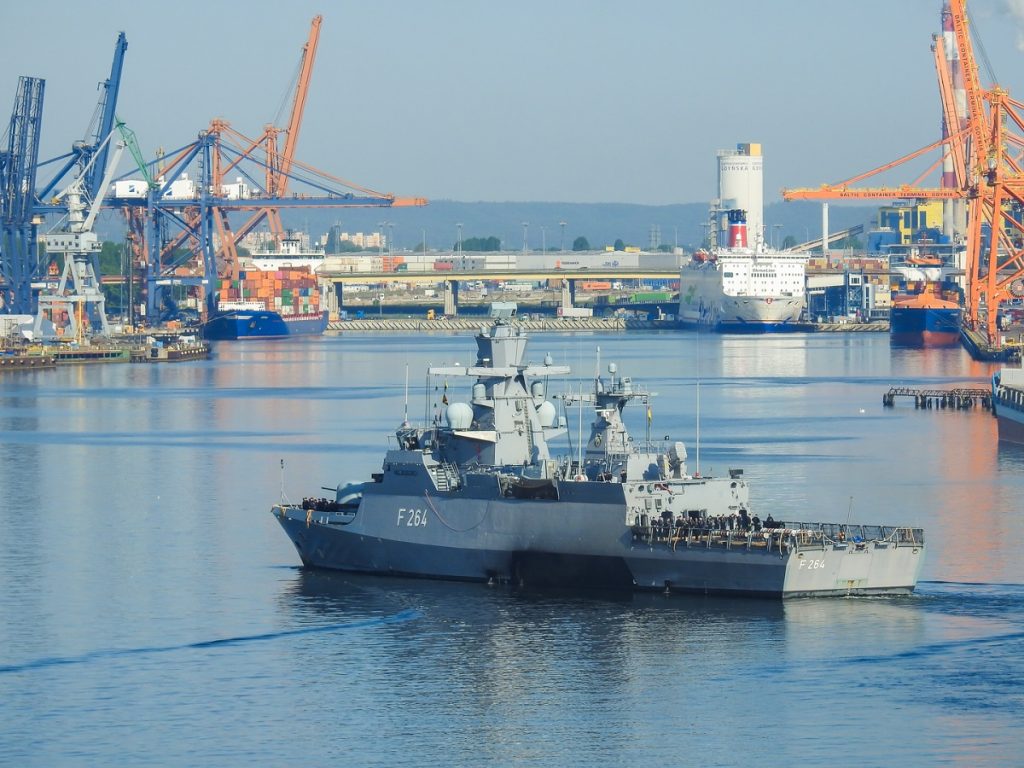 The Polish Navy participates in exercise BALTOPS for the 29th time. The main forces of the Navy assigned to the exercise include the patrol corvette ORP Ślązak (3rd Flotilla of Ships), two minesweepers OORP Wdzydze and Drużno (8th Flotilla of Coastal Defense) and three anti-submarine helicopters: two Mi-14PŁ and SH-2G Kaman (Military Aviation Brigade). They will perform tasks related mainly to the safety of sea communication routes. The patrolling ship will perform, among others, tasks of navigation monitoring, sea transport cover and detection of any violations of international provisions. It will operate in a tactical group together with vessels from the United States, Germany, Sweden, Finland and Italy. The minesweepers will operate as part of the BALTRON mine defence team responsible for mine defence and delineation of safe waterways in the crisis area.
Maritime manoeuvres BALTOPS have been organized since 1972 in the Baltic Sea. Initially it was an exercise in which the forces of the North Atlantic Alliance took part. Since 1993 new countries from the former Eastern Bloc, including Poland, have been invited to participate in the manoeuvres. Since then, the BALTOPS exercise has been organised as part of the Partnership for Peace programme. Currently, it is an international exercise based mainly on joint maritime operations, with particular emphasis on search and combat submarines, mine warfare, air defence and sea landing operations.