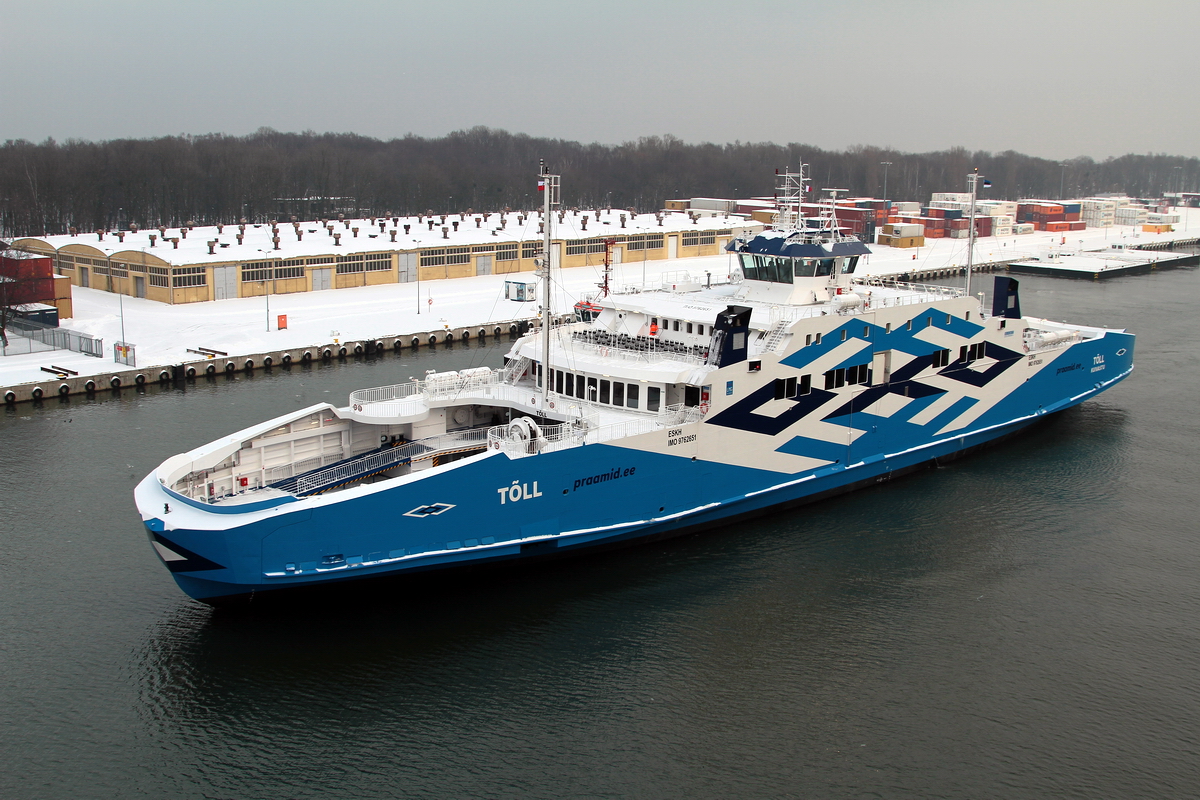 On the 9th of January, the Tõll double ended ferry arrived in Tallinn. The vessel (yard no. 616/1) entirely built at Remontowa Shipbuilding in Gdansk, Poland, for TS Laevad, the Port of Tallinn's subsidiary, was oficially delivered on the 5th of January. However, due to harsh weather conditions, the vessel departed from Gdansk with 12 crew members on board three days later, on Sunday the 8th of January, at 2 p.m. Estonian time.
The ferry's first stop had been Virtsu Harbor on the country's west coast, after which she continued on to Tallinn. Upon arrival, the Tõll was further outfitted with a kitchen, onboard store, children's playroom, wifi and other amenities and infographics.
Training for the ferry's crew and service personnel was also planned before it enters into service on the Virtsu-Kuivastu line connecting the Estonian mainland to Saaremaa, the country's largest island, via the smaller island of Muhu.
The Tõll was expected to enter into service in the second half of January 2017.
It is worth recalling, that the Tõll is the first ferry in the series of two newbuildings for TS Laevad. Its hull was launched on December 29, 2015.
Read more: First ferry for Estonia launched in Poland
The ferry Tõll has received its name after the Saaremaa hero Suur Tõll (the so-called Large Tõll). According to the legend, he was so large that when walking through a stormy sea the waves only hit him up to the waist. He was even so large that he could be seen from afar, even across a forest.
Tõll lived in Tõlluste, Saaremaa. He loved his home very much and he took good care of the people of Saaremaa. And not only that, the Hiiu island and people had also been in his heart like his own island and people.
For example in case of stormy weather Tõll kept an eye on the sea and if some ship was in trouble there, the hero ran straight through the breakers to help the sailors. Thanks to Tõll everyone was always saved from drowning, he brought every last one back to shore under his arm.
He also had a great appetite. For dinner,  his wife, Piret had always boiled an entire cauldron of cabbage soup and baked at least six loaves of rye bread. Tõll would then munch with his whole mouth so that the forest echoed. At the same time he would stare into Piret's eyes, as if sending gratitude and love in his thoughts.
Piret is also the name of the second ferry in the series built in Poland (newbuiding no. 616/2). Its hull was launched on January 28, 2016. At present, the ferry to be named Piret is in the final phase of outfitting, before sea trials. She is expected to be delivered from Remontowa Shipbuilding to the Port of Tallinn in March 2017.
GL
See the ferry's interiors and car decks in the picture gallery below:
Photos: Piotr B. Stareńczak / PolandatSEA.com