The new largest container ship in the world will arrive in Gdansk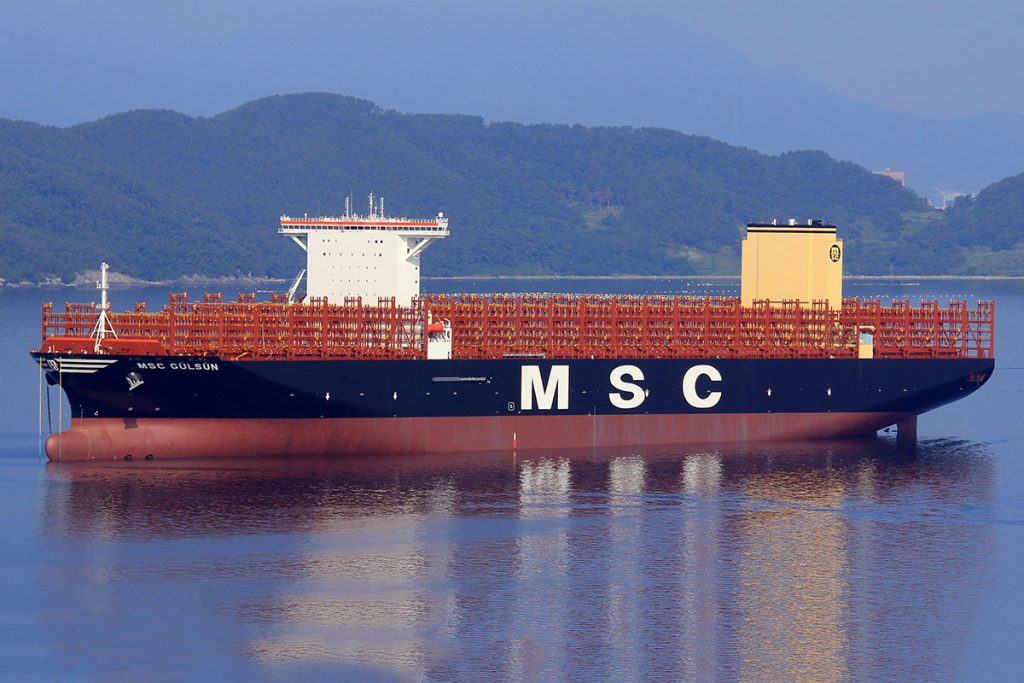 Among the container vessels calling at the regular container service connecting Europe with the Far East are the largest vessels in the world in terms of capacity. The South Korean shipyard will soon be handing over a slightly larger, poignant record. The new record holder will also appear in Gdansk.
In terms of nominal container capacity, ships built in 2017-2018 for OOCL from the Samsung 20000 series, whose representatives also call to Gdańsk, maintain global leadership. In terms of other parameters, such as gross tonnage or load capacity, there are already larger vessels carrying containers. However, the moment had to come when the series of the world's largest (in terms of capacity) OOCL container ships would lose its top spot on the podium. This does not mean, however, that DCT Gdansk will "lose" the world's largest container ships among the ships calling at it. There will only be a change of leadership.
MSC Gülsün has already passed its first sea trials.
It is a representative of the Samsung 23000 project from the South Korean shipyard Samsung Heavy Industries Co. Ltd. in Geoje, with a gross tonnage of 210,000 and a load capacity of 197,500 t, a total length of 400 m, a maximum draught of 16 m and a construction width of 61.50 m, allowing 24 rows of containers to be placed on board. According to some sources, it is expected to have a capacity of just over 23 000 TEU.
MSC Gülsün, the new world's largest container ship (in terms of TEU capacity), is set to embark on its maiden voyage on a Silk/AE10 service on 8 July from Xingang to reach DCT Gdansk on 23 August.
The record-breaking record is uneven.
Individual projects, series of ships do not occupy the same positions in the ranking, according to different criteria. The world's largest container ships in terms of capacity in TEU – the OOCL shipowner's OOCL container ships with a capacity of 21,413 TEU (the series includes OOCL Germany, OOCL Japan, OOCL United Kingdom, OOCL Hong Kong, OOCL Indonesia, OOCL Scandinavia) are on the eighth place, after other series in operation and as many as 11th place, if we take into account also the ships ordered or under construction.
The new TEU series of capacity record holders, represented by MSC Gülsün, are in fifth and seventh place respectively in terms of capacity.
In terms of gross tonnage, on the other hand, OOCL ships are now in fifth place in terms of tonnage and seventh in terms of tonnage, including those ordered and those under construction. In contrast, the new record numbers of TEU vessels boarded by MSC Gülsün are eighth in terms of GT (gross tonnage) and tenth in terms of GT (compared to vessels in service) and tenth in terms of GT (in competition with vessels already in service and those being ordered and under construction).
Finally, another important criterion
for comparing the size of container vessels is the capacity of so-called stability containers. It is a contractual, averaged weight of a loaded container of 14 tons and a maximum number of such containers, with uniform (even) loading, at which the vessel meets the stability criteria.
Interestingly, in this case (taking this parameter into account) the top of the largest container ships is very equal.
It turns out that the largest container ships in terms of capacity of "stability" containers (13 565 vessels) are three existing vessels from HHIC Philippines Inc – CMA CGM Louis Bleriot, CMA CGM Jean Mermoz and CMA CGM Antoine De Saint Exupery. Among the ships ordered and under construction, there are no ships that could carry more 'stability' containers.
Second (13 503 TEU @ 14 t) are the ships from Shanghai Waigaoqiao Shipbuilding – COSCO Shipping Nebula and its sisters (some of the ships in the planned series are already in operation).
The third is the series from Daewoo Shipbuilding & Marine Engineering
– also in operation – opened by Madrid Maersk (13 500 TEU @ 14 t) in April 2017, which was launched in April 2017, followed by three different series of ships of the same capacity (13 500 TEU @ 14 t), which are still under construction/orders, including MSC Gülsün and its "sisters".
In fourth place – ex equo – there are three more series of ships from different yards and already in operation with different shipowners (13 400 TEU @ 14 t).
Finally, the existing (soon to be) compensators in terms of nominal container capacity – OOCL vessels – are in fifth place (with a capacity of 12 987 TEU @ 14 t).
MSC Gülsün. Fot.: lappino / Shipspotting.com