Initial works on new Gdynia ferry terminal to commence later this year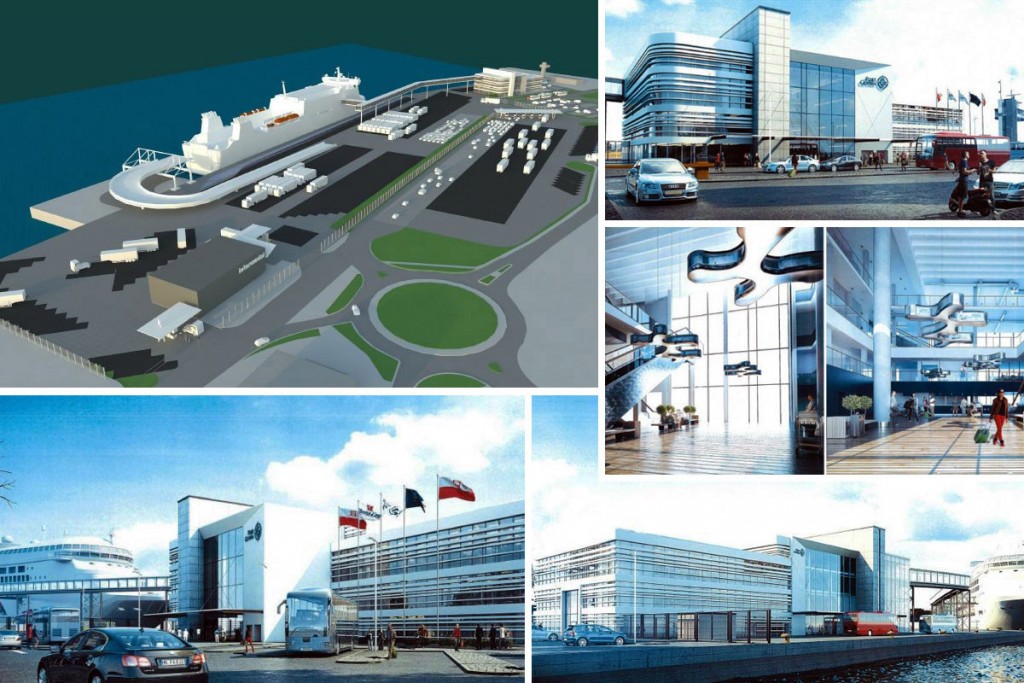 Still this year construction works related to new public ferry terminal in the port of Gdynia are scheduled to commence – as revealed by Adam Meller, president of Port of Gdynia Authority – PGA (Zarząd Morskiego Portu Gdynia – ZMPG), in his recent statement for Polish Press Agency. The construction is expected to take approximately two and a half years.  Port authority is also reportedly in talks aiming at attracting new ferry operators with new routes connecting Gdynia. This might not be very easy, though, as just one ferry berth (with two level shore ro-ro access) is foreseen, in contrary to earlier plans for two berths.
The initial works, to start this year, in December, will be in fact demolishing of existing buildings (warehouses) and the construction will be in full swing in Spring 2018 according to Meller.
Design works for the two-level access shore ramps are nearing completion.
The public ferry terminal will be established in the end part (closer to harbor entrance) of the Polish Quay (Nabrzeże Polskie, the longest quay in the port of Gdynia), which is in close proximity to the city center, however there are convenient road connections with hinterland available as well.
The new terminal, with its key area of approximately 7 hectares (comparing to 9 hectares planned as of 2008), to be built at a cost of PLN 150 million, with 60 percent of coming from EU funds, is to enable operations of more than one ferry operator.
The terminal will be suitable for vessels of 175 up to 245 m in overall length.
The only ferry operator using the current ferry terminal (crammed between the two container terminals, at the very deep end of the harbour – farthest location from the port entrance) is, and have always been, Stena Line, currently with two sister car and passenger ferries Stena Vision and Stena Spirit and a ro-pax Stena Baltica, more recently supplemented by two chartered freight-only ro-ro's: Gute (on "traditional" route to Karlskrona) and Elisabeth Russ (on new connection to Nynäshamn – directly competing with Polferries' Gdańsk – Nynäshamn service).
Unlike most of other new investments in the port of Gdynia over the recent several years, the ferry terminal construction was postponed several times and is delayed in comparison with the initial plans. According to ZMPG' s information of early 2008, the terminal construction was then expected to commence mid 2009 at the latest and be completed by 2011. The delay is reportedly caused by "prolonging EU procedures". In 2008 the managers of Port Gdynia Authority declared the construction would be started even before the EU decision on funds support is known.
It also seems to be downsized, as initial visualizations and information indicated two separate berths.
On more recent renderings and according to information made available now, it is understood to enable "serving the ro-ro traffic with one two level access and serving the passenger traffic". The latter will be effected by overhead enclosed gangway connecting the ferry berth with terminal's passenger spaces.
According to information from 2008, the cost of the new terminal was expected to be at a level of PLN 350 million, with chances seen to obtain EU funds participation amounting to up to PLN 240 m. However, this included not the ferry terminal alone, but also the cost of new access road system connecting the port area hosting the prospective terminal with hinterland main roads, which have meanwhile been built.
PBS
Renderings: PGA