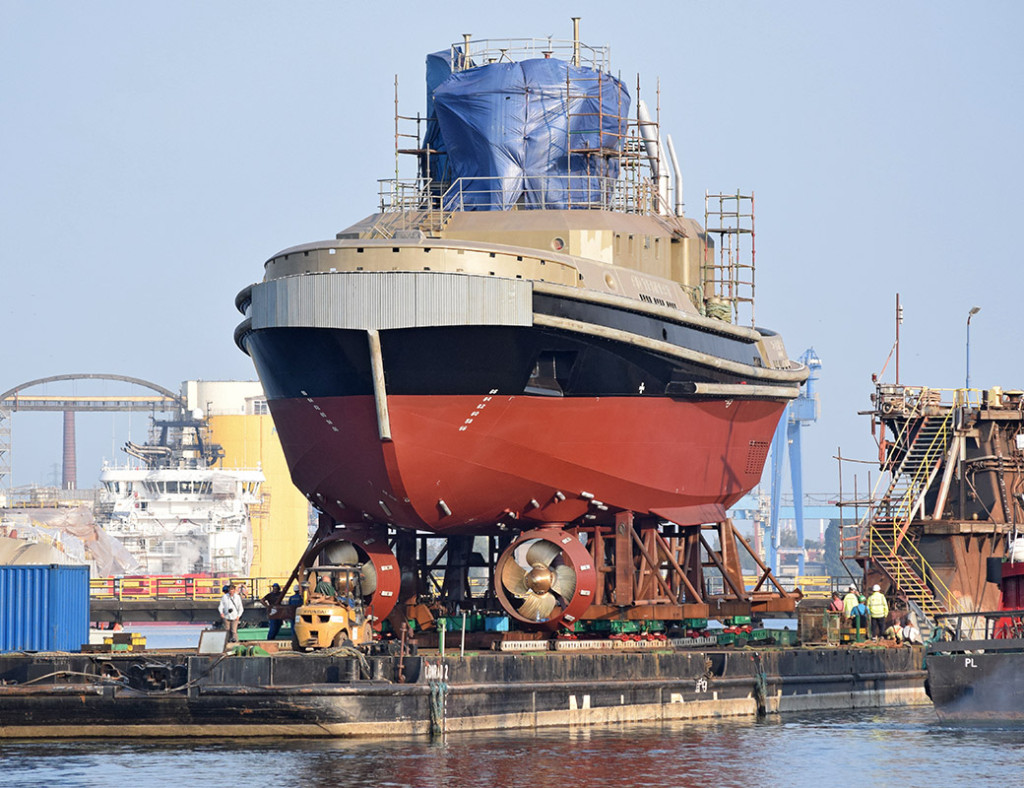 UK based Serco has contracted Damen Shipyards Group to build a powerful new tug to support the Royal Navy's two new aircraft carriers at Portsmouth Naval Base as part of its contract to provide Marine Services to the United Kingdom Ministry of Defence (UK MOD). The construction of the fully equipped, turn-key delivery tug was subcontracted to Safe Co. Ltd. Engineering Services.The vessel, to be named SD Tempest, was launched on September 14, 2016, with use of a floating dock hired from Alkor, nearby the production plant of Safe in Gdansk and is currently being outfitted.
The vessel will be the first of its type under the UK Flag. The Damen-built ART (Advanced Rotortug®) 80-32 tug will have the manoeuvrability, power (80 Tonnes Bollard Pull) and towing flexibility needed to support the Queen Elizabeth Class Aircraft Carriers, the two largest ships ever commissioned for the Royal Navy.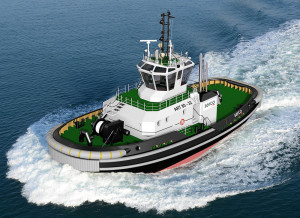 HMS Queen Elizabeth and HMS Prince of Wales are currently under construction at Rosyth on the River Forth in Scotland. Construction of the tug is also well already underway and Serco expect to take delivery of the vessel in early 2017.
Serco currently provides a wide range of marine services to the UK MOD operating out of Portsmouth, Devonport and the Scottish west coast sites at Greenock, Faslane and Kyle of Lochalsh. This includes passenger ferry, towage and nuclear safety support for the Royal Navy and visiting foreign Naval submarines and ships; oil spill response; weapons range safety vessels; pilot transfer; fuel/water/sullage/sewage; diving training support craft, including therapeutic recompression capability; worldwide support to military training; and NATO Submarine Rescue System, training and deployment platform.
The company is the UK's largest operator of British flagged vessels and this new vessel will bring its total fleet to 115, of which 31 will be Damen-built, and many of them with partially outfitted hulls or even turn-key deliveries, in some cases, subcontracted to Polish yards.
The Damen-built ART features a patented Rotortug® propulsion system consisting of three azimuthing thrusters which provide enhanced omni-directional manoeuvrability, and the benefits of a fully redundant and precise machinery configuration. Serco has also specified a number of modifications to the Robert Allan Ltd design to enable her to support the huge aircraft carriers. These include a double drum render /recovery aft winch for redundancy and a foldable mast for safe working under the flight deck overhang.
Furthermore, like the previously built tugs, Damen is fitting the 32.9-metre long tug with grey fendering to match the livery of Royal Navy vessels, thus preventing marking of the hulls. They will also be installing controllable pitch propellers instead of the usual fixed pitch propellers found on other ART 80-32 vessels.
However, unlike the two ART 80-32 tugs built previously at Safe for Damen (with SD Evolution being one of the world's first purpose built hybrid propulsion tugs), SD Tempest will feature conventional, rather than hybrid propulsion system with batteries.
PBS