Vistal contributes to new Munch Museum in Oslo
Polish, Gdynia-based listed company has constructed a special footbridge for a new Munch Museum, that is under construction in Oslo. According to the Vistal's recent statement, the assembly of the footbridge was underway.
On the 10th of September, the construction was successfully loaded on a ship on Węgierskie (Hungarian) quay in Gdynia. The footbridge that weights about 123 tons was then transported on board the Figaro general cargo vessel in one piece and reached its final destination two days later.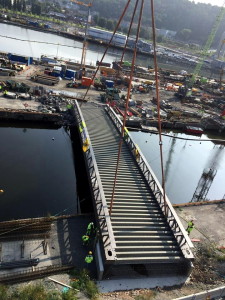 Vistal's assembly works started on September, 14. The footbridge will lead to the new Munch Museum in Oslo city center. All of the works are conducted in accordance with the schedule.
The Polish company emphasizes, this construction is one of their most prestigious projects in Norway. Vistal is a renowned manufacturer of oversized steel structures, such as: bridges, industrial and commercial hall buildings and other steel constructions.
The new Museum, dedicated to the famous Norwegian painter Edvard Munch, so-called "Lambda" is currently under construction on the waterfront at Bjørvika, close to the Opera House. It is part of a wider project to open up the city towards the sea.
The new building designed by the Spain-based company Herreros Arquitectos will replace the current museum in the city's Tøyen district.
The "Lambda" is designed as a 12-story building that stands on a 3-story base. The vertical structure will house exhibition spaces, workshops, and offices. There are also grand plans for a cinema, a concert hall, restaurants on the top floors, and a café by the water. It will form an impressive contrast to the nearby buildings, such as the horizontally oriented Opera House.
The glassy exterior is designed to make the surrounding fjord landscape into part of the indoor space. The facades will be finished in a reflective corrugated material, with different degrees of transparency. This will provide what architect Juan Herreros describes as an "enigmatic and evanescent"perception of the building from the outside, which appears to react to the outdoor climate.
The construction of the new Munch Museum is estimated to cost €290m and is due to open to the public in 2020.
GL, rel (Vistal)
---
Below: Animation of the new Munch Museum. Project: Lambda, Architecture by Estudio Herreros