The last 1400 tons of steel for Borkum Riffgrund 2 project left Szczecin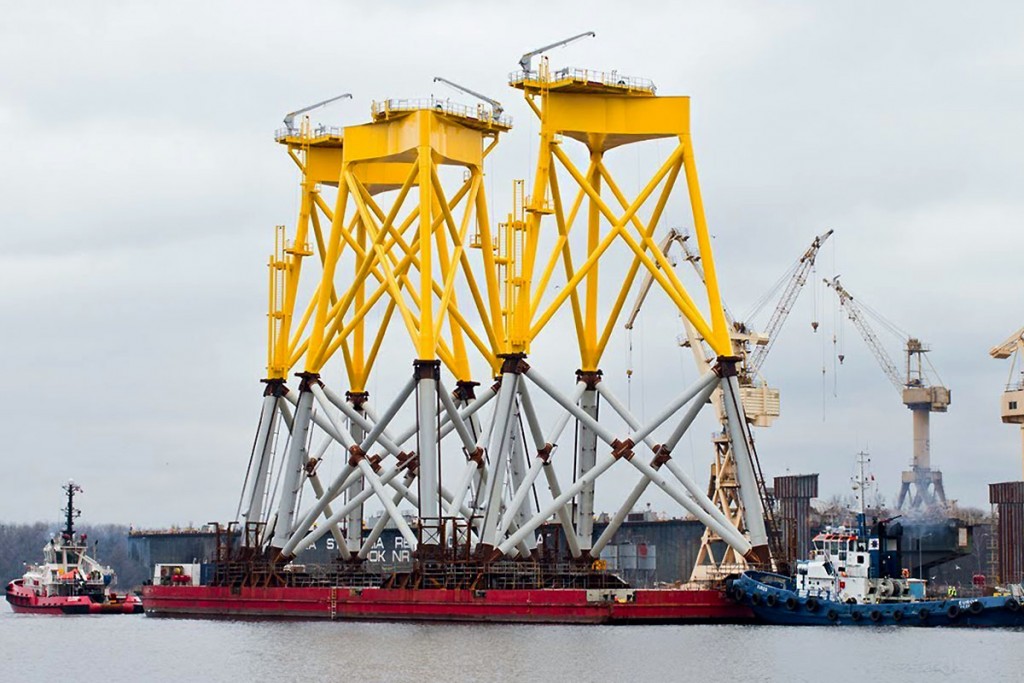 The last load of offshore wind farms foundations for Borkum Riffgrund 2 OWF has been towed out from Szczecin. Thus ST3 Offshore has finished the project for Danish energy company.   Jackets have been produced as a part of the 2nd contract for Ørsted (previously known as Dong). The first batch of three jacktes was delivered on the 23th of February. The load process was very comlicated – the preparing of required documentation alone took a few months. It had to be accepted by the insurer, classification societies and of course by the client. Setting the structures in grilleages on barge required extreme precision and depended on weather conditions. The first load out took 4 days. Owing to experience of the logistic staff following operations proceeded quicker – the fastest one – within 1,5 a day all load out and 1,50 h – one jacket).
The 7th load with the last two jackets left Szczecin on June 12, 2018. "We are satisfied with the project's execution" – said Adam Kowalski, vicepresident of management board of ST3 Offshore. "18 out of 20 jackets have been delivered to the client. Four of them have been already installed on the Borkum Riffgrund 2 offshore wind farm. The contract has been executed successfully and accordoing to plan agreed with the client. It allows us to view the future with optimism" – added the vicepresident.
"We are able to fabricate any large steel structure, but we also take into account other contracts, not necessary from offshore wind core business" – stressed Andrzej Czech, the president of the management board of ST3 Offshore. The company is negotiating new contracts, however the details are still a trade secret, while the company experiences temporary scarce of orders.
– – – – –
Following the successful execution of Ørsted's Race Bank Transition Pieces contracts (signed in 2015), Ørsted has awarded ST³ Offshore with a second contract to fabricate 20 Suction Bucket Jackets, for the Borkum Riffgrund 2 OWF. Jackets fabricated for this project are foundations designed on an equilateral triangle plan (footprint: 28 m), 60 m high, set on suction buckets.
Borkum Riffgrund 2 is located approximately 34 km North of the island Borkum in Germany, 54 km off the coast of Lower Saxony, next to Borkum Riffgrund 1.
The Borkum Riffgrund 2 Offshore Windfarm has a target power generation capacity of 450 MW using turbines mounted on a total of 56 steel foundations where 20 foundations are jackets and the remaining 36 foundations are monopiles. It will feature the largest wind turbines in German waters: 56 MHI Vestas 8 MW wind turbines with rotor spans of 164 meters. The offshore wind farm will supply CO2-free power equivalent to the annual electricity consumption of approximately 460,000 German households.
rel (ST3 Offshore)