On Monday, 26 December 2022, the keels of two LNG carriers under construction for Knutsen OAS Shipping were laid at the Hyundai Samho Heavy Industries Co., Ltd. shipyard. One of them is intended for charter by PGNiG (now PKN Orlen).
At the Hyundai Samho shipyard (this is a different Hyundai Group shipyard to the one located in Ulsan, building the Lech Kaczyński and Grażyna Gęsicka LNG tankers), the first ship blocks with shipyard construction numbers 8148 and 8149 were set up in the dry dock.
The first is a vessel being built for charter by PGNiG (en.: Polish Oil Mining and Gas Extraction Company). That vessel construction formally started with the first steel cutting on July 29 this year. Unfortunately, the name planned for the third LNG carrier to be chartered by PGNiG has yet to be discovered.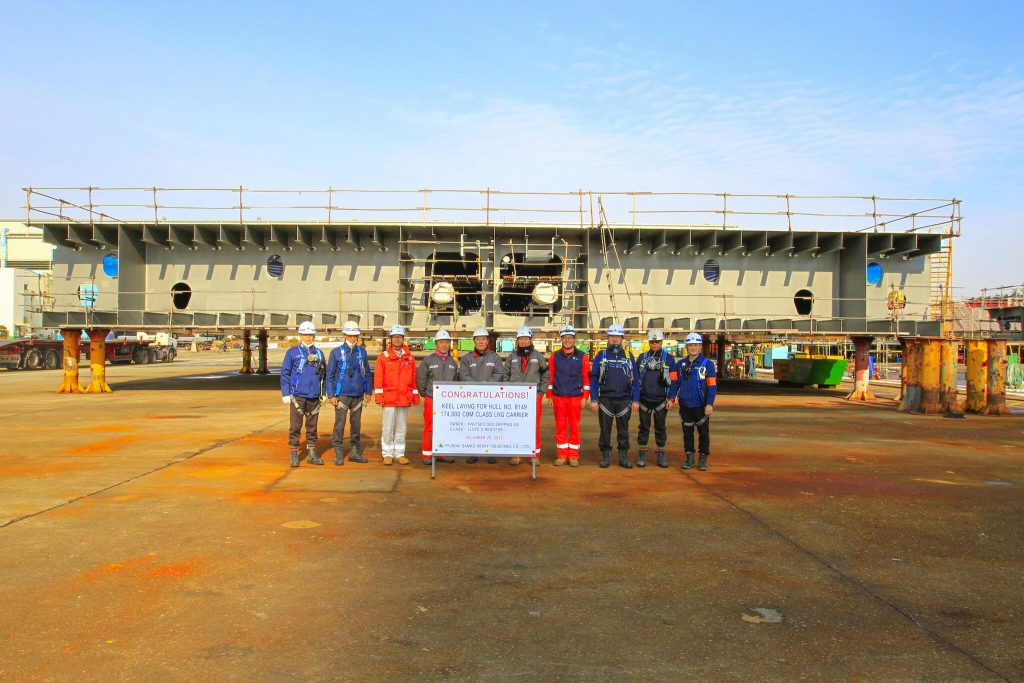 The vessel will be equipped with efficient dual-fuel X-DF engines, boil-off management plants, air lubrication systems, and shaft generators for auxiliary power to save fuel and lower emissions. In addition, the Finnish technology group Wärtsilä has been contracted to provide vessel reliquification technology.
The construction milestone is unveiled just a few days following the delivery of 174,000 cbm LNG Carrier Lech Kaczyński, chartered by PGNIG Poland, an ORLEN Group company. Hyundai Heavy Industries built Lech Kaczyński and its sister vessel Grażyna Gęsicka, and they are being prepared to enter service in early 2023.
source: PortalMorski.pl