The first delivery of gas to Świnoujście LNG Receiving Terminal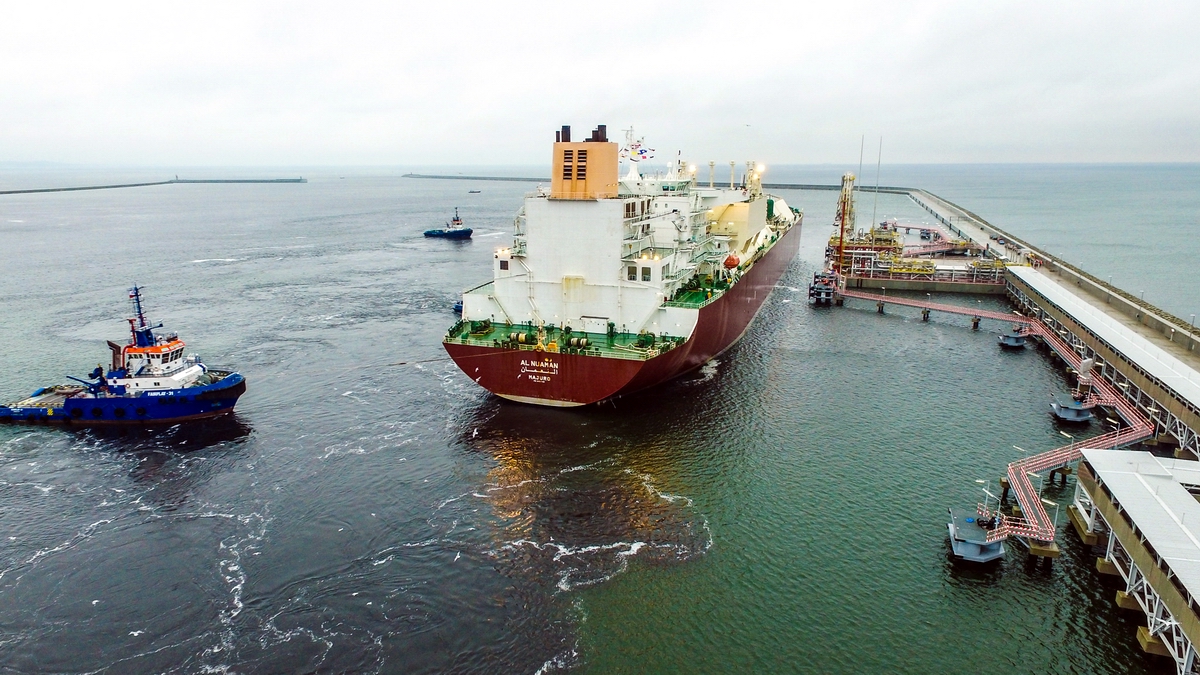 On 11th of December 2015, the Al Nuaman tanker, with 210 thousand cubic meters (tcm) of LNG from Qatar arrived at the LNG terminal in Świnoujście with delivery of its first testing supply of gas from Qatar.
The Qatargas chartered Q-Flex Vessel delivered the cargo at the newly constructed Świnoujście LNG Receiving Terminal. This shipment is the first of two planned cargoes that will be supplied by Qatargas for the cool-down and commissioning of the Polish LNG Receiving Terminal. According to the current schedule, the second pilot supply is expected to arrive in February 2016.
The first delivery marks an important milestone in the construction of the port facility for re-gasification which is getting to the final phases of its commissioning before going into full commercial operation next year.
It's worth recalling that, in November 2015, there was a test delivery of nitrogen, which is used for cleaning the facility out and drying it up, to avoid the formation of ice pieces inside, as the temperature of LNG is extremely low (minus 162 degrees Celsius).
The Al Nuaman LNG tanker which needed three weeks for its voyage, has brought gas that will be used for testing and cooling-down pipes and storage tanks at the terminal.
– LNG deliveries are one of the most important measures to diversify Poland's gas supply sources and a crucial element of PGNiG's strategy to diversify its supply portfolio. We are happy that LNG deliveries have started to arrive at the Świnoujście terminal, hoping that the contract between PGNiG and Qatargas will mark the beginning of a long-term partnership between the two companies – said Waldemar Wójcik, Vice-President of PGNiG, the state-owned oil and natural gas company which has signed a twenty year contract with Qatari gas producer Qatargas, which should deliver 1.2 bcm of gas per year via the terminal.
– LNG Receiving Terminal, along with dynamically-developed internal transfer grid and inter-system connections, gives Poland a chance to enter the international gas market and exerts a positive effect on price competitiveness of the resource – said Jan Chadam, the president of Gaz-System and Polskie LNG (Polish LNG – the receiver of the resource used for commissioning of the facility) upon the tanker's arrival.
– The Receiving Terminal's potential makes us an important player in the area of energy independence of the whole region. We provide fuel security for Poland and the possibility to diversify the deliveries to other European states, which, by connecting their transfer systems, will facilitate establishing a competitive gas market – he emphasized.
Presently more than 60% of Poland's gas is imported from Russia.With 5 billion cubic meters (bcm) annual capacity, which equals one third of the country's consumption, it is supposed to strengthen Poland's energy security and diversify gas supplies.