Roald Amundsen launched [VIDEO]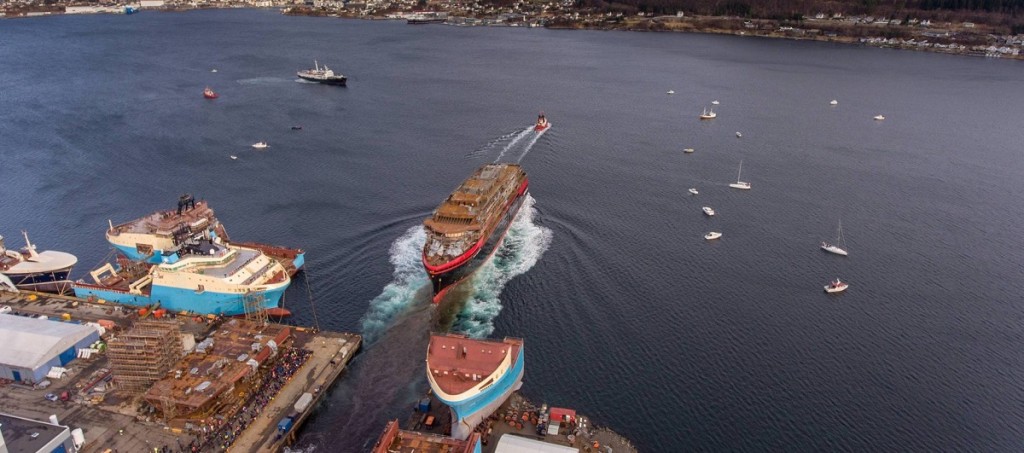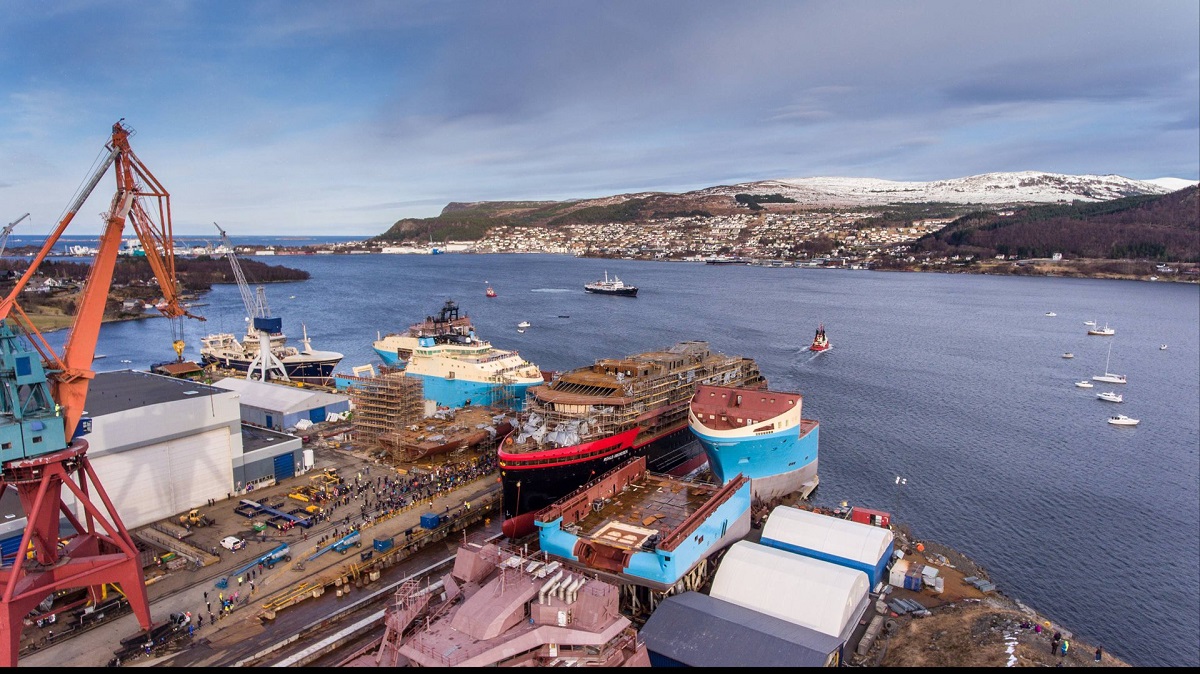 First of two new hybrid ships for Hurtigruten was launched at Kleven Yards on February 17.
Roald Amundsen is the first of two innovative hybrid propulsion polar expedition cruise vessels ordered in July 2016. Significant part of the ship's structure was built in Poland – at Montex Shipyard Dębowski Wasiołek Sp. J.
On October, 2017, the pontoon-barge towed by Frigga tug, a set of steel ship block and sections for expedition cruise vessel Roald Amundsen (newbuilding no. 400) have been dispatched from the Montex plant in the area of former Gdansk Shipyard.
These were large bow section, two bottom sections, big stern section (with transom) and three-story section of the fore part of the superstructure, including wheelhouse.
The structures fabricated by Montex arrived to Kleven yard at Ulsteinvik on November 2, 2017.
Montex shipyard also builds some of the structures for a sister vessel (newbuilding no. 401), TBN Fridtjof Nansen.
Roald Amundsen will be the world's first expedition cruise vessel with ice class and hybrid electrical propulsion, expected to lower fuel consumption and allow zero-emission shiping.
Hybrid technology, combined with the advanced construction of the hull and effective use of electricity on board will reduce fuel consumption and CO2-emissions on the ships by 20 percent. The build of these two ships represents the largest single investment in the history of Hurtigruten.
The future of shipping will be silent and emission free. Roald Amundsen will lead the way towards an even more sustainable way of traveling. Sailing on electrical power is not only a great benefit for the environment, but it will also enhance the impact of experiencing nature for the guests. The ship will be specially constructed for voyages in polar waters and serve as a comfortable basecamp at sea – bringing adventurers from all over the world to the most spectacular destinations in the most sustainable way.
Legacy of the namesake
In 1911, Norwegian explorer Roald Amundsen achieved the incredible, becoming the first man to cross Antarctica and reach the South Pole. Our new ship is proud to bear his name as a symbol for pioneering polar exploration.
Facilities on board
One of the most eye-catching exterior design features of the ships will be the two-level indoor/outdoor Observation Deck wrapped around the top of the ships' raked bow. In a vast area behind it, you'll find the core of the onboard experience: Amundsen Science Center.
Packed with state of the art technology and high tech gadgets such as touch screens and science equipment, the immersive edutainment area will be the place guests and staff/crew meet, mingle and create a deeper understanding for the areas they explore. The flexible venue will feature lecture spaces, a small library, and speciality areas for workshops in photography, biology, and more. The area, featuring large windows, will also be the onboard HQ for Hurtigruten's hand picked Exedition Team.
The stunning scenery will be reflected in a rich and comfortable interior design. Scandinavian materials from nature, such as granite, oak, birch and wool will be used to create relaxed and stylish cabins and public areas. All cabins are outside, 50 % will have private balconies, aft suites will feature private outdoor Jacuzzis with spectacular views.
Roald Amundsen (Kleven Verft 400) – principal characteristics:  IMO no. – 9813072; length over all – 140.00 m, moulded breadth – 23.60 m, draught – 5.30 m, depth – 16.00 m; deadweight – 1800 t, gross tonnage – 20 889, compensated gross tonnage – 38 418 CGT; number of cabins – 265, passenger berths – 530; main propulsion – diesel-electric, hybrid (fed from batteries); four diesel engines Bergen / Rolls-Royce Marine AS; two CP propellers; classification – DNV GL.
rel (Hurtigruten), AL, PBS
Photos: Hurtigruten