Crist yard to build a new ferry for Iceland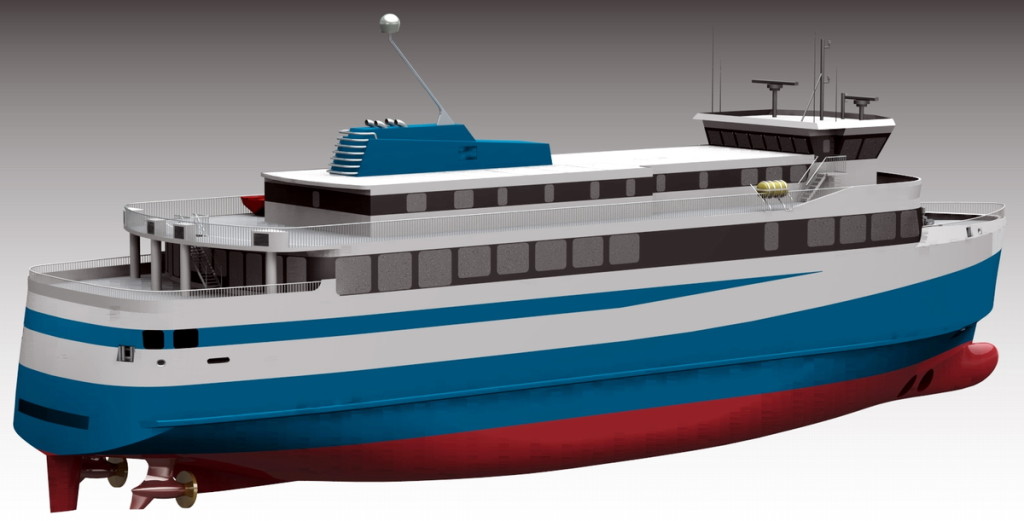 The Icelandic Road Authorities, Vegagerðin, signed a contract with Polish yard Crist SA for the construction of a new ferry of Polarkonsult design PK-259.1.
The ferry will be operated between Landeyjahöfn and Vestmannaeyjar (eng. Westman Islands), a town and archipelago situated off the south coast of Iceland. The journey will take only 20 minutes.
The weather conditions outside Landeyjahöfn are difficult with a mixture of long ocean waves and shorter coastal waves in combination with strong transversal current at the entry of the harbour. The water depth is only 4,5 m and the ferry will be operating in up to 3,5 m waves. These conditions requires excellent maneouverability and shallow water seakeeping characteristics.
The ferry will be 69,38 m overall length, 15,10 beam with a capacity of 540 passengers during the summer, or 390 passengers in the winter, 10 crew members  and 330 lane metres for personal cars. The vessel will be powered by a diesel electric hybrid plant supported by a 800 kWh battery unit with harbour plug-in. Propulsion will be provided by rotating pulling thrusters.
Concept design of the ferry has been prepared by renowned Norwegian company Polarkonsult AS. The class and detail design will be performed by a Polish company StoGda Ship Design & Engineering Sp. z o.o., which has been cooperating with Crist for years.
The vessel to be delivered in June 2018, will replace MF Herjólfur, built in 1992.
Vestmannaeyjar is sometimes called "Pompeii of Iceland". Vestmannaeyjar are a group of 15-18 islands, depending on how they are classed, and about 30 skerries sand rock pillars, located off the mainland's south coast. Heimaey, the largest island was hit by the well known eruption in 1973 which caused complete evacuation of the island. Around 360 houses was buried and many others badly damaged. Before the eruption, 5300 people lived on Heimaey, 2000 of these moved back immediately after the eruption ended. Slowly but surely more families returned and began to rebuild their community.
GL, rel (Polarkonsult, Crist)