PRS will supervise the construction of three Kormoran II-type mine destroyers at Remontowa Shipbuilding shipyard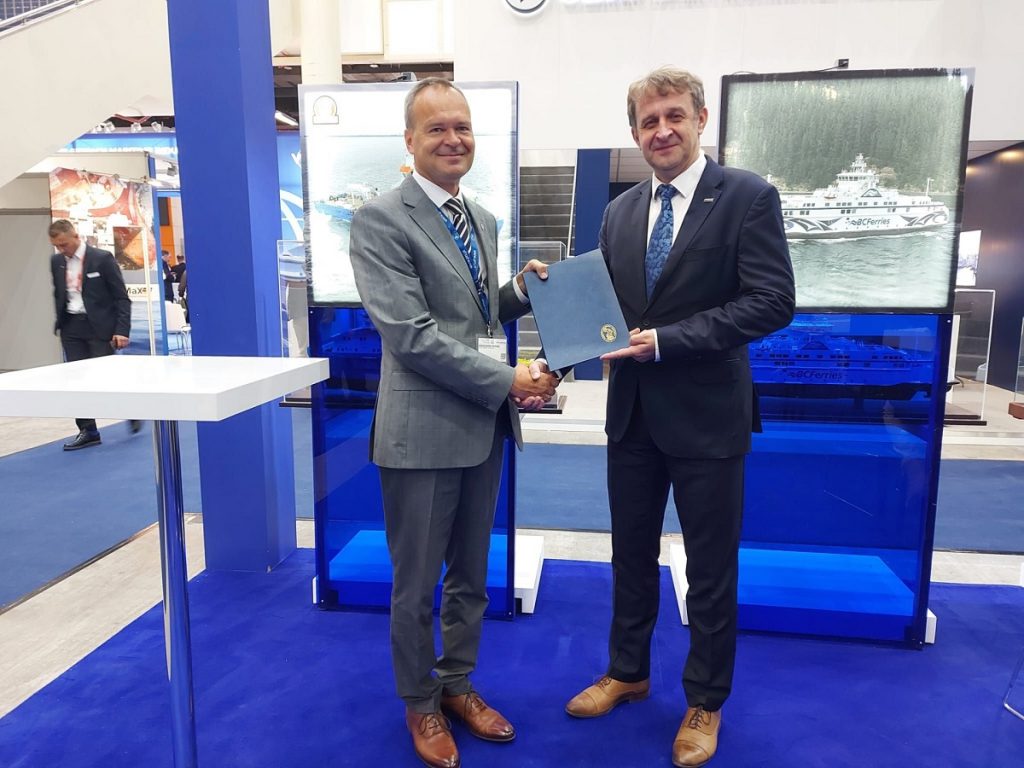 The Polish Register of Shipping will supervise the construction of three Kormoran II-type mine destroyers for the Polish Navy at Remontowa Shipbuilding SA. The contract was signed on Tuesday, 6 September in Hamburg during the first day of the SMM International Maritime Fair.
Remontowa Shipbuilding SA, as part of a consortium comprising, in addition to the RSB, PGZ Shipyard and the Research and Development Centre of the Marine Technology Centre, had previously signed a contract for the construction of the destroyers with the head of the Ministry of Defence, Mariusz Blaszczak, on 26 June 2022.
The formal signing of the contract to supervise the construction of the ships took place on the first day of the SMM fair in Hamburg.
– 'We will provide specialist technical supervision in the field of classification and convention over the construction and sea trials of three mine destroyers with construction numbers 258/4, 258/5 and 258/6,' says Capt. Henryk Śniegocki, President of PRS SA. – This means that PRS will assess the compliance of the ships' designs and equipment with the classification regulations for classification supervision and the requirements of international conventions and the Polish Maritime Administration. This is necessary to ensure the safety of navigation and the protection of the marine environment," he explains.
The result of the supervision carried out will be the awarding of a PRS class, confirmed by the issue of a class certificate and entry in the PRS register.
– Separately, PRS will perform the role of the so-called technical advisor, whose tasks will include the control and assessment of the progress and inspections of the RSB shipyard's shipbuilding progress according to the adopted schedule, adds President Śniegocki.
The PRS will also verify the adopted budget for the construction of the vessels in terms of its reality in accordance with the contract for the supply of the vessels.
Modern mine destroyer
Kormoran II-type vessels are used for searching for, identifying and combating sea mines, conducting reconnaissance of waterways, guiding other vessels through mine threat areas, laying mines and remotely controlling self-propelled mine countermeasure platforms.
The newly built three Cormorants will be improved based on the experience of operating the pioneering designs, will be more heavily armed and equipped with better sensors and improved naval robots, and will receive an upgraded integrated combat system.
The ships will be delivered between 2026 and 2027 and will form part of the 12th minesweeper squadron of the 8th Coastal Defence Flotilla, forming part of the Polish Navy's mine defence system.
source: PortalMorski.pl